ACTIVEU CAMPS
about us
ActiveU camps are recreational multi-sport and activity camps for children in grades 3-6. Our schedules rotate to incorporate a variety of sports include basketball, soccer, dodgeball, ball hockey, swimming and more! Our counsellors are all Lakehead University students, and we often have student-athletes on staff.
ActiveU has a strict no bullying or harassment policy, and we welcome all children into our camp environment.
MARCH BREAK CAMP
March Break 2020 will be running from Mar 16 – 20! Options include full week, half day, and partial week registration. Sign up today to get the most of your March Break! Camp runs each day from 9:00 am to 4:00 pm, with drop-off available starting at 8:30 am and pick-up available until 4:30 pm each day.
Costs:
Full Week – $200
Half Days – $100
1 day – $40
2 days – $80
3 days – $120
4 days – $160
Registration is now open, and will remain open until March 16 or until capacity is reached. Contact us with any questions at activeu@lakeheadu.ca, or 343-8950.
IMPORTANT NOTICE: ActiveU has hit capacity for the Monday through Thursday of March Break Camp. Only single-day Friday registration is still available. 
March Break Camp Schedule: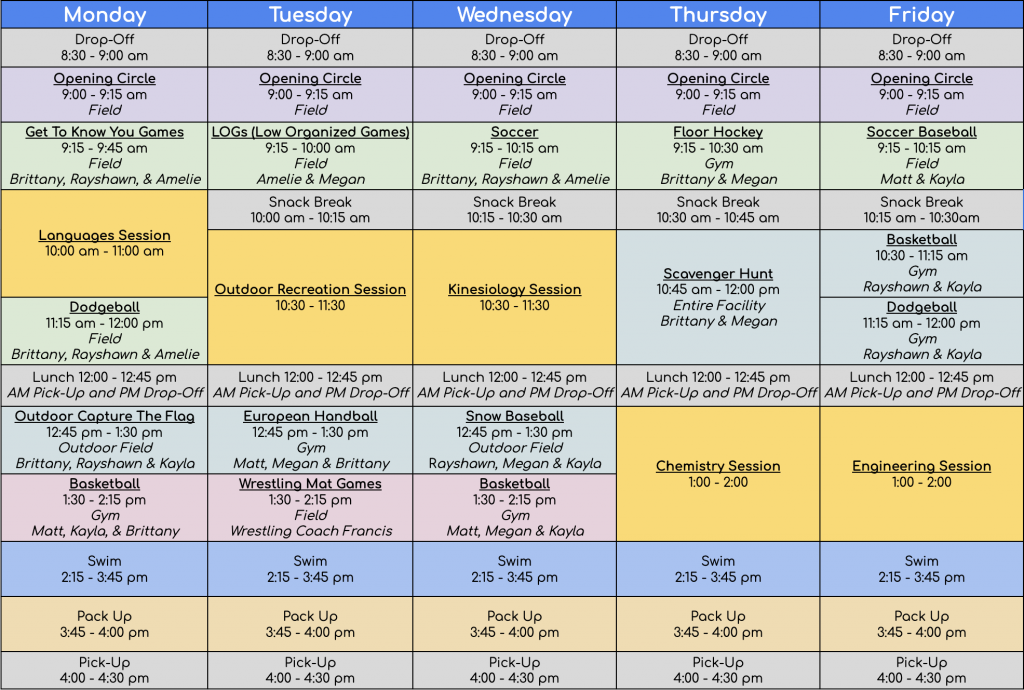 PD Day Camps
Join us for a day of fun – sports, games, swimming & more! Winter/Spring PD Day camps will be running on Jan 24, May 1, and June 12. Please note we will not be hosting a PD day camp for Feb 28 due to Special Olympics in our facility. Activities through out the day will includes arts and crafts, basketball, soccer, dodgeball, and more!
Registration is open now – Sign up today for only $40/camp! Signing up siblings? Contact us to get a discount code for 10% off at activeu@lakeheadu.ca.
SUMMER CAMPS 2020
Registration coming soon!
ActiveU Summer Camps 2020 will be running from July 13-17, July 20-24, and August 10-14. Stay tuned for more!
---
IMPORTANT: In order to register properly, please ensure that you have your child set as a dependent in your profile. Once you've signed in, you can go into your profile in the top right corner and select 'Add a Dependent'. Once you get to the waiver page, please review the document and then use the grey box at the bottom to sign