About the Clinic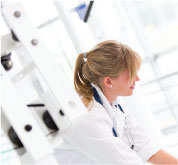 We specialize in the diagnosis and treatment of sport injuries with an emphasis on patient care, rehabilitation and injury prevention. Clinic services are available to L.U. students and staff, as well as the general public. We do not require a referral.
The Lakehead University Sports Medicine Clinic was first established in 2005, and has continued to expand services to better serve the Thunder Bay Community. The Sports Medicine Clinic offers highly qualified Physicians, Massage and Athletic Therapists. A Physician who has training in the management of sports related injuries is available for consultation within 1 week. A Consultation with the onsite Orthopedic Surgeon is available through referral only.
Mission Statement
To deliver safe, cost effective and high quality care in a multidisciplinary injury prevention and rehabilitation centre, in order to improve the health and wellbeing of our clients.
Location
The Clinic is located in the LU Hangar on Lakehead University Campus. The parking lot entrance is across from the hospital on Oliver Rd. Once you enter the parking lot, you take a quick right and follow the parking lot all the way around to the back of the Hangar. There are signs posted to indicate the directions to the Clinic.
Hours of Operation
Monday to Friday from 8:30am to 5:00pm
To book an appointment with Dr. Dave McKee, please call: 807 343 8936 Reimbursement for treatment Physician 
A valid health care must be presented upon arrival at every visit with the doctor