DAY 5 (of 5): 2017 U SPORTS/Curling Canada Curling Championships
FOR IMMEDIATE RELEASE
DAY 5 (of 5): 2017 U SPORTS/Curling Canada Curling Championships:
Laurentian women and Memorial men walk away with gold
March 22, 2017
THUNDER BAY, Ont. (U SPORTS) – The Laurentian Voyageurs (women) and Memorial Sea-Hawks (men) captured the 2017 U SPORTS/Curling Canada Curling Championships on Wednesday at the Fort William Curling Club in Thunder Bay.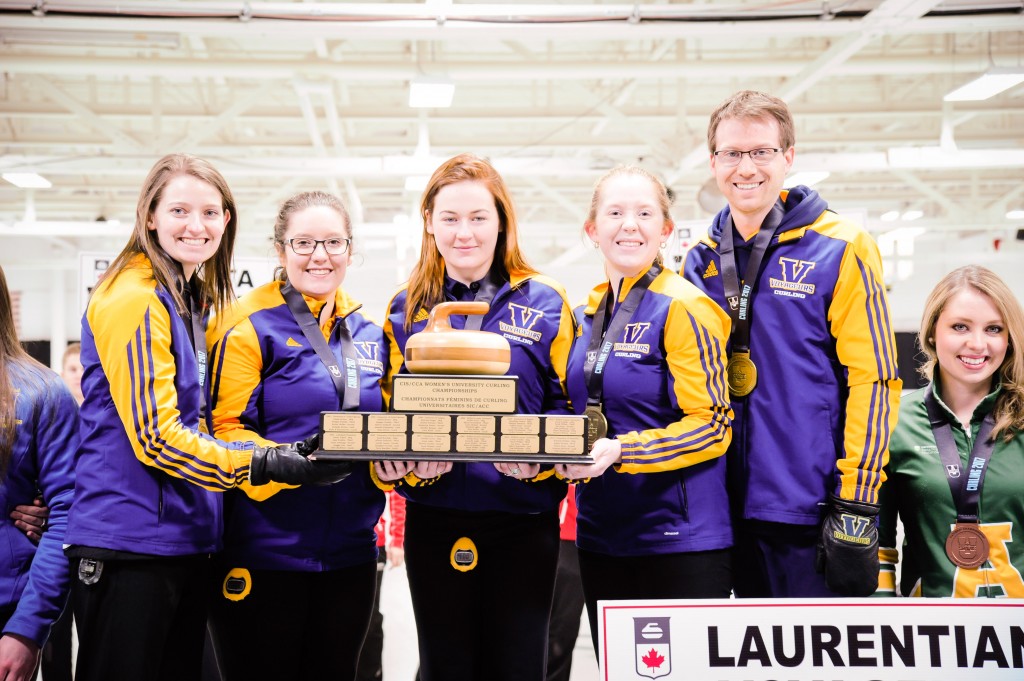 Championship website (complete results): http://en.usports.ca/championships/curling/index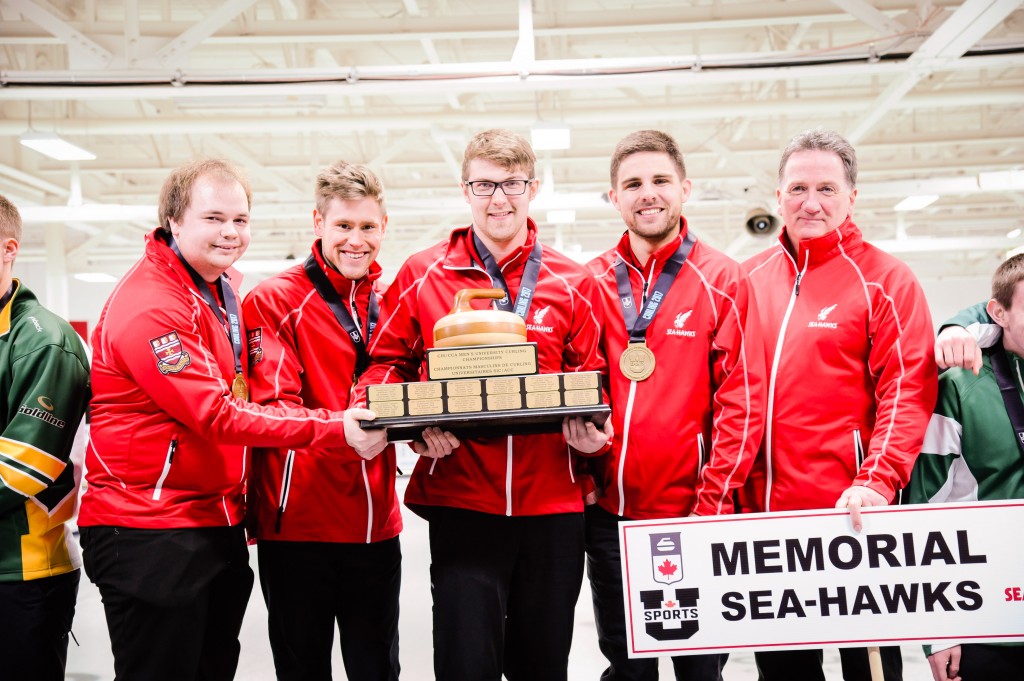 Laurentian skip and 2017 world junior bronze medalist Krysta Burns defeated Hailey Beaudry and the host Lakehead Thunderwolves 7-4 in the gold medal match, while Memorial's Adam Boland claimed the national banner with 8-4 win over Thomas Scoffin and the Alberta Golden Bears. The victories capped a perfect 9-0 record for the Sea-Hawks, who easily beat UPEI's Chris Gallant 9-2 in the semifinal Wednesday morning. Burns advanced following an 8-3 win over Dalhousie's Kristin Clarke.
Alberta's Kristen Streifel claimed the women's bronze over Clarke, while Gallant finished third on the men's side after defeating Regina's Samuel Wills.
In the women's semifinals, host Lakehead came out on top with a key 7-5 win against previously undefeated Alberta.
With the hammer, Streifel captured the first point of the day taking a single in the first end. Lakehead responded with a single of their own and stole two more in the third end, setting the Pandas on their heels. Streifel quickly tied the game at three but gave up a go-ahead pair in the fifth. From there, both teams traded points for the rest of the match. While Streifel was impressive with some clutch shots that kept the Pandas in the game, the Thunderwolves ran the Pandas out of rocks and took the 7-5 victory to advance to the final.
"Going into this game, we felt like we wanted to get back the win we should have had last night," said Beaudry after the victory. "We played really well last night and the ice wasn't on our side in the last few ends and we missed out on that. So we went out today and we really wanted that win."
In the other women's semi, the Voyageurs held a 5-1 lead after the sixth end, and carried the momentum to the five-point win to clinch a spot in the gold medal match.
On the men's side, undefeated Memorial narrowly edged Regina 8-7 in the other semifinal. Wills held a slim 7-6 lead heading into 10th, but Boland rallied to score two in the final end after Wills came up short on a freeze attempt.
As the gold medal matches began, Boland's Sea-Hawks foursome of Stephen Trickett, Zach Young and Evan Kearly, with coach Gary Ryan appeared inspired by hometown hero Newfoundland and Labrador skip Brad Gushue and his victory in the Tim Hortons Brier 10 days ago.
The turning point in the match came in the sixth end when Boland, behind 2-1, scored three to lead to take a two-point lead. After forcing Alberta to a single in the seventh, the St. John's-based team cracked a four-ender, effectively sealing the win. Scoffin scored a single in the ninth before conceding the match.
The national title was the second for Memorial, after Colin Thomas captured the 2011 title as the host team.
In the bronze medal match, Gallant's UPEI rink of Kyle Holland, Brooks Roche, Alex MacFadyen and coach Larry Rathje scored the go-ahead deuce in the eighth, and followed up with a force in the ninth to secure the 7-6 win.
On the women's side, Burns and her Voyageurs teammates Megan Smith, Sara Guy, Laura Masters and coach Ryan Lafraniere earned the first U SPORTS Curling Championship in school history and first national title in any sport since the women's basketball program won gold in 1991.
The decisive match was tied at two after five when, with hammer, Burns scored three points in the sixth to take control of the game. Beaudry responded with a deuce in seventh to tighten the score at 5-4, before Burns put the game away in the ninth, drawing for two and running Lakehead out of stones.
Women's Medalists
Gold – LAURENTIAN VOYAGEURS
Skip: Krysta Burns
Third: Megan Smith
Second: Sara Guy
Lead:  Laura Masters
Coach: Ryan Lafraniere
Silver – LAKEHEAD THUNDERWOLVES
Skip: Hailey Beaudry
Third: Kendra Lemieux
Second: Emily Cooney
Lead: Erin Tomalty
Alternate: Sheree Hinz
Coach: Dick Henderson
Bronze – ALBERTA PANDAS
Skip: Kristen Streifel
Third: Danielle Schmiemann
Second: Kate Goodhelpsen
Lead: Jesse Iles
Alternate: Chantele Broderson
Coach: Garry Coderre
Men's medalists
Gold – MEMORIAL SEAHAWKS
Skip: Adam Boland
Third: Stephen Trickett
Second: Zach Young
Lead: Evan Kearley
Coach: Gary Ryan
Silver – ALBERTA GOLDEN BEARS
Skip: Thomas Scoffin
Third: Karsten Sturmay
Second: Tristan Steinke
Lead: Caleb Boorse
Alternate: Christopher Kennedy
Coach: Rob Krepps
Bronze – UPEI PANTHERS
Skip: Christopher Gallant
Third: Kyle Holland
Second: Brooks Roche
Lead: Alex MacFadyen
Coach: Larry Rathje
DAY 5 SCORES
Semifinal – Men
Memorial 8, Regina 7
Alberta 9, UPEI 2
Semifinal – Women
Lakehead 7, Alberta 5
Laurentian 8, Dalhousie 3
Bronze – Men
UPEI 7, Regina 6
Bronze – Women
Alberta 9, Dalhousie 2
Final – Men
Memorial 8, Alberta 4
Final – Women
Laurentian 7, Lakehead 4
ALL CANADIANS
Second Team Women
LEAD: Lauren Chase (Dalhousie Tigers)
SECOND: Hayley Unrau (Regina Cougars)
THIRD: Nicole Titkai (Ryerson Rams)
SKIP:  Kristin Clarke (Dalhousie Tigers)
Second Team Men
LEAD: Evan Kearley (Memorial Sea-Hawks)
SECOND: Michael Brophy (Dalhousie Tigers)
THIRD: Matthew Manuel (Dalhousie Tigers)
SKIP: Adam Boland (Memorial Sea-Hawks)
 FIRST Team Women
LEAD: Jesse Iles (Alberta Pandas)
SECOND: Kate Goodhelpsen (Alberta Pandas)
THIRD: Danielle Schmiemann (Alberta Pandas)
SKIP: Kristen Streifel (Alberta Pandas)
FIRST Team Men
LEAD: Caleb Boorse (Alberta Golden Bears)
SECOND: Zach Young (Memorial Sea-Hawks)
THIRD: Stephen Trickett (Memorial Sea-Hawks)
SKIP: Wes Forget (Queen's Gaels)
National Coaching Award
For coach of Women's team
Winner: Garry Coderre (Alberta Pandas)
National Coaching Award
For coach of Men's team
Winner: John Newhook (Dalhousie Tigers)
R.W PUGH FAIR PLAY AND SPORTSMANSHIP AWARD
 Men: Alex Cormier (Queen's Gaels)
 Women: Emma Logan (St. Francis Xavier X-Women
About U SPORTS
U SPORTS is the national brand for University Sports in Canada. Every year, over 12,000 student-athletes and 500 coaches from 56 universities vie for 21 national championships in 12 different sports. U SPORTS also provides higher performance international opportunities for Canadian student-athletes at Winter and Summer Universiades, as well as numerous world university championships.
For further information, visit usports.ca or follow us on:
Twitter: @USPORTSca
Facebook: @USPORTSCanada
YouTube: @USPORTSca
Instagram: @USPORTSca
Snapchat: @USPORTSca
-U SPORTS –
For further information, please contact:
Ken Saint-Eloy
Manager, Communications
U SPORTS
Cell: 647-871-7595
ksainteloy@usports.ca
Alan Hudes 
Coordinator, Communications
U SPORTS
Off: 905-508-3000 ext. 242
Cell: 647-991-5343
ahudes@usports.ca
Samantha Connolly
Lakehead University
Off: 807-766-7157
spinfo@lakeheadu.ca