Thunderwolves VS Regina Cougars
October 22, 2016
5:54 pm - 5:00 pm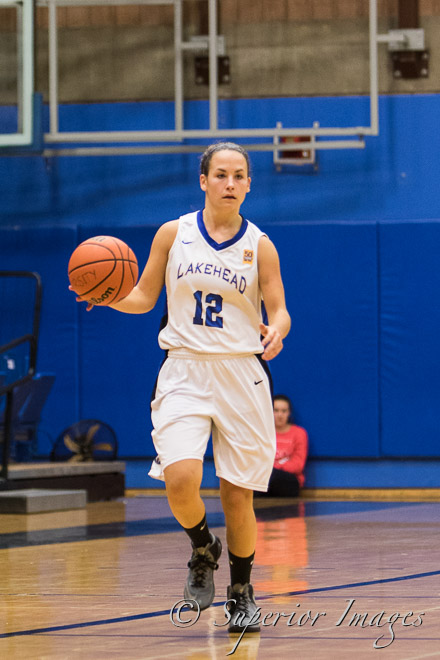 Edmonton
Saville Community Sports Centre
Thunderwolves
Regina Cougars
64
65
Game Review
(6-4 non-conference)
The Lakehead Women's Basketball team came up just 1 point shy today, losing 65-64 to the undefeated University of Regina.
"Tough loss to Regina today after playing so well for 37 minutes. Extremely proud how we executed and stuck to our game plan but in the end free throws (9-18) and great pressure defense by Regina in the last 3 minutes was the difference", said Coach Kreiner after the game.
The 'Wolves finished the first quarter down by 5 at 17-12 but quickly got it together in the second quarter where they out scored the Cougars 20-7. Lakehead was 4-8 from behind the arc in the second quarter that gave them a 32-24 boost at the half.
During the third quarter, Bridget O'Reilly hit a three pointer putting the 'Wolves up 13 and giving them their biggest lead of the game. Lakehead finished the quarter leading 56-46.
The fourth quarter came to become a different story, as the Cougars slowly chipped away at the score as they went on an 11-0 run in the last 4 minutes.
Down 3 and less than 8 seconds left, the 'Wolves drew up a play to tie the game but were unable to knock down shots. The 'Wolves only scored 8 points in the fourth quarter compared to Regina's 19.
Free throws were a problem for Lakehead tonight as they were only 9-18 from the line.
Jerika Baldin was player of the game with 7 points, 9 rebounds and 8 assists. Bridget O'Reilly was the leading scorer for the 'Wolves with 21 points and 6-13 from the three point line.
"It was a lost opportunity but one that will make us a better team."
The T-Wolves will play their last game at the HoopFest Tournament tomorrow at 10:00am (MDT) against the University of Toronto.
It will be their last non-conference game before heading into the regular season on November 5th.