Thunderwolves VS Dalhousie Tigers
September 30, 2016
2:00 pm - 4:00 pm
Fredericton, NB
Richard J. Curry Centre
Thunderwolves
Dalhousie Tigers
77
59
Game Review
WBB Capture First Win at Helen Campbell over Dalhousie
Samantha Connolly | Basketball (W)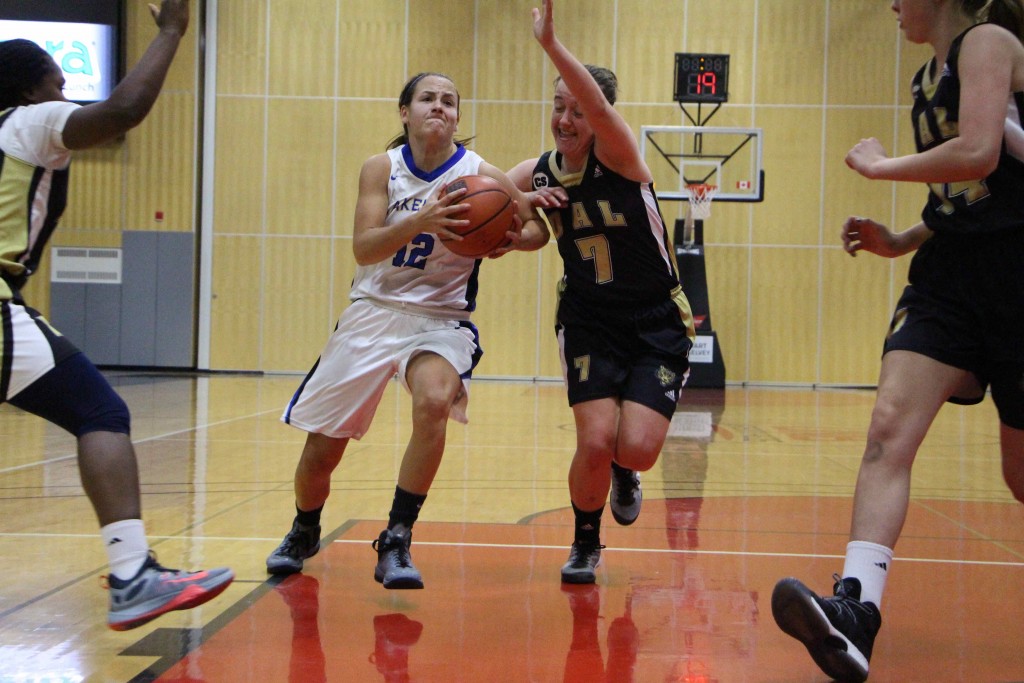 Jerika Baldin driving hard to the basket (Photo by: Andy Campbell/UNB Athletics)
The Lakehead Women's Basketball team has earned their first win of the season over the Dalhousie Tigers at the Helen Campbell Tournament.
The 'Wolves were up at half 43-28, but the Tigers were able to catch up in the third making it a 5 point game. The women weathered the Tigers, going on a 21-8 run in the fourth quarter solidifying there 77-59 win.
"Great first game of the year. The team played well together and withstood a comeback in the third by Dalhousie," comments Coach Kreiner.
With multiple injuries, the women were able to step up and prove how to play as a team.
Rachel Webber passed the ball well with 8 assists and followed by Jerika Baldin with 6. Cassandra Soulias was 4-7 from the 3-point line and lead the team with 16 points while Bridget O'Reilly and Katelyn Zen added 13 and 12 to the scoreboard.
"We stuck to our game plan and moved the ball well." – Coach Kreiner
The Tigers Diedre Alexander and Megan Thompson were tough, both putting up 15 points.
The Thunderwolves will continue their momentum tomorrow at 6:00pm as they face the home team UNB.
Webcast will be available
Photo by: Andy Campbell/UNB Athletics