Thunderwolves VS York Lions
November 26, 2016
6:00 pm - 8:00 pm
Thunder Bay
LU Fieldhouse
Thunderwolves
York Lions
65
47
Game Review
The Lakehead women's basketball team (2-5) finished off 2016 with a win against York University 65-47.
"Great team win tonight. We struggled to finish layups and hit shots early but our defence kept us in it", commented Coach Kreiner after the game.
The 'Wolves started out strong tonight, maintaining a slight lead over York for the duration of the first quarter. Cassandra Soulias hit a three at the end of the quarter that put the 'Wolves up 20-15.
York was able to bring it within two in the second quarter but Lakehead persevered and played great team offence that gave them a 32-24 advantage at the half.
Lakehead started the third quarter blazing going on an 8-0 run and extending their lead to 13. However York answered back scoring 9 points in a row and by the end of the quarter the 'Wolves were up 44-39.
Nikki Ylagan opened the fourth quarter with a big three putting her team up 8. Lakehead went on to show how effective they can be on both offence and defence, outscoring York 21-8 in the quarter. The 'Wolves finished the game winning 65-47.
"We have been getting great bench production this year and tonight Rookie Nikki Ylagan stepped up off the bench to lead us in scoring. Jerika was great with 10 assists to 1 turnover and Rachel Webber was our leading rebounder with 7." – Coach Kreiner
Nikki Ylagan had 14 points and made 4 three pointers during the game. Gillian Lavoie and August Ricketts both contributed 8 points each.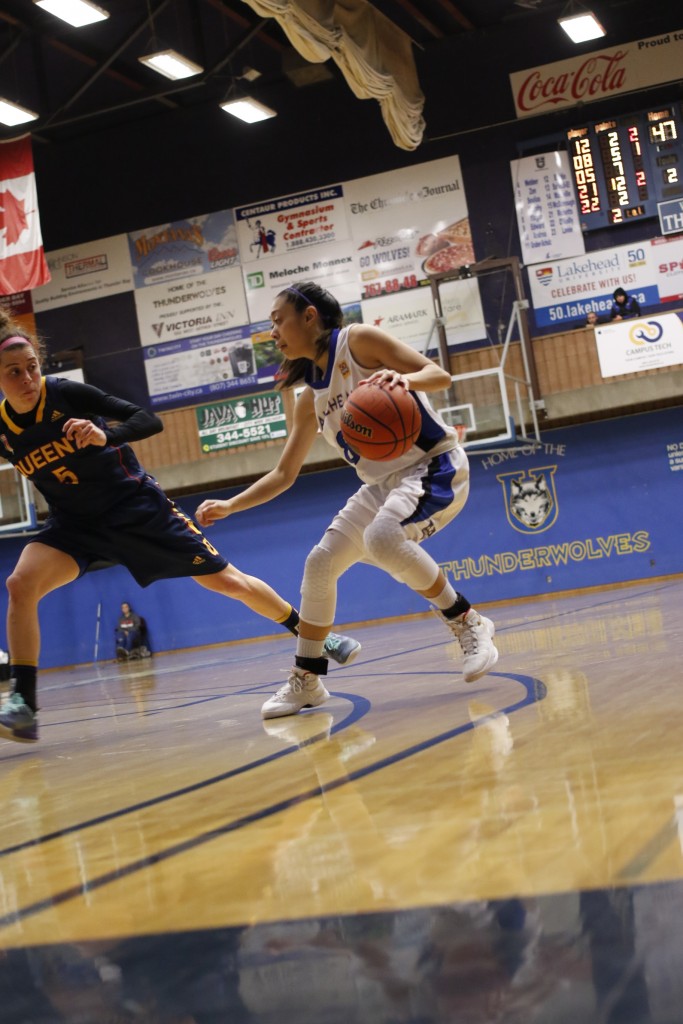 "We are a resilient team, with a lot of tools and we find ways to compete. We need to value the ball more and learn to be a consistent rebounding team. We are happy with the win but more happy we get a break from the grind (bye weekend next weekend) so that we can rest up and get healthy for the New Year!" -Coach Kreiner
The next regular season games for the Thunderwolves will be January 6, 2017 where they will play on the road at Ryerson.