Lane Swim
Pool Hours:
Please see pool calendar linked below for a live schedule of land swim available.
The pool will be running on modified hours Dec 4 – Jan 2 to maintenance. Closure are as follows:
December 4th-10th – Closed Tuesday and Thursday Afternoons

December 11th-17th – Monday Evening Swim Closed, All Afternoon Swims Closed

December 18th-January 2nd – Pool Closed for Maintenance

January 3rd – Return to Normal Hours
Looking for information on our Aquabics classes? Please visit this link!
Pool Access
All pool users must sign in at the front desk prior to accessing the pool.
Lane swim is only available for certain hours of the day, according to the schedule below,
Pool users must follow the instructions and guidance from lifeguard staff at all times, and are expected to conduct themselves in a safe manner when on the pool deck and in the water.
The cabanas (2) on the pool deck are available for changing.

Patrons are asked to choose their double lane based on slow, medium or fast pace. Double lanes 1-2 is slow pace. Lanes 3-4 is medium pace. Lanes 5-6 and 7-8 is fast pace.

There shall be no more than 5 patrons per double lane.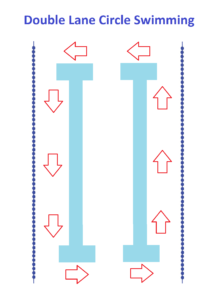 Rules & Regulations
To maintain physical distancing guidelines, please do not arrive at the pool deck earlier than 10 minutes before your scheduled swim time.
Maintain your 2m physical distance from other patrons at all times.
Pool users are asked to shower at home before and after swimming.
Pool users are asked to use the gender neutral washrooms on the pool deck if necessary at any time during their swim.
Please remove your outdoor footwear before entering the pool deck and carry them with you to where you choose to place your swim bag.
Please wear your mask onto the deck, place your mask into your bag while swimming and put mask on when exiting the pool.
There will be no swimming aid equipment provided by the pool – if you wish to use these please bring your own to and from the pool at the time of your booking.
Schedule