HOMECOMING 2017: Wall of Fame Inductees Announced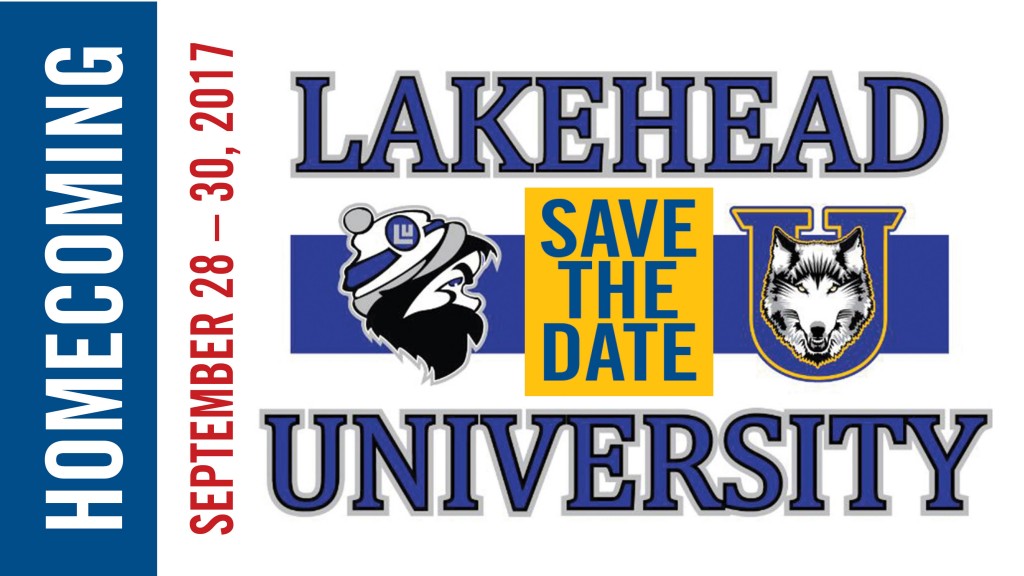 Lakehead University will welcome alumni and friends back to campus during the annual Homecoming Weekend, taking place from September 28-30, 2017. Returning alumni will enjoy events that bring together lifelong friends, celebrate alumni excellence, and provide a nostalgic return to the university community. Major events include the Alumni Awards Dinner, Speakers Series, Open Houses and reunions.
"Lakehead University has been the home for more than 52,000 alumni who continue to demonstrate exceptional leadership, across the country and around the world," said Dr. Michel Beaulieu, Chair of the Alumni Association of Lakehead University (AALU). "Each fall, Homecoming Weekend draws many of them back home to reconnect with their fellow classmates and honor their time at Lakehead. We welcome them to come home, visit campus, take in some of our events, and enjoy the sights and sounds of the community."
As a part of the celebration, Lakehead Athletics is excited to announce and honour their 2017 Wall of Fame inductees that will be celebrated during Homecoming weekend on September 28-30th.
Established in 1996, the Lakehead Athletics' Wall of Fame has existed to acknowledge athletes, coaches, teams and administrators who have made exceptional contributions to Lakehead Athletics over the years. This years inductees consist of 2 Builders, 2 male and female athletes and 1 team. The Inductees photos will be displayed on the Wall of Fame, which is located in the Hangar Lounge.
Inductees from top left: Bill Keeler (Builder), John Laplante (Male Athlete), Joel Scherban (Male Athlete), 1999-2000 women's wrestling team, Dr. Jack Remus (Builder), Muriel Mortson (Female Athlete), Katie Patroch (Female Athlete)
In this year's Wall of Fame builder category, Dr. Jack Remus and Bill Keeler will be celebrated.
Dr. Jack Remus played a huge role in establishing and pioneering the Sports Medicine Clinic at Lakehead University in the early 1970s. He was also the team physician for all Lakehead athletic teams and a number of athletic events.
Bill Keeler was the Facilities Manager at the C.J. Sanders Fieldhouse. He impacted the lives of everyone who met him, including all the part-time students he hired and mentored. The Thunderwolves community remembers the outstanding person Bill was and how his contributions have influenced what the Fieldhouse is today
The two male athletes being inducted are John LaPlante and Joel Scherban.
John LaPlante played on the men's basketball team from 1984-1987 and 1988-1990. One of the top scorers in Lakehead's history, John was a tough guard who led by example and pushed his teammates to the best of their abilities. John was named Lakehead University Athlete of the Year in 1989 and was a Second Team All-star for multiple years throughout his career.
Joel Scherban was a part of the Thunderwolves Hockey Program from 2001-2006 and is one of the Thunderwolves highest all-time statistical leaders. He received multiple awards throughout his time at Lakehead for his outstanding sportsmanship and skill, including CIS Player of the year in 2005. He concluded his fifth year and incredible OUA Career by leading the Thunderwolves to the OUA Championship victory.
The two female athletes being inducted are Muriel Mortson and Katie Patroch.
Muriel Mortson not only played on the women's field hockey team but was also an impressive women's basketball player from 1973-1977. She averaged 13 points per game and was named Lakehead University Female Athlete of the Year in 1977.
Katie Patroch was an outstanding Lakehead wrestler who placed 3rd at the CIS National Championship in 2003 and 2006. She went on to compete around the world including the World, Commonwealth and Pan American Championships. Katie was named Athlete of the Year in 2006.
The 1999-2000 women's wrestling team will be inducted into this year's team category. This team played a huge role in growing the women's wrestling program at Lakehead. They were OUA Champions and continued on to place 3th at the CIS Championships.
The Wall of Fame induction ceremony will take place Saturday, September 30th, prior to the Zanatta Alumni Games.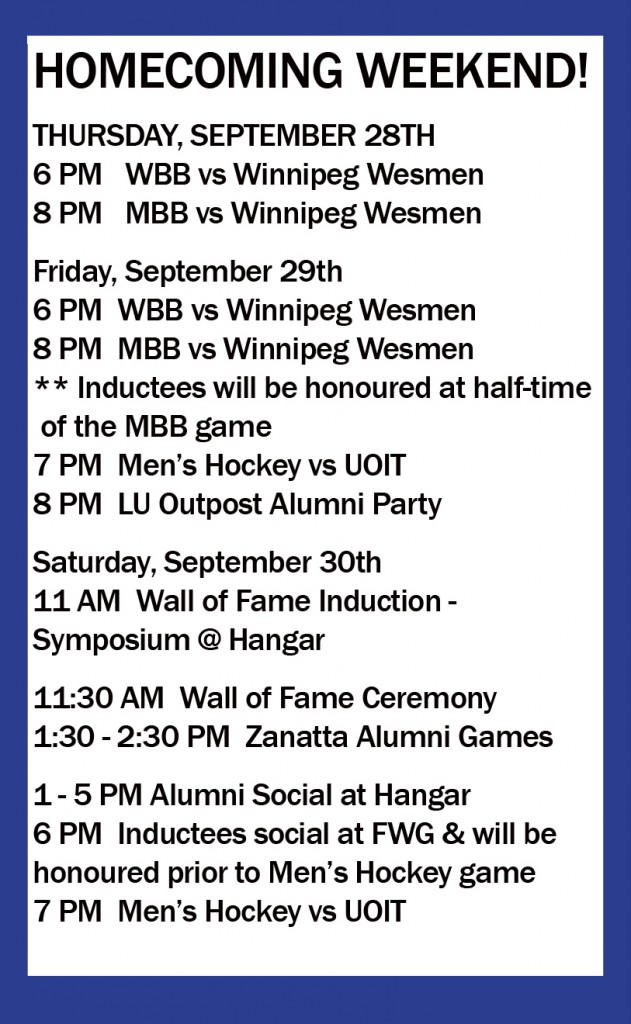 Lakehead athletics will be celebrating The C.J. Sanders Fieldhouse 50th anniversary this year as the Fieldhouse was first opened in spring of 1968 in honour of one of the universities major benefactors, Carl J. Sanders. The Annual Thunder Bay Basketball League's Booster night, held on February 24, 1968, was the first major attraction for the Thunderdome. Since then, the building has continued to stand strong, becoming the main hub for Thunderwolves athletics with multiple amenities offered to students and the public.
The Northwestern Ontario Sports Hall of Fame will also be recognizing excellence in sports during homecoming weekend, with the hosting of their 36th Annual Induction Dinner and Ceremonies at the Valhalla Inn on the evening of Saturday, September 30th – which will make the weekend a true celebration of the rich and proud sports heritage of the region.
All Lakehead alumni, students, fans, and supporters are welcome to attend Homecoming 2017 with lots of events to enjoy.
A full events listing can be viewed online at https://www.lakeheadu.ca/homecoming.  The schedule continues to be updated, so be sure to check back often.
ALUMNI EVENT:
Alumni Awards Dinner | Friday, September 29
The Alumni Association of Lakehead University has been honouring distinguished alumni
since 1988 when the first Alumni Honour Award was given. The ceremony will recognize individuals in the categories of Young Alumni, Alumni Honour and Legacy Award. The event will be held on campus featuring a full awards program schedule and dinner.
If You Go:
What: Alumni Awards Dinner
When: 6 p.m. Reception, 7 p.m. Dinner | Friday, September 29
Where: Thunder Bay Campus (location to be determined)

Award Recipients to be honoured:
Alumni Honour Award:
Ken Boshcoff (HBA '72)
Darren Lentz (HBOR, BSc. Bed '96, Med '07)
Outstanding Young Alumni Award:
Lloyed Lobo (BEng '05)
Alumni Legacy Award:
David Heroux
Rob Jamieson
Honourary Memberships:
Cam Clark
Cathy Trojan
Fred Gilbert

Other Highlights:
Lakehead University Archives Open House
Faculty of Business Reunion
Department of Languages – Foreign Film Screening
Alumni pre-game socials
Women's and Men's Basketball vs. Winnipeg
Men's Hockey vs. UOIT
Alumni After-Party at The Outpost
Zanatta Alumni Games
…and many more!