Jackson and Tree Named Lakehead Athletes of the Year
Lakehead Athletics celebrated the 2016/2017 season this afternoon by handing out their awards at the Annual Awards Gala held in the John N. Paterson Faculty of Law Auditorium at PACI.
Jenn Jackson (Nordic Skiing) walked away with the Female Athlete of the Year, with Kevin Tree (Cross Country) reclaiming the Male Athlete of the Year once again. Both athletes had outstanding seasons with Tree taking home silver at OUAs and finishing fourth at Nationals. Jackson was a force to be reckoned with as she finished the year a national individual championship.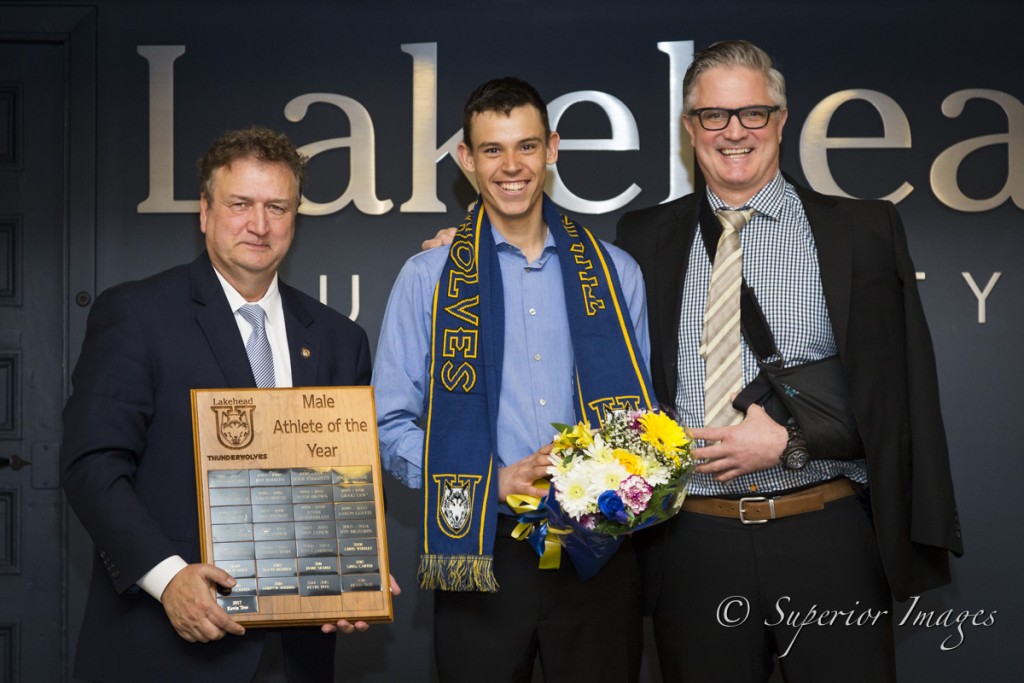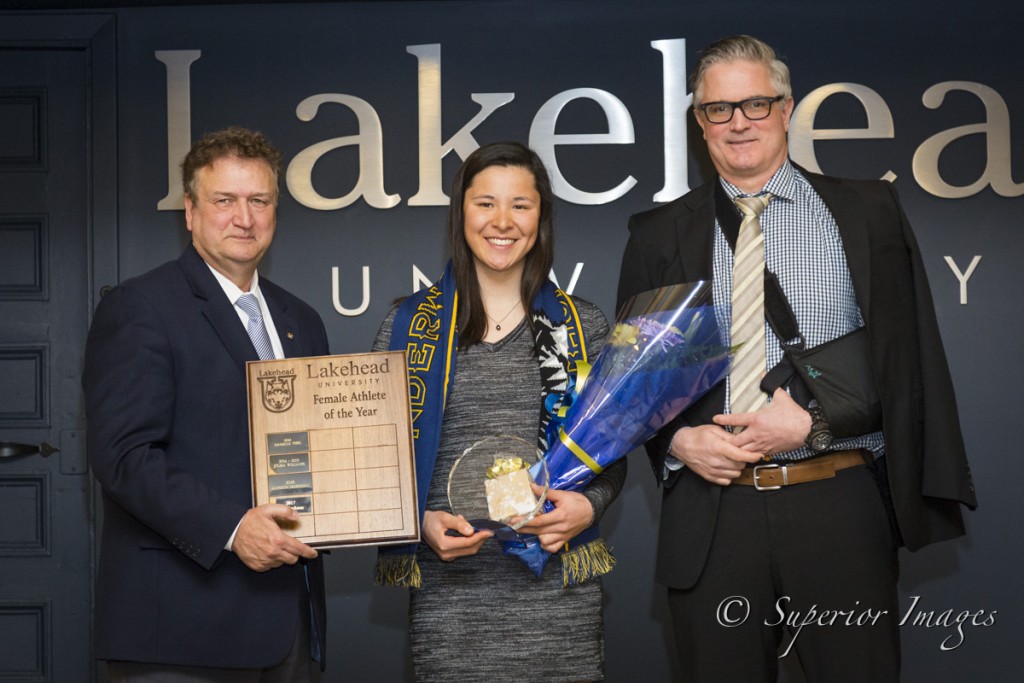 Women's basketballs Nikki Ylagan picked up Female Freshman of the Year for her outstanding break out season. She stepped up in games, hitting some big shots that also got her named to the OUA All-Rookie team. Male Freshman of the Year was delegated to Marco Palermo, after he won gold at both the OUA and USPORTS Championships. Marco was also named both OUA and USPORTS Men's Wrestling Rookie of the year.
The Hank Akervall Memorial Award was presented to Katelyn Zen, for her outstanding leadership and excellence in athletics along side keeping up good academic standings and being active in the community. Alex Robichaud was given the Argus Award, that goes to exceptional athletes that have captured the medias attention, named by Lakehead's student newspaper sports editor.
A full listing of individual team awards can be found below.
Major Awards
Female Athlete of the Year – Jenn Jackson
Male Athlete of the Year – Kevin Tree
Female Freshman of the Year – Nikki Ylagan
Male Freshman of the Year – Marco Palermo
Hank Akervall Award – Katelyn Zen
Argus Award – Alex Robichaud
Team Awards
Men's Hockey
Rookie of the Year – Patrick Murphy
Best Offensive Player – Kelin Ainsworth
Best Work Ethic – Carson Dubchak
Best Defensive Player – Dillon Donnelly
Most Valuable Player – Kelin Ainsworth
Women's Basketball
Rookie of the Year – Nikki Ylagan
Most Improved Player – Katelyn Zen and August Ricketts
Best Defensive Player – Jerika Baldin
Amanda Nesbitt Award – Katelyn Zen
Most Valuable Player – Bridget O'Reilly
Men's Wrestling
Rookie of the Year – Marco Palermo
Most Improved Wrestler – Tyler Ashurst
Most Valuable Wrestler – Tyler Ashurst
Women's Wrestling
Rookie of the Year – Madison Clayton
Most Improved Wrestler – McKenzie Hall
Most Valuable Wrestler – Jessica Bershatsky
Frank Schaller Award – Kevin Leatherdale
Cross Country Running
Most Valuable Female Runner – Heather Maxfield
Most Valuable Male Runner – Kevin Tree
Indoor Track & Field
Most Valuable Female Runner – Kayla Gallo
Most Valuable Male Runner – Joe McDonough
Women's Volleyball
Rookie of the Year – Ciara Zarn
Coaches Award – Jessica Korchak
Corrine Kollman Award – Olivia Bowman
Most Improved – Jennifer Hammerton
Most Valuable Player – Kailan Robinson
Nordic Skiing
Female Rookie of the Year – Makaila Hudson
Female Most Valuable Skier – Jenn Jackson
Male Rookie of the Year – Noah Taylor
Male Most Valuable Skier – Noah Thompson
Sportsperson of the Year – Colin Pendziwol and Erika Mihell
Men's Basketball
Rookie of the Year – Nahshon Hurst
Most Improved Player – Mike Theodore
Best Defensive Player – Alex Robichaud
Most Valuable Player – Bacarius Dinkins
Photo Credit: Jarron Childs