Katie Ulakovic Joins Men's Hoops as Assistant Coach
Ulakovic an example defensive tenacity, leadership in her athletic career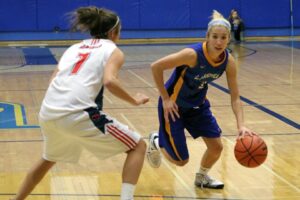 Photo by: TBNewswatch.com
The men's basketball team will have a new assistant to help run the bench this season. Katie
Ulakovic, the five-year Lakehead women's basketball and French alumna has joined the
program.
"I'm extremely honored and excited to join the men's basketball coaching staff," Ulakovic
exclaims.
Ulakovic's career as a Thunderwolf was defined by her tenacity on the defensive end, which
demanded exceptional physical conditioning. She worked hard throughout her career to become
the team's go-to defender against the opposition's top offensive threats. Not just a one-way
player, she once hit eight 3-pointers in a huge road win in 2015, her fifth and final season as a
Thunderwolf.
Now, she's hoping to impart some of her basketball savvy to the men's program, which like all
OUA teams, is preparing to bounce back from a cancelled 2020-21 season.
"I've coached boy's basketball at the highschool level for many years but have never had the
opportunity to experience coaching at the next level," continues Ulakovic. "I'm very thankful to
coach Thomson and seasoned assistant Matt Erdman for believing in me. I look forward to
returning to the Thunderwolf family and learning and developing as a coach."
"I'm happy that Katie decided to join the staff this year," explains Head Coach Ryan Thomson.
"She had a decorated career as a player at Lakehead U and has been coaching with the
Hammarskjold boys' basketball program for several years. She's an excellent communicator
and a bright basketball mind."
"We're excited to have her on board and help our guys continue to improve as people and as
players," adds coach Thomson.
"Katie was a fierce competitor and a friendly face around the fieldhouse during her time as a
student-athlete," mentions Tom Warden, Director of Athletics.
Warden continues, "We're glad to have Katie rejoin the Thunderwolf family in a program first for
men's basketball at Lakehead. Having a woman's voice on the coaching staff will bring new
energy and perspective to the coaching roster, and will enrich the learning experience for the
players."
Written by: Hugh Mullally