Lakehead Thunderwolves Women's Basketball Captain, Tiffany Reynolds and Thunderwolves Alumni Karissa Kajorinne Participate in MWBA 2022 Season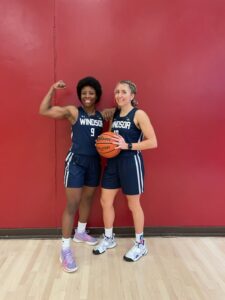 Summer is an interesting concept in the lives of student-athletes. The season that is for so many a time of rest and relaxation of languid days spent in company of open water and clear skies is instead spent on development drills, on building strength—on honing a craft.
That process of growth this year has taken Thunderwolves women's basketball team captain Tiffany Reynolds east to the Maritime Women's Basketball Association (MWBA). The nascent league features six teams with rosters made up of current and former USPORT and NCAA players, as well as a number of hoopers with experience in pro leagues overseas.
"The opportunity to play in the MWBA is unexplainable," Reynolds says. "To be able to connect with female players who have experience playing at the highest levels, and to work with a coaching staff with a true focus on highlighting individual talent is really special."
And highlight it has—Reynolds, whose tenacity and will are well known to Thunderwolves fans, is currently third in the league in scoring at 17 points per game, and though the league does not openly track many other stats, you can be sure Tiff's smashmouth style is translating into a cascade of rebounds and defensive menace.
It's fitting, then, that Reynolds—a player who creates nightmarish matchups for the opposition slashing from the wing, creating out of the high post, or pestering her assignment on D—a player with a chip on her shoulder, is currently representing the Windsor Edge out of Windsor, Nova Scotia.
"I'm very fortunate to have this experience going into my last year of university basketball, as it will be an asset to bring back everything I'm learning into my final season," Reynolds says. "The dedication and drive from everyone involved is obvious both on the court and watching from the sidelines."
Reynolds is joined on the Edge by a familiar face to LU fans—homegrown Karissa Kajorinne who played her 2018-19 year in Thunderwolves blue, and is perhaps most famous for dropping 9 three-pointers on her way to a USPORT career-high 32 points in her last regular-season home game. The transition for her has been seamless, as she currently averages a league-best 25.6 points per game for the Edge.
"I was super excited when I heard about the MWBA," Kajorinne says. "First, because it was an awesome opportunity for women's basketball in Canada, and secondly, because the league was being led by commissioner Tasia McKenna."
McKenna, who played for the Lakehead Thunderwolves from 2006 to 2011 and who was a three-time OUA All-Star, hails from Timberlea, Nova Scotia.
"Tasia was a star who I looked up to as a young athlete," Kajorinne adds, "so it's super cool to have a connection to the league, despite it being stationed all the way out in the Maritimes."
"I will admit I'm sometimes sitting in the stands yelling 'Go Thunderwolves!' every time they score or come up with a big play," McKenna confesses. "Not a lot of people out here are familiar with Lakehead University or where Thunder Bay is, but they've both been player of the week, and there's a lot of 'who are they? where do they come from?' I'm the first to say 'actually, they're Thunderwolves.'"
For Reynolds, the league has been so much more than an opportunity to shine.
"I feel like I've grown so much," she says. "People always say 'oh Tiffany, you're a great leader,' but I've seen so many great leaders since I've been here and I've learned a lot. It's great to talk to the older heads when I'm frustrated, or when I need to say the hard things, and they're so helpful—I'm learning a lot.'"
Reynolds and Kajorinne have so far piloted their squad to a 3-3 records with four games left to go. Playoffs will take place at the end of June in Halifax. The two are being recognized as among the best in the league, players who cause problems for the opposition every game.
"They're the talk of the league," McKenna says. "I love to see it—I've only ever had a chance to watch them play online, which is great, but when you see them in person it's a completely different dynamic. As a Thunderwolf, I'm always proud to see other Thunderwolves really excelling and showing people what we're all about."
"You're looking at Tiff who's just an explosive, powerful player who anticipates the ball really well," McKenna adds.
Reynolds' physical dominance and heady play may be nothing new for Lakehead faithful, but as a relative unknown on the East Coast, her ability to dictate the flow of the game both offensively and defensively, to exert control, is drawing attention.
"As for Karissa," McKenna says, "obviously her ability to shoot the ball is impressive. The number of points she has per dribble is really high—a lot of her shot attempts are catch-and-shoot threes or off a one-dribble pull-up, and so she's very, very efficient."
Both Reynolds and Kajorinne are thankful for the opportunity the Maritime Women's Basketball Association offers, and identify it as an important part of supporting and growing women's sport in Canada.
"This year, NCAA March Madness for women was insane—everyone was watching it," Reynolds says. "Now Canada has their own league going on, and you don't have to leave the country to play at the next level—it's right here in our backyard. It's a great starting point," she adds. "Soon what was a one in a lifetime opportunity for me will be a very achievable goal for up coming female athletes."
"I'm thankful for the opportunity to compete, learn, and play alongside such a talented bunch of women," Kajorinne says. "I'm looking forward to the growth of this league,e and I hope it helps pave the way for the young athletes I coach now—something they can aspire to be part of one day."
"To see players like Tiff and Karissa wanting to play, wanting to continue either during or after their careers speaks volumes to the need for women's professional leagues," McKenna notes. "Not just in basketball, but soccer, hockey, volleyball, you name it—there should be a women's pro league supported from coast to coast to coast."
And so another Summer of development, building, and honing is everything for Reynolds and Kajorinne, but it's also about more than them. It's about creating for the future.
"I think what we're doing with this league," McKenna says, "is critical to leaving a legacy that women athletes haven't had access to in the past. Our legacy as athletes really always stopped after five years at the USPORT or CCAA level, and that was it. So for me it's really validating."
"It's a really proud moment for me to see Tiff and Karissa playing and excelling in the league, and my hope is that we'll see a few more Thunderwolves out here playing when the time is right for them."