Lakehead University Athletics is proud to announce Jeff Richards as a 2022 Wall of Fame athlete inductee.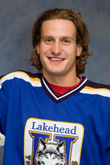 Lakehead University Athletics is proud to announce Jeff Richards as a 2022 Wall of Fame athlete inductee.
"Jeff helped the Thunderwolves men's hockey team succeed at an elite level," Lakehead University Athletics Director Tom Warden says. "He racked up a lot of points for our blue and white and was a force all over the ice."
Richards played in 170 games from 2002 to 2007 as a Thunderwolf, picking up 248 points during that time—good for nearly a point and a half per game. He was named OUA West MVP in 2003-04, only his second year with the team, and was an integral part of the Queen's Cup-winning OUA champion Thunderwolves team in 2005-06.
"As much of an individual honour this is, there's a reason one of the teams I played on has already been inducted," Richards says. "The group of players brought in to play in Thunder Bay was incredible."
The Thunderwolves men's hockey team went a fantastic 119-71-15 over Richards' tenure with the team, including 23-9 in OUA playoff games, but his humble nature cannot ignore his 123 career goals (including 30 on the powerplay and 15 shorthanded) or his 125 career assists.
But again, Richards turns the spotlight elsewhere.
"I owe a lot to Pete Belliveau, who was an exceptional recruiter," Richards says, "and he would not have been able to do his job without the support of (former LU President) Fred Gilbert, Tom Warden, or the Thunderwolves board of directors who dreamed and built a team model that excelled and continues to excel to this day." 
"When I look back, I have a lot of appreciation for the people in the background," Richards continues. "Trainers Ron Rost and Brendan Kerr; physiotherapists Joanna Sanchez, Peter Jordan, and Candace Baker; assistant coaches Dan Bissonette, Darren Nicholas—Paul." 
"These people were always willing to go the extra mile, putting in extra time to fit me in for treatment—sometimes multiple times a day—making sure gear was ready to go for each and every ice time, making a few extra passes after practice after their already long workdays. Without passionate people, organizations are not successful. Without these people I would not have been on the ice to get a touch on the puck before it found the back of the net—it was a group effort to say the least."
Richards came to Lakehead from Kenora, Ontario in 2002, joining a Thunderwolves men's hockey team coming off a year in which they finished below .500. 
"If you look back at the core group of players I played with, a many of them were Northwestern Ontario kids," Richards notes. "That says a lot about the grassroots programs run in the North while everyone was growing up. Everyone says you need to leave the North to be noticed, but if you put in the time and effort, you will succeed."
And succeed he did—the Thunderwolves would win an average of 24 games a year while Richards was on the roster. When asked what memories stand out to him, Richards has a lot to say.
"There are so many special memories from playing for the Thunderwolves—from winning OUA championships to attending the national championships and finding our way into the finals. Our crowds made it so much fun for us and so difficult for the other teams—and we beat Western regularly," he says with a laugh. "Throughout it all, the people in Thunder Bay showed up and packed the Gardens every night." 
When pressed about his induction to the Thunderwolves Wall of Fame as an athlete, Richards is quick to answer.
"The wall in the Fieldhouse is filled with exceptional athletes, coaches, and builders," he says. "To be put in company with those Thunderwolves greats really makes me feel good, and especially with my fellow inductees. Some of the friendships made with the boys, fans, teachers, and administrators both with the team and at Lakehead still carry on to this day, and we're getting old," he adds with a smile. 
"Jeff was a big part of a special time in Thunderwolves men's hockey history," Lakehead University Athletics Director Tom Warden says. "Those were some special years, and he was a special player—Jeff really showed what Thunderwolves excellence is all about."
"I was very thankful for all the support the people of Northwestern Ontario showed us and I know the team was too," Richards says. "Lakehead is a special place," he adds. "I was lucky enough to play the game I love while getting an education with a bunch of great people."
The Lakehead University Athletics Wall of Fame induction ceremony will take place this Fall as part of homecoming weekend, on Saturday, October 22nd, 2022.