Lakehead University Athletics is proud to announce the last of 2022's Wall of Fame inductees: 2009/10-2012/13 Men's Basketball Team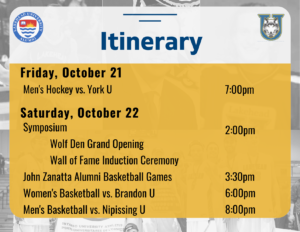 Lakehead University Athletics is proud to announce the final 2022 Wall of Fame inductees: the 2009-10 to 2012-13 men's basketball team. The full list of team members is included at the end of this article.
"Every Thunderwolves fan over a certain age has strong, specific memories of those teams—the energy at home games, the big wins, the sound bites," Lakehead University Athletics Director Tom Warden says. "That era of men's basketball is emblematic of what our Thunderwolves community stands for: people coming together to combine efforts in building something great. I'm thrilled that we'll be recognizing so many student-athletes, coaches, and other contributors this coming weekend at homecoming."
The team—who the Thunder Bay media affectionately nicknamed the Heart Attack Pack for their penchant for pulling out gutsy victories in late situations—amassed a record of 117-39 over that period, including four consecutive CIS Final 8 (national championship tournament) appearances including a silver medal, two OUA bronze medal finishes, and an OUA Wilson Cup men's basketball championship.
"I'm just really excited that our teams from that era are being inducted," then Thunderwolves men's basketball head coach Scott Morrison said in a prior release. "We were always a close-knit group and share a bond that will now be immortalized on the Wall of Fame, which is the ultimate honor in university athletics."
The foundation was laid in the Fall of 2008, when Morrison and his staff brought in a recruiting class that included Greg Carter, Yoosrie Salhia, Matthew Schmidt, and Brendan King. They now occupy four of the top-five spots in all-time playoff games played in Thunderwolves men's basketball history.
"When we first came in, I knew it was a rebuilding situation," Salhia says. "We took on a challenge, and looking back, we went from literally the bottom of the CIS [now U SPORTS] to a contender. Knowing our group was able to make LU basketball special again is an amazing feeling, and it brings back a lot of memories."
"I wasn't sure what my role was going to be," Carter adds, "but it quickly became known that I was a defensive player who could lead a defensive team."
"Morrison had a plan from day 1," Jamie Searle, who was a senior floor leader on the 09-10 and 10-11 teams before transitioning to the bench, says. "It was a true process in all aspects. The players who came before us deserve credit as well."
The 2009-10 season saw the addition of recruits Ryan Thomson and Joseph "Jay-Jay" Jones, and it started with a bang. The Thunderwolves went 9-1 in the preseason, including an undefeated swing into North Dakota and tournament wins at the Wesmen Classic and Brandon Super 8. They opened the regular season with a buzzer-beating win and lost one regular-season game before Christmas on their way to an OUA bronze medal and a national championship tournament appearance.
"It feels great knowing I helped make the team a contender," Jones says. "I was the spark, the energy guy coming off the bench, and that's one thing my teammates always relied on me for. I'm happy to say I never let them down."
"When Andrew Hackner hit that game winner against Queens in our first OUA game of the year," Salhia says about the 09-10 season, "that set the tone for the remainder of my career at Lakehead. After that game, we started to figure things out and remained at the top of the OUA for the rest of our careers."
The next season the team picked up two regular-season losses before Christmas on their way to an OUA Wilson Cup men's basketball championship and a national championship tournament consolation final win.
"Winning the OUA championship when nobody thought we had a chance," Searle says, "that's a special memory."
Searle was named the Kitch MacPherson Trophy winner as OUA championship MVP after scoring 23 points while adding 6 rebounds and 6 assists in the final.
"The Wilson Cup championship is an obvious favourite moment," Salhia adds.
"Winning the school's first ever OUA championship was definitely one of so many great memories," Jones agrees.
"I'll always remember winning the OUA championship," Carter says.
The 2011-12 season continued a trend of dominance, with the squad going undefeated in preseason play and finishing 32-5 overall, with the season ending on a national championship tournament loss.
In 2012-13, the final year of the Heart Attack Pack generation, the team went 30-13, including a national championship silver medal, the best finish in Lakehead men's basketball history.
"Obviously I wish we had won a national title, but when I look back at things, what we accomplished is pretty special," Salhia says. "Knowing I was able to help lead that charge is something I will always look back to proudly."
"Playing for a national championship," Jones adds, "even though we fell short, we had a brotherhood we built as a team. We spent a lot of time on the road and that just brought our team closer as a unit. There was never a dull moment."
"Words can't describe how far we went as a basketball team," Carter says. "I have a lot of gratitude, and I'm proud of our accomplishments."
During those four years, the Thunderwolves amassed an impressive amount of hardware: Scott Morrison was named OUA West Coach of the Year three times; Greg Carter was named OUA Defensive Player of the Year four times consecutively and national defensive player of the year twice; Jamie Searle won his aforementioned OUA championship MVP; Venzal Russell was named to the All-Canadian 2nd team; and Jay-Jay Jones was named to the 2013 All-Tournament team for the national championship tournament. The team also received five OUA West 1st team All-Star nods and four OUA West 2nd team.
Furthermore, Lakehead's all-time men's basketball records are dominated by that era's players: Yoosrie Salhia is 1st in career regular season rebounds and 2nd in points, and 1st in career playoff rebounds and blocks; Greg Carter is 1st in career steals and assists in both regular season and playoff play; Jay-Jay Jones is 1st in career playoff points, followed by Venzal Russell, Greg Carter, and Yoosrie Salhia.
"I've had individual and team success," Salhia says, "and both will be in the record books for a while. I feel good about my legacy.
"[Being the all-time leader in Thunderwolves career playoff scoring] is actually news to me," Jones adds, "but that just shows the confidence and faith my teammates and the coaching staff had in me. As far as my legacy goes, I feel like I left a lasting impression on and off the court. I made sure I stayed involved in the community and tried to be a role model for younger kids. Thunder Bay is and will always be my second home, and I thank the community for all the support they showed not only to me but my teammates as well over the years spent there."
"Finishing as a two-time national defensive player of the year, the national silver medal, and winning the OUA title are things I'll always remember," Carter says. "But I'm proud of our legacy on and off the court—I always appreciated coaching youth in the community and volunteering at Shelterhouse. I cherished giving back—it's one thing I know we took pride in as a team."
"The Heart Attack Pack will forever be an integral piece of Thunderwolves athletics history," Warden says. "The contributions of everyone involved created something truly special, and that impact continues to reverberate through our men's basketball program and community today. I thank each and every member of those teams and congratulate them on all their accomplishments."
When asked what their induction means to them, the players ultimately land on it being another part of their connection the Thunder Bay and to Lakehead University.
"Being inducted is a great honour," Salhia says. "Thunder Bay is a unique community, and coming back with the team and being recognized will bring back a lot of memories and solidify our place in Lakehead and Thunder Bay history."
"I think it's perfect that we are going in as a team," Searle adds. "We were so close and really were a family. Lots of teams say that, but we really meant it—we all still stay in contact and talk to this day. We all wanted to put banners up in that gym and we were all willing to put aside individual goals for the team."
"We all sacrificed a lot and put in a lot of hours, blood, sweat, and tears over those years," Jones agrees. "To be going into the wall of fame shows we are being recognized for all of our hard work and for building a culture and making Thunder Bay a basketball community. It means a lot to not only me, but I'm sure to all of my teammates."
"I hope future teams will look to us, respect what we did, and learn from us," Searle continues. "Being in the hall of fame is a top accomplishment, and it would not have happened without amazing coaches, teammates, fans, and everyone else at Lakehead athletics."
"It's something I'll hold close to my heart," Carter adds. "I'm very thankful."
The Lakehead University Athletics Wall of Fame induction ceremony will take place this Saturday, October 22nd, as part of homecoming weekend.
Itinerary October 22:
2:00pm: Symposium
Wolf Den Grand Opening
Wall of Fame Induction Ceremony
3:30pm: John Zanatta Alumni Basketball Games
6:00pm: Women's Basketball vs. Brandon University
8:00pm: Men's Basketball vs. Nipissing University
We look forward to you joining us!
The 2009-10 to 2012-13 Thunderwolves men's basketball team:
ROSTER
Akeem, Isaac-Philip
Alexander, Sylvester (JR)
Carter, Greg
Hackner, Andrew
Hart, Joe
Harvey, Dwayne
Hornby, Cameron
Jones, Joseph
Johnson, Benjamin
Kasiuk, Sebastian
King, Brendan
McIntosh, Anthony
Myketa, Brandon
Nagy, Matthew
Nitychoruk, Joseph (Joey)
Quirion, Andrew
Robichaud, Alex
Rom, Karl
Russell, Venzal
Salhia, Yoosrie
Schmidt, Matthew
Searle, Jamie
Thorne-Finch, Michael
Thomson, Ryan
Wainwright, Nathan
COACHES AND GRADUATE ASSISTANTS
Morrison, Scott (head coach)
Charlebois, Pat
Erdman, Matt
English, Mark
Johnson, Nathan
Quirion, Andrew
Searle, Jamie