Lakehead University Athletics to Induct 2022 Wall of Fame class in October
Lakehead University Athletics to induct 2022 Wall of Fame class in October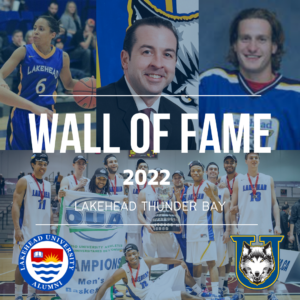 Lakehead University Athletics will be inducting another class of Thunderwolves into the Wall of Fame this Fall as part of homecoming weekend, on Saturday, October 22nd, 2022. This year's ceremony will mark the 26 years since the celebratory shrine was established.
"The Thunderwolves Wall of Fame is a tribute to excellence," Lakehead University Athletics Director Tom Warden says. "We honour our inductees for what they accomplished for Lakehead University Athletics, and so I'd like to congratulate and thank every person on this year's list. All of the outstanding Thunderwolves accomplishments that occur each year are in part made possible by the foundations laid by our Wall of Fame."
This year's inductees will be the 2009-10 – 2012-13 men's basketball team, Scott Morrison, Tasia McKenna, and Jeff Richards.
The 2009-10 – 2012-13 men's basketball team amassed 117 wins and only 39 losses, with 12 playoff wins including an OUA championship, a CIS (now USPORT) silver medal, and two CIS consolation final appearances in four seasons. The decorated team also collected a staggering number of awards, including a total of nine OUA All-Star, four OUA Defensive Player of the Year, two CIS Defensive Player of the Year, three OUA Coach of the Year, and two OUA All-Rookie trophies.
Scott Morrison is also being inducted as a builder, in addition to his induction as the head coach of the 2009-10 – 2012-13 men's basketball team. Morrison was named head coach of the men's program in 2003, taking the reins of a team that had not had a winning season in two decades. His leadership helped establish a culture that led to multiple coaching awards, winning seasons and major tournament victories, and the development and success of many student-athletes.
Tasia McKenna was a standout guard for the women's basketball team from 2006-07 to 2010-11. The Timberlea, Nova Scotia native played over 150 total games in Thunderwolves blue and white, averaging 14.5 points, 4.5 assists, 3.6 rebounds, and 2 steals per game. She was named to the OUA All-Rookie team in her first season and was an OUA All-Star three times.
Jeff Richards was a 5'10 forward for the men's hockey team who finished his career with an astounding 248 points—including 15 short-handed goals—in 170 games. The Kenora, Ontario native was a member of the Thunderwolves from 2002-03 to 2006-07, a period during which the team made the OUA playoffs every year, winning the OUA championship once, and qualified for the national championship tournament twice. He was named OUA MVP in his second season.
Full profiles of the Inductees will be released in the coming months.
The Lakehead University Athletics Wall of Fame considers candidates in the categories of athletes, teams, and builders. Athletes constitute individuals for whom exemplary individual achievements mark them as paragons of sport. Teams constitute particular years or eras of a team sport of significant success or performance. Builders constitute those who contribute invaluable time, effort, and resources to the on-going development and advancement of Lakehead University Athletics off the playing field.
"By shining a spotlight onto the history of Lakehead University Athletics, we recognize all the ways student-athletes and other members of the Thunderwolves family have all contributed so much to the community," Warden says. "We look forward to welcoming students, alumni, and friends back to campus to join us in honouring the 2022 Wall of Fame inductees."