LAKEHEAD UNIVERSITY WOMEN'S BASKETBALL SIGNS 5'8″ GUARD PAULA LOPEZ SANCHEZ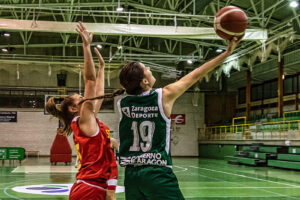 The Lakehead Thunderwolves women's basketball team and head coach Jon Kreiner are ecstatic to announce the signing of Paula López Sánchez from Zaragoza, Spain.  The 5'8" scoring guard has committed to studying Bioinformatics at Lakehead University, entering with a 98% average. Paula will be the third Spanish player on the Thunderwolves roster for the 2021-22 season.
Kreiner looks forward to adding another versatile player to his team. "Paula is exactly what we need and will be an impact player immediately," says Kreiner.  "Paula has had a lot of experience and success with her regional team at the national level and she will provide our program with scoring. Paula is a very hard worker who strives to be the absolute best she can be. She has the ability to play multiple positions and is a terrific shooter. She also has great length and athleticism for her position and has great upside. She has the potential to be a great all-around player on both ends of the floor. I am excited for what Paula will bring to our Team and I can't wait to coach her this season."
Confirmation of Paula's work-ethic and well rounded attributes come from Paula's Regional Team Coach, Dani Rubio.  "Paula is a player that every coach wants to have on their roster. She is engaged, hard-working and always thinking about the proper functioning of the team. On the court she is a tactically organized player with a great capacity for outside shooting. This, along with her physical abilities, allows her to play in any position on the backcourt. Throughout her training stage she has adapted well to the different roles and challenges of each season, which means she has a really good work ethic. Paula is a well-mannered person, she is outgoing and she always tries to make people around her feel comfortable."
Paula is just as enthusiastic to bring her skills, both on and off the court, to Lakehead.  "When I heard about Lakehead University, I felt that I couldn't miss the opportunity to study and play there. At Lakehead university I will be able to improve and grow as a player under coach Kreiner and his staff. Moreover, Lakehead University gives me the opportunity to study for a bioinformatic degree which I'm really excited to start because I think Lakehead is going to give me a quality education," says Paula. Paula's program, Bioinformatics, is the integrated use of tools from mathematics, computer science, biology, chemistry, and physics to the scientific understanding of biological systems.
Welcome to the Thunderwolves, Paula!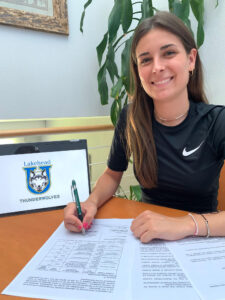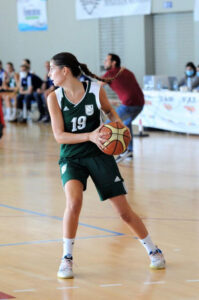 Accomplishments:
2014/2015 Selected at regional's selection for Spain championship
2014/2015 1st place at regional Championship
2016/2017 1st place at regional Championship
2016/2017 4th place at Spain Championship with regional's team
2016/2017 4th place at Spain Championship with Stadium Casablanca
2017/2018 6th place at Spain Championship with regionals team
2018/2019 Bronze medal at Spanish Championship
2018/2019 1st place at regional Championship
2020/2021 1st place at regional Championship