Lakehead Women's Basketball Adds International Point Guard Sofia Ainsa Lluch
Coach Jon Kreiner and the Lakehead women's basketball program is excited to announce the commitment of Sofia Ainsa Lluch (Menorca, Spain) for the 2018-19 Thunderwolves season.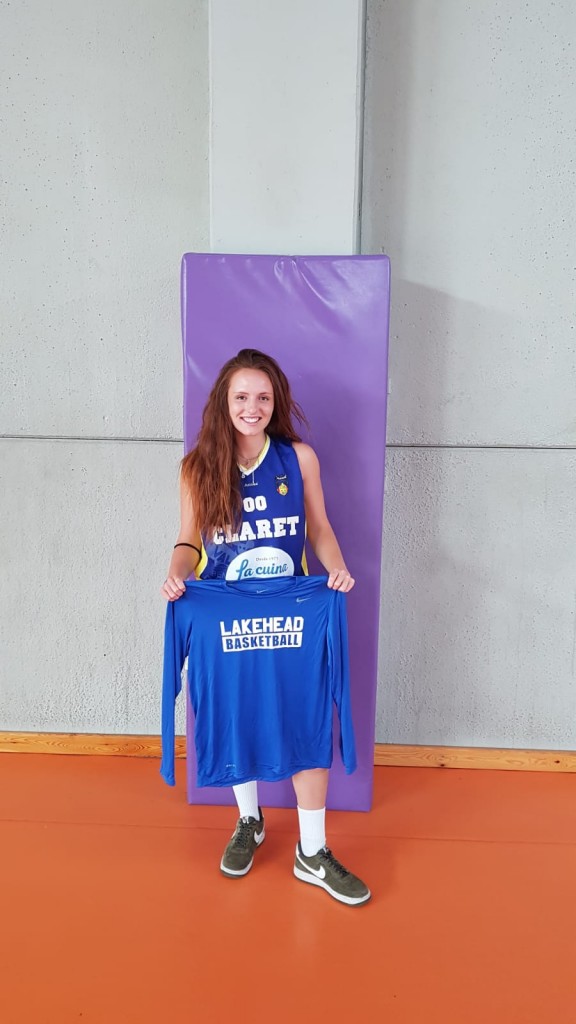 A 5'6" guard, Sofia played this past season in Valencia, Spain for U18 Picken Claret and in 2016-17 was MVP of the U19 England National League where her John Madejski Academy won the National Championship. Sofia will be pursuing psychology at Lakehead University.
Coach Jon Kreiner on his star recruit:
"I cannot be happier with Sofia deciding to take her talents to Canada. She has worked extremely hard and sacrificed a lot to put herself in this position and even though I have not met her face to face, I have a tremendous amount of respect and admiration for what she is willing to do to achieve her dreams. Sofia will be asked to play point guard for our team and she possesses the skill set to contribute immediately on both ends of the floor."
At 16, Sofia traveled to England to develop her skills as well as learn the English language so that she could pursue opportunities in North America. This past season she played closer to home in Valencia for a very strong Spanish club program and now will be traveling halfway across the world reaping the rewards of her hard work.
Sofia cannot contain her excitement saying:
"First of all, I have to say I consider myself a very lucky person. Having the opportunity to study in Canada and being able to do what I love the most, basketball, is like a dream come true. I will have the privilege of training myself both academically and personally in a great university in the beautiful city of Thunder Bay. This opportunity will give me the chance to know about a different culture, meet new people and learn new customs. I am eager to start working with Coach Jon Kreiner, his staff, and my future teammates. Undoubtedly, together we will build a competitive, ambitious and resilient team. Even though I have not yet met my teammates, they have been very kind and I am confident we will do great things."
Sofia's coach and mentor Pedro Garcia says, "Sofia is a great example that hard work and commitment pays off. She will be a great asset to the Lakehead University coaches and the community will be proud of her. She has been working very hard the last two years to make her dreams come true. During her club season at Picken Claret, she demonstrated in every practice and game the caliber of player that she is. From her high level intensity in every moment of every practice and game to her unwavering love for this game, Sofia has definitely proven she deserves this opportunity. I cannot be more proud of her as a person and as a player and I wish her all the luck next year at Lakehead University!"
Sofia has had tremendous support in her journey, "I want to thank all the clubs I have played for and all the coaches that have been helping me on my way. I especially want to thank coach Pedro Garcia. He has helped me to grow both as a person and as a basketball player. Without him, his effort, his sacrifice and his work I would not be where I am. Finally, I would like to thank all those who took part in my journey. Particularly to my family and above all, to my dear mom who has sacrificed herself and who will sacrifice herself as many times as needed. I cannot be more proud of my family and blessed with this enormous opportunity."
Coach Kreiner's final words on Sofia, "Sofia is a very strong defender and plays with great energy and intensity. She is a versatile player who can shoot the FIBA three well, make plays mid-range and in the paint and she sees the floor well. I am very excited to get working with Sofia as she will be an impact player immediately but she will also learn and develop a lot over her career with her strong work ethic and love of the game."
Achievements and Stats:
2016-17
Reading, England:
Played for the Reading Rockets & John Madejski Academy
U19 National Champion and MVP of the National Championships
Statistics: 18 PPG, 5 RPG, 3 APG, 35% 3PT
Scored 28 points in the National Championship Game
2017-18
Valencia, Spain:
U18 Top 3 in Regional Championship
U18 Top 16 in National Championship
Statistics: 12 PPG, 3 RPG, 3 APG, 33% 3PT