Lakehead Women's Basketball is proud to announce the commitment of 6'0, Sara Azzolini
LAKEHEAD UNIVERSITY THUNDERWOLVES WOMEN'S BASKETBALL ADDS IT'S FIRST RECRUIT OF 2022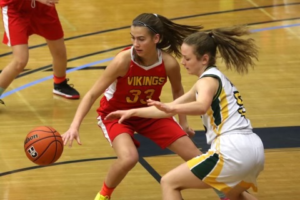 6'0″ Hammarskjold Vikings Standout 2021 Captain Sara Azzolini Commits to the Thunderwolves.
Head coach Jon Kreiner couldn't be more excited to sign the Thunder Bay native who also plays for the Jr Wolves Club Program;
"Sara is one of the most athletic players I have ever coached. She already defends at an elite level and can run the floor with the fastest players in the country. Sara also has a tremendous explosiveness that allows her to rebound at the rim and carve up defenses in transition. An extremely versatile player, Sara will be asked to defend point guards, wings and forwards while playing multiple positions. We still have a lot of work to do on the offensive end of the floor but Sara can shoot the three & attack the hoop. We will need to work on her finishing around the basket but that will come as she is one of the hardest working and committed players we have."
Sara Azzolini can't wait to get started;
"I am super excited to play at Lakehead U. Being able to continue my basketball career in my hometown is a very gratifying opportunity. The Lakehead Community has always been a positive and welcoming one, where I know I will be successful not only with basketball but with my nursing studies as well. I can't wait to get started with coach Kreiner and the rest of the Thunderwolves Family."
Sara's high school coach, Ben Daniar's take on Sara;
"Sara has excelled as a student-athlete during her time at Hammarskjold High School. She maintained an exceptionally high average, earning honour roll status and academic awards recognizing her hard work in the classroom. On the court Sara's teams reached the finals every year of her career, winning 3 SSSAA championships and a NWOSSA championship. She has always competed at an exceptionally high level with athleticism and quickness that allow her to defend the entire length of the court.  She is willing to do all the little things to make a team successful including rebounding, fighting for loose balls, and taking charges.  Sara is a versatile player whose broad skill set should allow her to develop into an elite player at the University level."
2021 High School Statistics:
Points- 15.7 
Assist- 7.5
Rebounds- 10.1
Steals- 3.8
Sara is a well rounded student-athlete who has many fine accolades to her name;
* First place SSSAA Thunder Bay 2017
* First place SSSAA Thunder Bay 2018
* First Place SSSAA Thunder Bay 2019
* Second Place SSSAA Thunder Bay 2021
* Rotary Recognition of Youth in Service 2019
* Athlete of the Year 2018
* Athlete of the Year 2019
* Reverend Grond Morgan Memorial Award 2017
* Colin Hood OFSAA School Sport Award 2020
* Second Highest Academic Average 2020/21
Sara Azzolini is a tremendous student averaging 96% and she will be studying nursing at Lakehead University.