Leashja Grant named OUA Player of the Year
The OUA announced today the 2017-18 women's basketball major award winners and Wilson Sports all-stars with Leashja Grant (Nassau, Bahamas) being named the OUA Player of the Year and an OUA First-Team All-Star.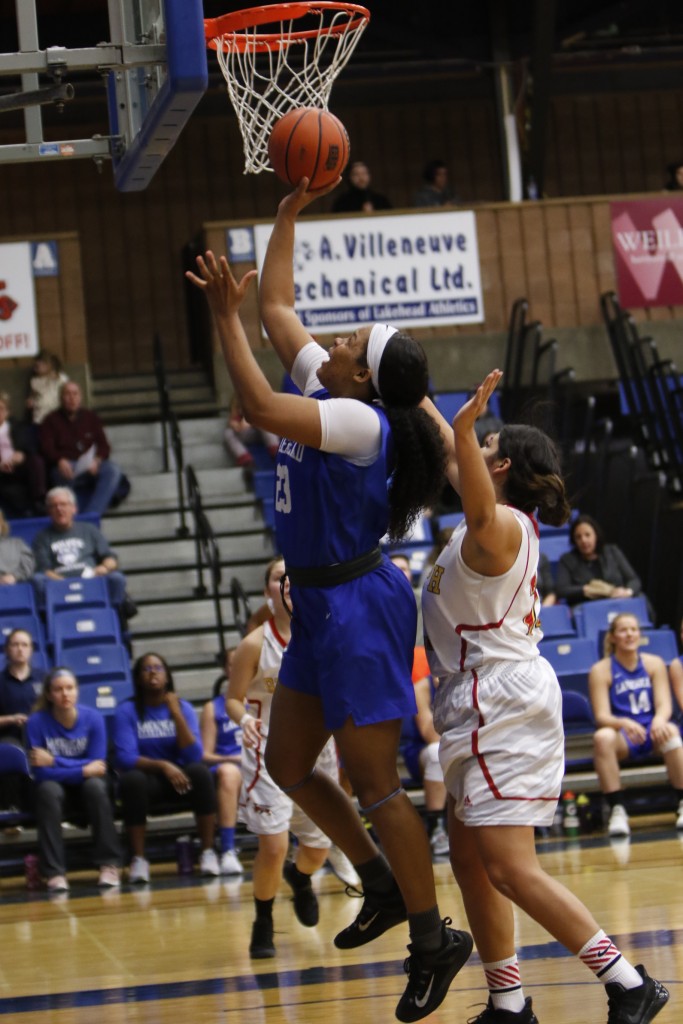 In just her first year in the OUA and at Lakehead, Grant has made a huge impact and helped to lead her team to a third-place finish in the OUA West with a record of 16-8.
Picking up a double-double in all but one game and averaging 22.3 PPG and 14.1 RPG, Grant not only led the conference but also ranked as the second-leading scorer and top rebounder in the country. Grant also holds the U SPORTS record for most rebounds in a single season with 338 in 24 games.
Grant is the second Lakehead athlete to earn Player of the year in the last four years behind Former Thunderwolf Jylisa Williams in 2014-2015.
"I am extremely proud of Leashja Grant. In just her first year in the OUA she broke the all-time rebound record for a season and has set the standard as a double-double machine. I also feel that she has just started to figure out what it takes to elevate her and her teams game to an elite level. We feel that Leashja will come back to Lakehead University next season stronger than ever and motivated to break more records while taking us closer to our goal of winning an OUA title."- Coach Jon Kreiner
See full OUA media release here
OUA Major Award Winners
Player of the Year – Leashja Grant, Lakehead
Defensive Player of the Year – Elizabeth Leblanc, Carleton
Rookie of the Year – Marin Scotten, Ryerson
Joy Bellinger Award – Andrea Priamo, Queen's
Tracy MacLeod Award – Lindsay Shotbolt, York
Coach of the Year – Taffe Charles, Carleton
OUA First-Team All-Stars
Leashja Grant, Lakehead
Lindsay Shotbolt, York
Sofia Paska, Ryerson
Emily Prevost, Windsor
Hilary Hanaka, McMaster
OUA Second-Team All-Stars
Elizabeth Leblanc, Carleton
Nicole Morrison, Laurier
Heather Lindsay, Carleton
Veronika Lavergne, Queen's
Mackenzie Puklicz, Western
OUA Third-Team All-Stars                                                                                     
Linnaea Harper, McMaster
Keyira Parkes, Toronto
Catherine Traer, Carleton
Brooklynn McAlear-Fanus, Ottawa
Julia Curran, Western
OUA All-Rookie Team
Marin Scotten, Ryerson
Brigitte Lefebvre-Okankwu, Ottawa
Burke Bechard, Guelph
Sarah Gates, McMaster
Kristin Gallant, Brock