NCAA Division 1 Standout Leashja Grant Joins the Thunderwolves
6'2" Forward Leashja Grant of Nassau, Bahamas has committed to play two seasons with the Thunderwolves Women's Basketball Team.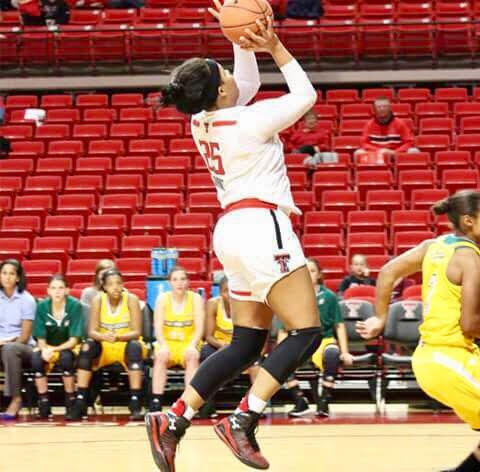 Leashja (LeeLee) was a starter for Texas Tech University in 2015-16 and also played two stellar seasons for the Division 1 Junior College, Trinity Valley Cardinals, out of Athens, Texas.
Coach Kreiner has high praise for his blue-chip recruit:
"We are extremely thrilled that Leashja has decided to play her final two years of eligibility in Canada for Lakehead University. Leashja is a dominant inside force with tremendous rebounding ability. Averaging a double-double for one of the toughest D1 Junior College divisions in the U.S.A. plus starting for a major D1 school in the Big 12, Leashja Grant will be a major player in the OUA and give us someone that can control the paint area at both ends of the floor."
"My visit at Lakehead University was different but in a good way," explains Leashja. "Canada, on the whole, was an amazing experience. I really enjoyed the environment and people I met in Thunder Bay and in the Thunderdome. The coaching staff and teammates all showed me what Lakehead was about, nothing but greatness and the chance to accomplish goals. I hope to accomplish a lot both on and off the court and I have confidence that will happen at Lakehead U. I am looking forward to a great first year at Lakehead with a fresh start."
Averaging a double-double each game with 12 points and 13 rebounds at Trinity Valley, Leashja will be a force to be reckoned with when the season starts up in the fall.
Leashja will be pursuing an honours bachelor in Psychology.
STATISTICS
2014-15 Trinity Valley Cardinals
GP 34  PTS/G 12.1  FG% 53  FT% 65  REB/G 12.9
2015-16 Texas Tech Red Raiders
GP 31  PTS/G 7.7  FG% 48  FT% 55  REB/G 6.8
HIGHLIGHTS
Career high 27 points set with Trinity Valley in 2014-15 season
Career high 31 rebounds (school record) in 2014-15 season for Trinity Valley
Collected 20+ rebounds 4 times during 2014-15 season at Trinity Valley
November 16, 2015 was named Big 12 Women's Basketball Player of the Week at Texas Tech collecting 26 points & 15 rebounds in a win over Niagara. She went 11-12 from the floor.
In 2014, Grant averaged nine points and nine rebounds in five games of the tournament, in her debut as a member of a senior national team.