RBC Athletes of the Month: October 2017 Edition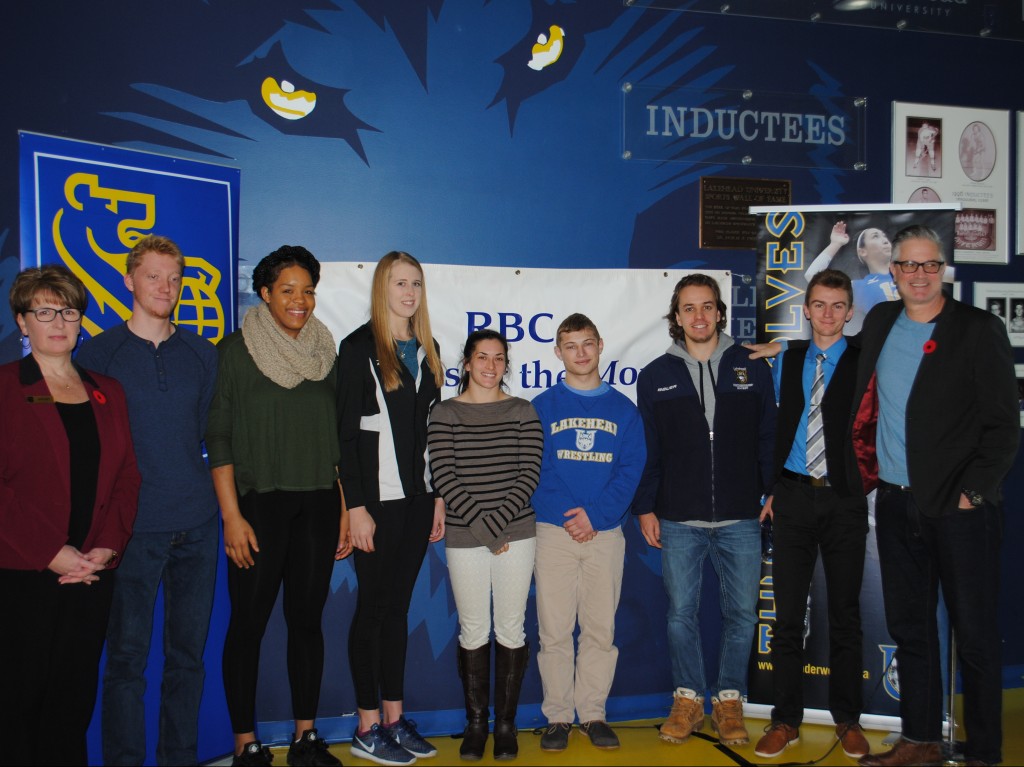 (Above L-R: Shelley Gosselin, RBC Community Market Manager, Levi Warkentine, Leashja Grant, Christie Lowe, Jessica Bershatsky, Kevin Leatherdale, Dylan Butler, Derek Patterson, Tom Warden, Athletics Director)
Lakehead Athletics is proud to present our RBC Athletes of the Month for October. They are listed team-by-team below.
Women's Volleyball
Christie Lowe
Year: 3
Hometown: Thunder Bay, ON
Program: Kinesiology/Psychology
Coach Chris Green: "Christie is starting full time for the first time in her tenure at LU and has impacted the Thunderwolves in a big way. Her ability to block is changing the way we play defense and her offence has become a viable threat for all teams to pay attention too. Currently with 12 kills 4 Blocks and 6 digs, she is establishing her net presence."
Nordic Skiing
Camille Hamm
Year: 3
Hometown: Thunder Bay, ON
Program: Nursing
Levi Warkentine
Year: 2
Hometown: Winkler, MB
Program: Natural Resource Management
Coach Leif Lennie: "Both Camille and Levi are coming off strong performances at the annual Kamview Off Road Half Marathon where each soloed to podium performances with Camille winning the women's event in a dominating fashion and Levi running to a strong second place finish in a very competitive men's field. Camille has been a part of previous championship teams and again looks to anchor our team this year with her dedication, toughness and experience. Levi, in his second year on the squad has continued to make improvements that will surely lead to his becoming a key player in our program for many years to come." 
Track and Field 
Women: Rebekkah Pyle
Year: 1
Hometown: Burlington, ON
Program: Kinesiology
Placed 19th at McMaster Bayfront Open and 21st at OUA Championship (Rookie of the Year).
Coach Kip Sigsworth, "Rebekkah has been a great addition to the team this fall. She is hardworking, enthusiastic, and a tough competitor. She is relatively new to the sport and has already made some great progress this fall. I am excited to see what she can do this weekend at the U SPORTS Championships in Victoria and over her next several years at Lakehead."
Men: Derek Patterson
Year: 2
Hometown: Thunder Bay, ON
Program: Physics
Placed 52nd at McMaster Bayfront Open and 38th at OUA Championships
Coach Kip Sigsworth, "Derek has become the leader of our men's team during his 2nd year. He is still figuring out his limits and how good he can be as a runner. His next race will be the National Club Cross Country Champs in Kingston at the end of the month."
Wrestling
Women: Jessica Bershatsky
Year: 5
Hometown: Watford, ON
Program: Business
Men: Kevin Leatherdale
Year: 4
Hometown: Corunna, ON
Program: Economics and Political Science
Coach Francis Clayton: "Jessica placed third at the McMaster Invitational defeating an OUA Champion and a U SPORTS All-star. The past month Kevin won 4 matches with one loss, winning his match in the Lakehead – Algoma dual and placing second at the McMaster Invitational. Both, Jessica and Kevin have done a good job as seniors leading by example. Both Kevin and Jessica come from the Bluewater Wrestling Club in Sarnia and were coached by Lakehead alumni John Burke."
Women's Basketball
Leashja Grant
Year: 4
Hometown: Nassau, BS
Program: Psychology
Coach Jon Kreiner: "Leashja Grant has had a good start to the season. She was dominant in pre-season and had the ability to get even better in league play. Leashja is working hard to become more a more versatile player on both ends of the floor and has a great amount of room to improve which is very exciting."
– MVP Bob FM Tournament
– Team's leading scorer and rebounder
PPG: 22.3
RPG: 11.3
FG%: 49%
FT%: 71%
Men's Basketball
Nick Burke
Year: 4
Hometown: Hamilton, ON
Program: Mathematics
Nick averaged 11 points 6 rebounds and 4 assists over a 6 game period.
Coach Manny Furtado: "Nick committed himself over the summer and has stepped up as a leader for us this year on the floor. His has the ability to create off the dribble for teammates or himself which is key for our team."
Hockey
Dylan Butler
Year: 4
Hometown: Thunder Bay, ON
Program: Business
A strong fourth year leader, Dylan is leading the team with 3 goals, 10 assists. See more about Dylan at http://www.thunderwolveshockey.com
| | | | | | | | | |
| --- | --- | --- | --- | --- | --- | --- | --- | --- |
| STATISTICS: | YEAR | GP | G | A | PTS | PIM | PPG | SHG |
| O.U.A. Regular Season | 2017-2018 | 8 | 1 | 8 | 9 | 2 | 0 | 0 |
| C.I.S. Non-Conference | 2017-2018 | 4 | 2 | 2 | 4 | 2 | 2 | 0 |
| Totals | 2017-2018 | 12 | 3 | 10 | 13 | 4 | 2 | 0 |