RBC Athletes of the Month: October Edition
Lakehead Athletics is proud to present our RBC Athletes of the Month for October. They are listed team-by-team below.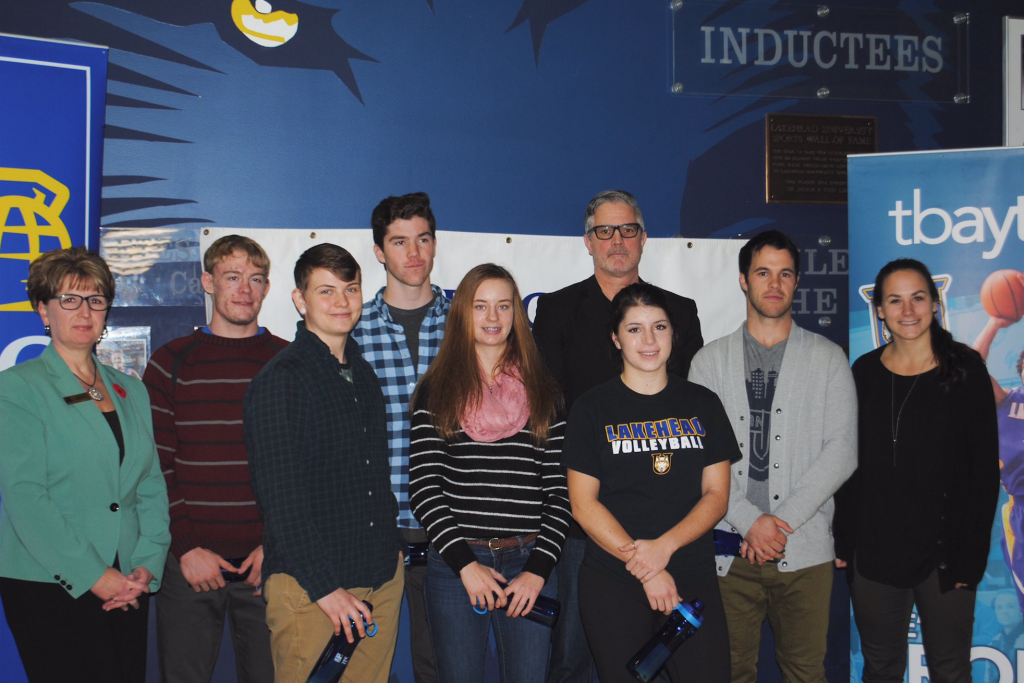 (Above L-R: Shelley Gosselin, RBC Branch Manager; Tyler Ashurst, Dana Campbell. Noah Taylor, Makaila Hudson, Tom Warden, Athletic Director; Jennifer Hammerton, Kelin Ainsworth, Jerika Baldin)
Cross Country
Men: Kevin Tree
Year: 5
Hometown: Tottenham, ON
Program: Kinesiology
Coach Sigsworth: "Kevin had a great start to the season winning his first two races – the Roy Griak Invitational and the UW Eau Claire BluGold Invite.  This past weekend at the OUA Cross Country Running Championships he finished second, earning 1st Team OUA All-star honours for the 3rd year in a row.  Next up for Kevin are the CIS Champs in Quebec City, where we will look to improve upon his runner up finish from a year ago"
Women: Heather Maxfield
Year: 5
Hometown: Thunder Bay, ON
Program: Psychology
Coach Sigsworth: "Heather is known more as a middle distance runner.  This is only her second year running cross country but she has quickly established herself as the team leader.  At the Queen's Open two weeks ago she finished 22nd.  This past weekend at the OUA Cross Country Running Championships, Heather ran her best race of the season finishing 35th"
Women's Volleyball (0-2)
Jennifer Hammerton
Year: 2
Hometown: Woodstock, ON
Program: Nursing
Coach Green: "This season, Jen has stepped into our starting role as setter. In her 2nd year, she has worked hard to become the consistent starter in the all important setting position. She is growing every week in her role and thus far in preseason and the beginning of the regular season, she has accumulated 70 assists, 20 digs, 3 services aces."
Women's Basketball (7-4 non conference)
Jerika Baldin
Year: 4
Hometown: Brantford, ON
Program: HB Math (ED)
Coach Kreiner: "In the 11 non-conference games in October that Jerika has played, she averages 34 minutes a game at the PG position leading her team to a 7-4 record. She has also been a key defender, guarding some of the top players we have seen this season. Jerika has worked very hard this summer and so far she has been our most consistent player."
Points: 4.4 per game
Rebounds: 5.5 per game
Assists: 6.8 per game
Turnovers: 2.3 per game
Steals: 2.1 per game
*Tournament All-Star at the UNB Tournament
Men's Basketball (2-6 non-conference)
Bacarius Dinkins
Year: 5
Hometown: Jonesville, FL
Program: Sociology
Coach Furtado: "Bacarius is our main post player and other teams know that. Our competition focus on stopping him but yet Bacarius manages to do what he does, it shows a lot about his abilities and talents"
Points: 16pts per game
Rebounds: 5 per game
Wrestling
Women: Dana Campbell 82 kg
Year: 2
Hometown: Thunder Bay, ON
Program: Geology
Coach Clayton: "Dana Campbell placed first at the McMaster invitational winning two matches against Brock University and the University of Western Ontario by a pin."
Men: Tyler Ashurst 76kg
Year: 5
Hometown: Godfrey, Ont
Program:  Kinesiology/Psychology
Coach Clayton: "Tyler won 4 matches in the month of October. His first win was in our home dual against Algoma and then won 3 more at the McMaster Invitational, where he placed a respectable 4th."
Hockey (3-8-0 overall)
Kelin Ainsworth
Year: 5
Hometown: Thunder Bay, Ont
Program: Business
In his 5th year, Kelin is currently the leading scorer for the Thunderwolves with 7 goals in 11 games this season.
| | | | | | | | | |
| --- | --- | --- | --- | --- | --- | --- | --- | --- |
| STATISTICS: | YEAR | GP | G | A | PTS | PIM | PPG | SHG |
| O.U.A. Regular Season | 2016-2017 | 7 | 5 | 1 | 6 | 4 | 2 | 2 |
| C.I.S. Non-Conference | 2016-2017 | 4 | 2 | 2 | 4 | 0 | 1 | 0 |
| Totals | 2016-2017 | 11 | 7 | 3 | 10 | 4 | 3 | 2 |
Nordic Skiing
Makaila Hudson
Year: 1
Hometown: Labrador City,NL
Program: NRMT
Noah Taylor
Year: 1
Hometown: St. Johns, NL
Program: Mechanical Engineering
Both hailing from Newfoundland, these rookie skiers bring a positive attitude and 100% effort to every practice.  They have both made huge improvements since coming to Lakehead, not only from a training perspective but also from what they bring to the team in terms of effort, intensity and commitment to excellence at every workout.  We are looking forward to seeing what both Makaila and Noah will bring to the team when the snow flies in a few short weeks.