Thunderwolves Hockey's Tomas Soustal Signs with HC Kometa Brno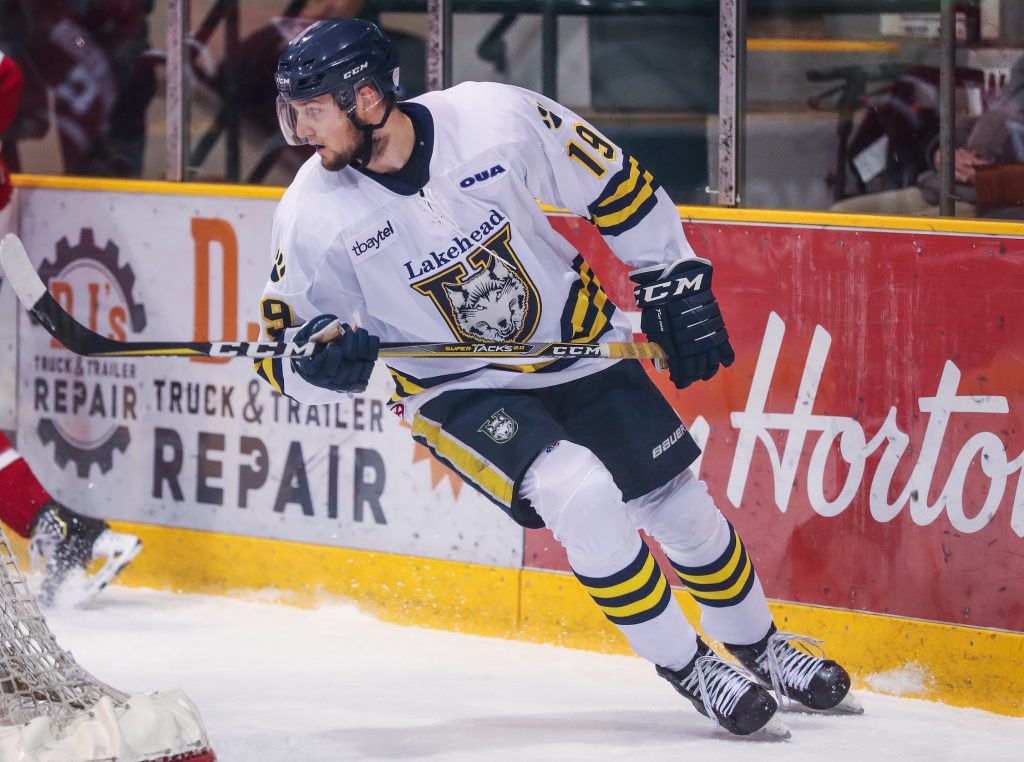 Lakehead Thunderwolves Hockey is proud to congratulate Tomas Soustal on his professional signing with the HC Kometa Brno of the Czech Tipsport Extraliga, in Czech Republic.
This league is regarded as one of the top leagues in the world. It has been home to former NHL players Tomas Plekanic and Peter Mueller. Soustal will be competing against former NHL superstar future First Ballot Hall of Famer, Jaromir Jagr.
Tomas Soustal came to Lakehead University's Hockey program with an impressive resume. He competed in the WHL as a Memorial Cup Finalist with the Kelowna Rockets, and had two World Junior appearances with the Czech Republic.
"We are very happy for Tomas and this incredible achievement of signing his first professional contract back home in the world-class Extraliga." said Andrew Wilkins, Thunderwolves Hockey Head Coach.
"Over the past two years, Tomas had grown into the model student athlete at Lakehead possessing an incredible work-ethic and passion both in the classroom and on the ice. Tomas took his game to the next level, with his pro mentality and approach to the game. He focused on his development and continued to improve, playing at such a high level for us".
During his two years at Lakehead, Tomas collected a total of 52 points across 56 games. He received awards both his freshman and sophomore year playing with the team, including the 2018/2019 Men's Hockey Rookie of the Year Award, the 2018/2019 Freshman Male Athlete of the Year Award, and the 2019/2020 Men's Hockey MVP and Best Offensive Player awards. In addition, he was recognized as the RBC Athlete of the Month on several occasions during his time with the team.
"Tomas means a lot to our program, he will be missed but we could not be happier for him achieving his dream of signing in the Extraliga. We are so grateful and fortunate to have had Tomas at Lakehead over the past two seasons. A great person with a competitive drive to continuously get better, we are excited to watch Tomas' ongoing success throughout his career" said Wilkins. 
Athletic Director Tom Warden and all of the Thunderwolves staff will miss Soustal on and off the ice. "I wish Tomas all the best!" says Warden.
"I am super excited to be returning home to continue my hockey career at pro level while finishing my business degree at the same time. It's a great opportunity for me to grow as a player and person too." said Soustal.
Reflecting on his time at Lakehead, Soustal said he "truly enjoyed the time as a student athlete at a Canadian University, it's something I will have good memories of but in my eyes it was time to move ahead with my hockey career.
"I would love to thank my awesome coaches over the past two seasons, especially Andrew Wilkins and Brennan Mennard who have been nothing but great to me and brought back the love and fun for hockey in me – they are really the best coaching duo I had in Canada over my 6 year stay. And then also I would like to thank Wardy who always supported me personally. Thank you for everything LU"