Standout Charlotte Clifford Commits to the Thunderwolves
Standing 5'11" with a 6'3" wingspan, Charlotte Clifford plays much bigger than her stature.
"We are thrilled to add Charlotte to our squad for the upcoming season. She is a fierce competitor with tremendous physical tools," explains Coach Kreiner. "Combine that with a great heart and will to succeed, Charlotte will be a force to reckon with over her career with the Thunderwolves. Charlotte is known for her aggressiveness, her ability to play smart defense and her rebounding skills. She is a natural leader with a great work ethic and tremendous enthusiasm for the game. I look forward to helping her develop into a force in the OUA."
Charlotte's length and great core physical strength has made her a top rebounder and top defensive player for both her Jacob Hespeler Secondary School Basketball team and her rep team, Big Country Basketball. Charlotte was also top scorer (15 PPG) this past season for her high school team which, combined with her considerable defensive skills, enabled her numerically small team of 8 players to make it to the county finals in Waterloo Region Basketball. Coach Mike Kilpatrick, renowned for his basketball expertise in both Canada and United States, states the following about Charlotte's high school basketball career:
"For four years Charlotte has been the hub of our program! On a daily basis, in practice or games, Charlotte led the way for her teammates and continually improved over her career to become a premier defender, rebounder, and a tireless leader for the team. Whether it's going for a loose ball, getting a big rebound, setting a screen for a teammate, Charlotte found a way to make Jacob Hespeler Basketball a huge success and with Coach Kreiner's recruitment, Lakehead Women's Basketball just got better!"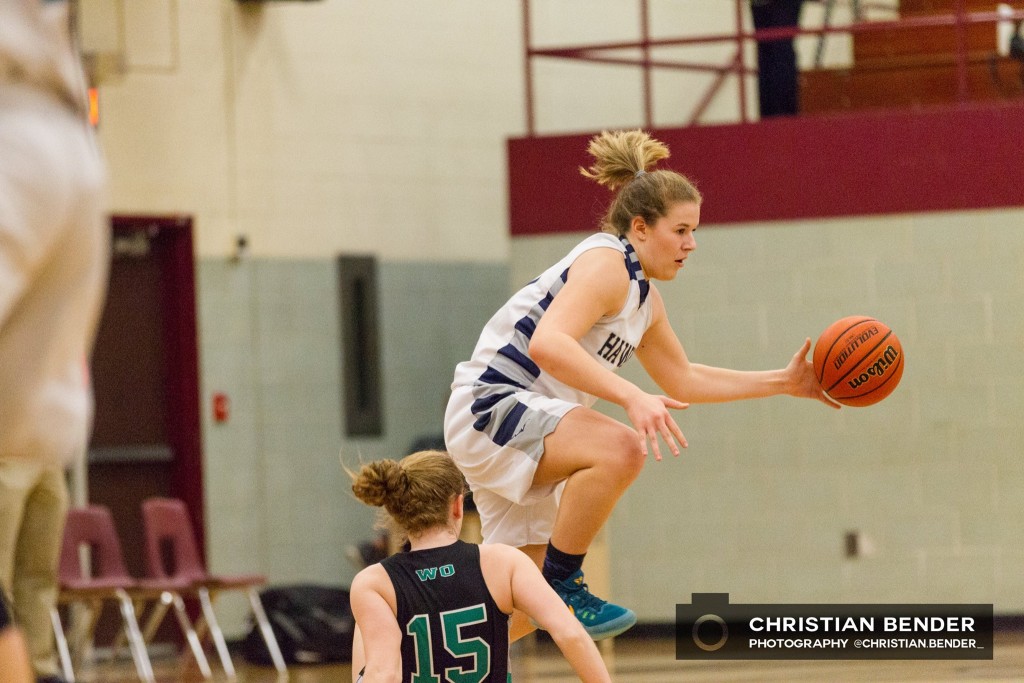 Charlotte's commanding on-court presence ensured her rep basketball team remains dominant. Charlotte started playing rep basketball late relative to most but in her first year of playing, she was an OBA D-2 Gold Medalist, and made the ABS All-star Team. Charlotte continues to excel in her rep basketball program, and, while under the expert training of coach Pam Danis (former U of Manitoba head coach), has been able to fine-tune her skills and strength on the court. Coach Danis says, "it has been a pleasure to work with Charlotte. Her work ethic and desire to be the best is second to none. Charlotte is tenacious on the boards and is willing to do the little things to make herself and those around her better. She will be a great addition to the Thunderwolves program!"
Charlotte's discipline in sport follows through into her everyday life: she is a 90% student, a leader in the school, and spends much of her free time working to make life better for those who are less fortunate. Last summer, for example, Charlotte travelled to India for several weeks to help educate many of India's poorest and least advantaged women and children. Monthly, she spends her Saturdays helping distribute supplies/food to the homeless in downtown Kitchener.
Charlotte states that, "I am really looking forward to working with Coach Kreiner and my new teammates as a Thunderwolf in September, 2017!"
Charlotte is enrolled in Lakehead University's honours Bachelor of Arts with a sociology major.
Awards and Recognitions:
Basketball
2016-17 – Senior Girls Basketball – WCSSAA Finalist
2016-17 – Senior Girls Basketball – Top Rebounder & Top Scorer (15 PPG, FT 79%)
2016-17 – Senior Girls Basketball – WCSSAA First-Team All-star
2016-17 – Senior Girls Basketball – CWOSSA Participant
2016-17 – Senior Girls Basketball – Captain for JHSS
2015-16 – Senior Girls Basketball – Top Rebounder & Top Scorer & MVP nominee
2015-16 – U19 Rep Basketball – Gold Medalist, OBA D-2
2014-15 – Junior Girls Basketball – MVP for JHSS
2014-15 – Junior Girls Basketball – CWOSSA Participant
2014-15 – Junior Girls Basketball – Captain Of JHSS
2014-15 – U16 Rep Basketball – Gold Medalist, OBA D-2
2014-15 – U16 Rep Basketball – ABS All-Star
Academic and Other Athletic Accomplishments:
2013-16                       Varsity Rugby – MVP (3 years)
2016                            Varsity Rugby – WCSSAA Second-Team All-Star
2013, 15, 16                JHSS Honour Roll
2014                            Junior Female Athlete of the Year at JHSS
2012-14                       Ontario Speed Skating Team – Competed Nationally
2014                            Corporation Of Cambridge Athletic Excellence Award
2013                            Corporation Of Cambridge Athletic Excellence Award
2013                            Leadership Award
**Photo Credits – Christian Bender Photography**