Thunderwolves end regular season by honouring graduating seniors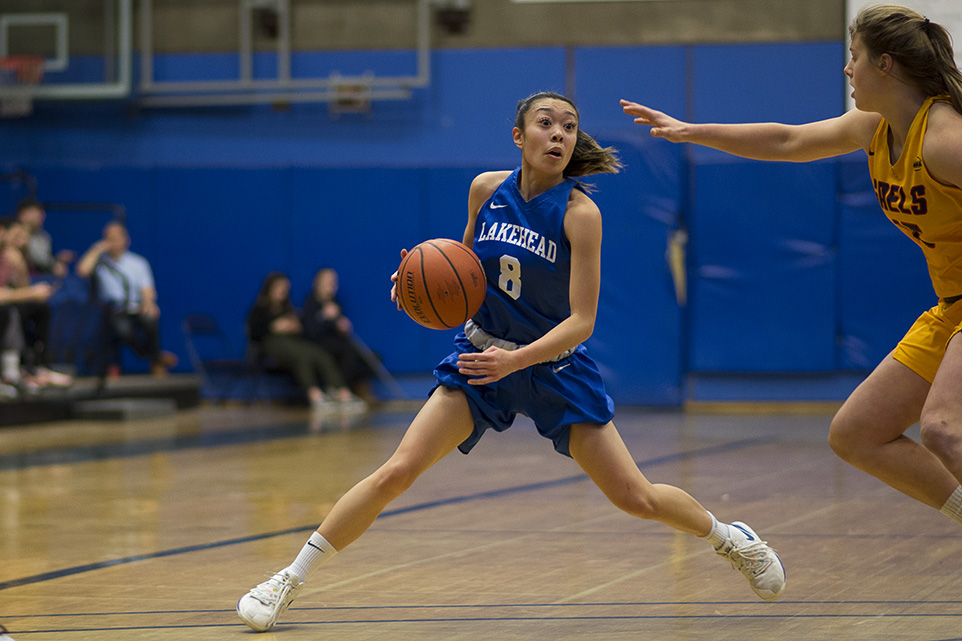 It was an emotional night for the Lakehead Thunderwolves women's basketball team, who fell 81-64 to the Queen's Gaels in the final OUA regular-season game at home in the Thunderdome.
The Thunderwolves took a moment post-game to honour graduating seniors Lily Gruber-Schulz, Kielly McDonough and Nikki Ylagan, three athletes who started and ended their Lakehead basketball journeys together.
The moment started with just over a second left to play when all three Thunderwolves came off the court together and were embraced by their teammates.
The Thunderwolves were able to come out on top of the first quarter 20-14 but were held to only nine points in the second and finished the first half down 41-29.
"Queens is one of the smartest and best passing teams in the OUA as well as being very physical and they have tremendous size," said head coach Jon Kreiner.
"I was very proud of our energy tonight. We never quit and I feel we learned a lot today against a very good team and this experience will help us in playoffs.
Sofia Lluch led the Thunderwolves with 15 points and eight rebounds, while Charlotte Clifford played a great defensive game for Lakehead, finishing with 13 total rebounds. Kielly McDonough finished the night with four baskets from the three, totalling 12 points.
"Charlotte gave us a tremendous effort tonight on the boards and I was very proud of her effort," said Kreiner.
"Our playoff picture is set, we play at Windsor in the first round and we will be ready for our best effort against a very tough and physical team."
The Thunderwolves will travel to Windsor for their first playoff matchup on Wednesday, Feb. 19.