Thunderwolves' second game of the Bob FM Shoot Out Cancelled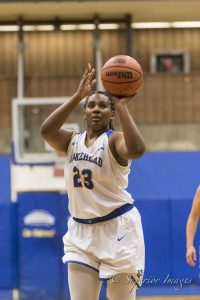 Due to weather and road closures, the Brandon Bobcats were unable to make the trip to Winnipeg for the Bob FM Shootout, resulting in the cancellation of the Lakehead Thunderwolves' second game of the tournament on Saturday, Oct. 12.
Instead, the Thunderwolves played a split Winnipeg Wesmen team in an unofficial game that won't be counted toward the final results of the tournament.
The Thunderwolves would defeat the Wesmen 57-44.
"This was a great opportunity for Winnipeg and Lakehead's benches to get some much needed playing time at this point of the season," said head coach Jon Kreiner. 
Thunderwolves forward Megan Looney led the team with 13 points. Thunderwolves Freshman Hana Whalen played well on both ends of the court, finishing the game with 10 points and 7 rebounds.
"Megan Looney was dominant inside today while rookie Hana Whalen played very well at the point guard position running our offence," said Kreiner. 
The Thunderwolves will finish the tournament with a game against the full Winnipeg squad on Sunday, Oct, 13 at 12:00 PM.