Thunderwolves split doubleheader with Algoma
Thunderwolves basketball officially kicked off the 2018-19 campaigns with a dominant win and a tough loss.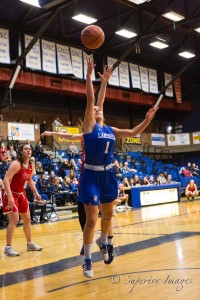 The women's basketball team began their regular season with a bang, downing the Algoma Thunderbirds 110-53. The Wolves had a night of hot hands, shooting 50% from the floor, and 54% from 3 on the night, with seven different players connecting from downtown. "Great team effort," Thunderwolves head coach Jon Kreiner said.
Nikki Ylagan led the charge, scoring 31 points and picking up 5 steals in 23 minutes of play. "Our intensity in the first quarter was on point, and Nikki Ylagan was on fire (22 first-quarter points). It's nice when someone leads the way other than Leashja, as it makes our life a lot easier," Kreiner said.
Lakehead jumped out to an early lead and went into halftime up 59-13. "Nikki going 6-6 in the first quarter set a great tone offensively," Kreiner said. "I thought our defense set us up for that to happen, and our game plan was well executed." Algoma was forced into 18 turnovers as a team by the Thunderwolves.
Algoma's scoring was spread across the team, with nine different players scoring, but none reaching double digits.
The two squads now prepare for a Saturday-night rematch: "We now need to get ready for game two tomorrow," Kreiner said.
The game tips off Saturday, October 27th at 6pm, with the men's game to follow.
Webcast of basketball games will be available via OUA.TV
The Thunderwolves men's squad battled Algoma down to the wire, but ultimately came up short, losing 71-69. Lakehead shot 4-21 in the first quarter, going into the quarter break down 12-18, but managed to keep the game close through tough team defense, blocking two shots and forcing four Algoma turnovers in the ten-minute period.
Thunderwolves head coach Ryan Thomson described the late event as "a frustrating game all around. We didn't come out and compete at the start, and it showed on the glass." Algoma managed to grab 17 rebounds to Lakehead's 8 in the opening frame.
"Our effort was better in the second half," Thomson continued, "but we have some guys who need to learn to keep their composure through the typical highs and lows of a competitive game."
After going into the half down 38-30, Lakehead battled back in the third quarter, winning the period 27-19 on the back of some momentum-swinging threes, including back-to-back bombs by first-year guard Jared Kreiner. The Thunderwolves had a chance to put the game away late, going into the final minute tied at 69, but Algoma emerged from a wild back-court scramble with possession and managed to score with seconds left. The Thunderwolves turned the ball over on the ensuing possession.
Algoma featured a multi-pronged attack, with four players scoring in double digits. Fourth-year forward Nathan Riley was critical to the Thunderbird's success, finishing with 11 rebounds, 5 assists, and 3 blocks in addition to his 13 points.
The two men's squads will face off again at 8pm tomorrow, October 27th, immediately following the women's game. As coach Thomson says, "tomorrow should be another battle."
Webcast of basketball games will be available via OUA.TV