Indigenous Cultural Celebration Night presented by the Lakehead Achievement Program
February 06, 2023 – Thunder Bay, ON – Lakehead University Thunderwolves
For Immediate Release
The Lakehead University Thunderwolves are pleased to announce the Indigenous Cultural Celebration Night presented by the Lakehead Achievement Program, which will be held on Friday, February 17th, 2023.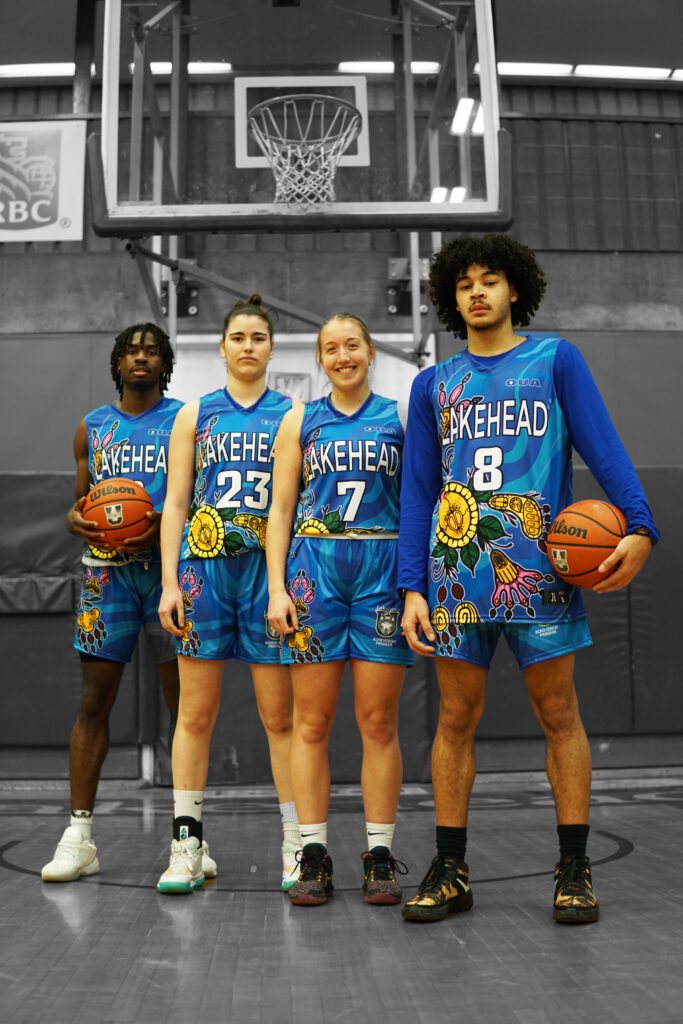 Lakehead's women's basketball team will face off against the Algoma Thunderbirds at 6 pm with the men's teams following at 8 pm that evening.
Indigenous Cultural Celebration Night, which was first proposed by Thunderwolves men's basketball head coach Ryan Thomson, will honour and celebrate local Indigenous culture and heritage, and will also serve as a fundraiser for scholarships and athletics initiatives that support Indigenous youth.
As part of the celebration, the Thunderwolves men's and women's basketball teams will wear special uniforms designed by Jacenia Desmoulin, an Anishinaabe artist whose work has served as the visual basis for the Chicago Blackhawks' Native American Initiatives.
The jerseys will be sold by auction with proceeds going to existing initiatives in athletics for Indigenous youth and the Athletics scholarship BIPOC (Black, Indigenous, People of Colour) Initiative. Auction details to follow.
Prior to designing the special uniforms, the artist met with the men's and women's basketball teams to discuss team philosophies, from which she drew inspiration.
The jersey design is a representation of the seven sacred teachings: Truth is represented by the Turtle; Love is represented by the Eagle; Bravery is represented by the Bear; Respect is represented by the Buffalo; Honesty is represented by Sabe; Wisdom is represented by the Beaver; and Humility is represented by the Wolf.
Elder Beatrice Twance-Hynes from Biigtigong Nishnaabeg First Nation will open the event, which will feature drumming and singing from Indigenous community members during half time breaks.
Each game will be broadcast over the internet via OUA.tv and will feature event-specific conversation and Anishinaabemowin commentary.
Quotes
"It is so exciting for our Achievement Program families to be a part of an event like this that celebrates Indigenous culture in sport. Events like this bring our Achievement Program families together to be a part of our community on campus and continue to highlight our campus as accessible and achievable. I would also like to share my greatest appreciation to everyone in the Office of Indigenous Initiatives for providing guidance and collaboration in planning this event."
– Amanda Stefanile, Lakehead Achievement Program Coordinator
"We are happy to join the Athletics Department in creating an event that brings community together. Our aim in the Office of Indigenous Initiatives is to welcome all who wish to learn about Indigenous culture, traditions, and teachings, and to help Indigenous students achieve success, and Indigenous Cultural Celebration Nation will provide a wonderful showcase while raising funds that will support Indigenous youth."
– Denise Baxter, Lakehead University Office of Indigenous Initiatives Vice Provost
"Lakehead Thunderwolves Athletics is proud to host a significant event like Indigenous Cultural Celebration Night presented by the Lakehead Achievement Program. Celebrating and supporting all communities we live alongside and among is a big part of being a Thunderwolf, and so having an opportunity to make meaningful contributions and to take meaningful steps toward reconciliation in sport is incredibly important to us."
– Tom Warden, Lakehead University Thunderwolves Athletics Director
Quick Facts
Through the Lakehead Achievement Program, the university partners with local and regional school boards to enroll students in grade four who face socioeconomic barriers to postsecondary education.

Students continue with the program until grade 12, and they have annual opportunities to earn financial support by completing specific requirements at their school, community, and at Lakehead University.
Nearly 300 students from five school boards across Northwestern Ontario are currently enrolled in the Lakehead Achievement Program, which has been in operation since July of 2011.

The Office of Indigenous Initiatives assists the Indigenous student population at Lakehead University in achieving student goals by providing a culturally and academically supportive environment.

The Vice-Provost offers leadership in Indigenous affairs and promotes an understanding of Indigenous culture, heritage, and language within the University community, and serves as a liaison between the Indigenous community and the University.
The Niijii Indigenous Mentorship program works with over 3500 youth per year from more than 40 First Nation communities.
Indigenous Access Programs at Lakehead University offer pathways into post-secondary education for Indigenous students who do not meet the regular or mature university entry requirements, or who require academic preparation

Thunder Bay is built on the traditional territory of the Anishinaabek, which includes the Ojibway of Fort William First Nation, signatory to the Robinson-Superior treaty of 1850.
Associated links
– 30 –
Contacts
Tom Warden
Lakehead University Athletics Director
Amanda Stefanile
Lakehead University Achievement Program
achievementprogram@lakeheadu.ca
Denise Baxter
Lakehead University Office of Indigenous Initiatives