Thunderwolves Women's Basketball Welcomes Mae Drost to the Roster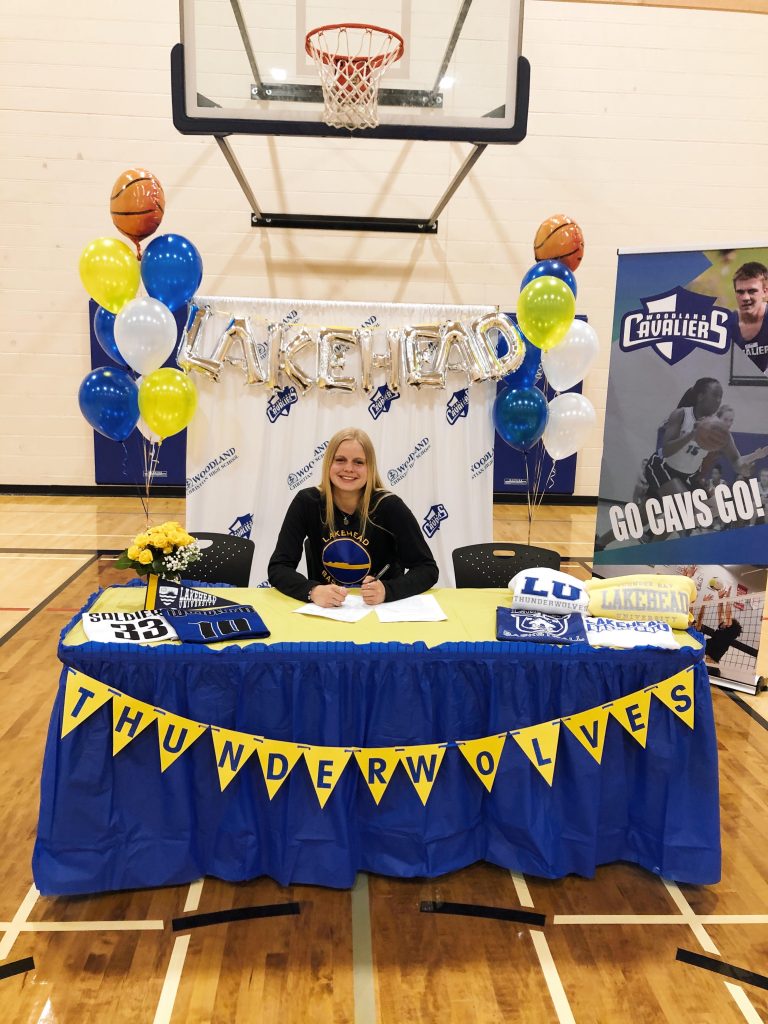 Lakehead Women's Basketball is proud to announce the commitment of Mae Drost from Kitchener, Ontario and Woodland Christian High School.
Mae is a 5'9″ guard hailing from an extremely successful single "A" Cavs program that has won two OFSAA medals in the last two years, including a silver medal (2020) and an antique bronze (2019). This past season she led her team to a 30-1 record, a silver medal at OFSAA, winning the Christian Schools Tournament, District 8 & CWOSSA.  
Mae was first team all-star and MVP for District 8 Senior Girls Basketball, MOP (Most Outstanding Player) for senior girls basketball (at Woodland) and MVP Female Student Athlete of the Year (at Woodland).  
Mae has been coached the last two seasons by the legendary coach Stu Julius along with coach Matthew Hazenburg.  Julius was the head coach of the Lakehead University Women's Basketball Team for 18 years (1981-1999). 
"Mae's strength as a basketball player is that she can play multiple positions. She is an outstanding passer especially in transition, and has the ability to hit the open three!  More importantly, she plays with an edge and she is super competitive. I know that she fits the mould of a Lakehead player and LU has a diamond in the rough." said Julius. 
Mae has had a number of prestigious awards and accolades over her career, such as earning numerous All Star and All Tournament Selections and defeating her local rivals, but Mae's most favourite highlight was making school history by taking home the silver medal at OFSAA after remaining undefeated during the regular season, tournaments and exhibition games. Mae is a team first player and is extremely excited to join her new teammates.
"I chose Lakehead because of the instant connection I felt with the girls on the team, the coaches and other faculty members on campus. Lakehead offers smaller class sizes and more hands on experience in the classroom, which is something I found very beneficial. Thunder Bay has a welcoming atmosphere and a great community of fans, it instantly made me feel at home. I am so excited to begin my journey here" says Drost.
Mae played a strong role with the Tri-County Soldiers which was coached by Brandon Mina. The Tri-County Soldiers are Kitchener-Waterloo's Club JUEL team and their season was cut short, due to COVID-19, but Mae grew as a player and learned a lot. 
"We are extremely thrilled that Mae chose Lakehead to continue her studies and to play for the Thunderwolves.  Mae is a versatile player who is an exciting player to watch in transition. Her teammates will love the fact that she is always looking for the right pass at the right time and her development as a basketball player is only in its early stage." said Thunderwolves Head Coach, Jon Kreiner.
In a very short time, Mae has shown she is a winner and Kreiner feels she has only just begun to realize her potential. 
"Mae has received very good coaching and she knows she still has more to learn. She is very willing to learn and get better but she will also look at beating you every chance she can. Her work-ethic, competitiveness and skill at the guard position is very good and we are all excited at just how good Mae can be!" said Kreiner. 
Mae will be enrolling into Lakehead's business program with an 89% average.
Mae Drost's High School Statistics
Points Per Game: 11
Rebounds Per Game: 6
Assists Per Game: 3
Steals Per Game: 2
Career High Scoring: 28 points