Wall of Fame 2015 Inductees Announced
Author: Hugh Mullally
Lakehead Athletics announced their inductees for the Wall of Fame 2015 ceremony today. As part of Lakehead University's 50th Anniversary celebrations, the Wall of Fame honorees span the 5 decades since the University's establishment in 1965.
Established in 1996, the Wall of Fame ceremony occurs on a biennial cycle. The inductions will take place in concert with Homecoming 2015 (Oct 1-4), and are slated for Saturday, October 3 in The Hangar, with a reception at 5:00pm and the event beginning at 5:30pm. All are welcome to attend.
In this year's Wall of Fame builder category, Lou Pero and Francis Clayton have been chosen.
Pero began his career at Lakehead on the men's basketball team in the late 60's, and has served as the men's basketball coach (1989-2003), as well as being the department's manager of student development and the women's basketball assistant coach for the past 12 years.
Francis Clayton began as an athlete at Lakehead in 1980, winning the national gold medal as a rookie in the 68kg division. He would move into the head coaching role for two decades (1985-2005), and also served as an administrator for the department organizing campus recreation. He was recently re-hired as the head coach of the wrestling program.
In the team category, the 2005-06 men's hockey team will be inducted. Coached by Pete Belliveau, this team captured Lakehead's only OUA Championship in school history (the Queen's Cup), and went on to win a silver medal at the CIS Championships.
The two female athletes being inducted are Rena Viehbeck and Lynn Black.
Rena Viehbeck (nee Bode) was part of 5 nordic skiing championship teams, as well as being named Lakehead's Female Athlete of the Year in 2004-05 and 2006-07.
Lynn Black (nee Simmer), a 6'2 forward from Terrace Bay, Ontario, was a women's basketball star from 1970-74, and is 35th on the all-time scoring list.
The two male athletes being inducted are Don Holmstrom and Mike Thomas.
Don Holstrom played men's basketball from 1966-69, and averaged 15 points per game in his career. A 6'3 forward from Thunder Bay who attended Fort Williams Collegiate Institute, Don was known as Mr. Basketball on campus, and was the first Lakehead player to eclipse 1000 points, and was the 1967-68 Male Athlete of the Year.
Mike Thomas was a force on the mat for Lakehead's wrestling team from 1995-99, winning a national gold medal and was the Most Outstanding wrestler in country in 1997. He was a feared opponent, even by his heavier teammates in practice. Thomas amassed 2 OUA gold, 2 OUA silver, 1 national gold and 2 national silver medals in his Lakehead career, and went on to represent Canada at the Pan-American Games.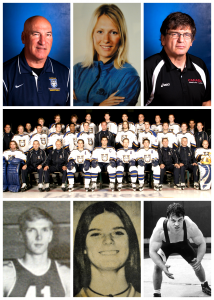 (clockwise from top left: Lou Pero,
Rena Viehlbeck, Francis Clayton, Men's hockey '05-'06, Mike Thomas, Lynn Simmer-Black, Don Holmstrom,)
2015 Wall of Fame Inductees
Builders
Lou Pero (Basketball player, Basketball coach, Administrator)
Francis Clayton (Wrestler, Wrestling coach, Administrator)
Team
Men's Hockey, 2005-06 (OUA Queen's Cup Champions, CIS Silver Medalists)
(Coach: Pete Belliveau, Captain: Joel Scherban)
Female
Rena Viehbeck (nee Bode) (Nordic Skiing 2002-07)
Lynn Simmer-Black (Basketball, 1970-74)
Male
Don Holmstrom (Basketball 66-69)
Mike Thomas (Wrestling 1990-94)
Saturday, October 3, 2015
Wall of Fame Induction Ceremony
The Hangar
Reception: 5:00pm
Ceremony: 5:30-7:00pm