Women's basketball team ends regular season with 20th win
Lakehead's women's basketball team finished their 2018-19 season with a 98-65 win against the Brock Badgers tonight. Lakehead improves to 20-4, finishes their 8th weekend sweep of the season, and ends the season on an eight-game win streak. The #8 nationally-ranked Thunderwolves end regular-season play with a +343 point differential, or +14.3 points per game.
"We had a great night tonight," Thunderwolves head coach Jon Kreiner said. "Karissa was on FIRE! We really moved the ball well and looked great on offense."
Karissa Kajorinne led Lakehead in scoring, dropping 32 points on 10-15 shooting, including 9-13 from three, tying the Thunderwolves record. She also grabbed 5 rebounds and dished out 5 assists.
"Seniors Karissa & Leashja led the way," Kreiner said. "It was a tremendous night for our program."
Leashja Grant finished the game with 18 points, 17 rebounds, 4 assists, 1 block, and 2 steals. Both Grant and Kajorinne received an extended ovation from the Thunderdome crowd when the left they left the court late in the fourth quarter.
It was a typical night for the Thunderwolves, as they took control early, took advantage of their opportunities, and stifled the visiting team's offense. Lakehead won every quarter, finishing the first up 20-13, extending that lead out to 49-31 at the half, and dominating the final two quarters to the tune of 49 points to the Badgers' 34.
The Lakehead squad saw 11 different players score, and 9 different players were on the court for double-digit minutes. Four Thunderwolves first-year players combined for 19 points, 7 rebounds, 4 assists, and 1 steal in a combined 40 minutes. Lakehead shot 55.2% from the floor as a team, while Brock was limited to 33.9%.
Graduating seniors Grant and Kajorinne were honoured in a post-game celebration by the home crowd, their loved ones, and the rest of the Thunderwolves family.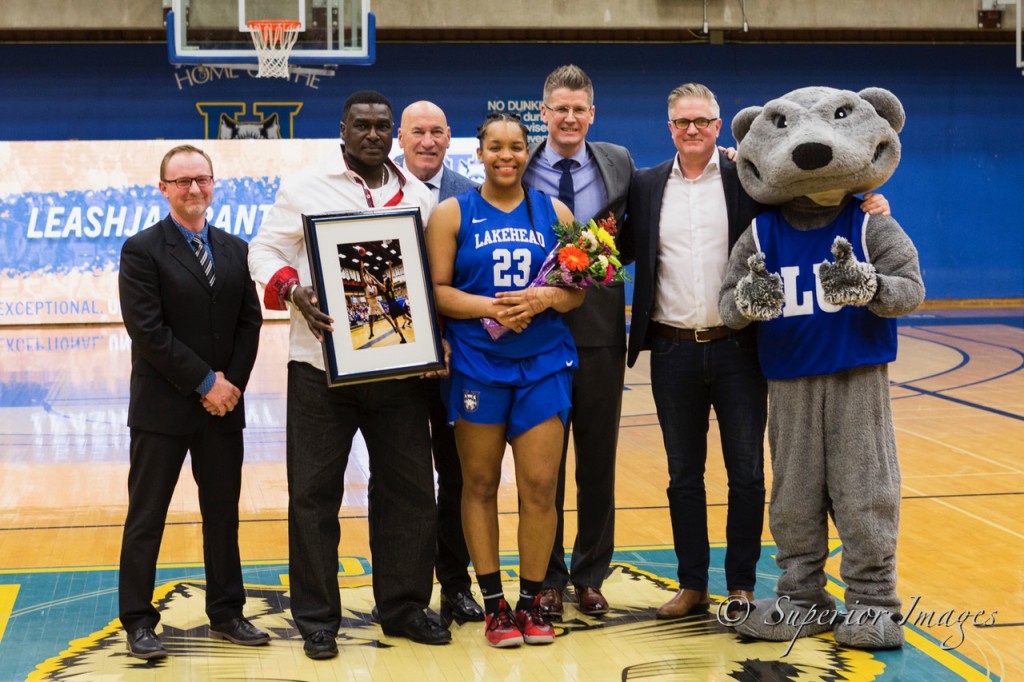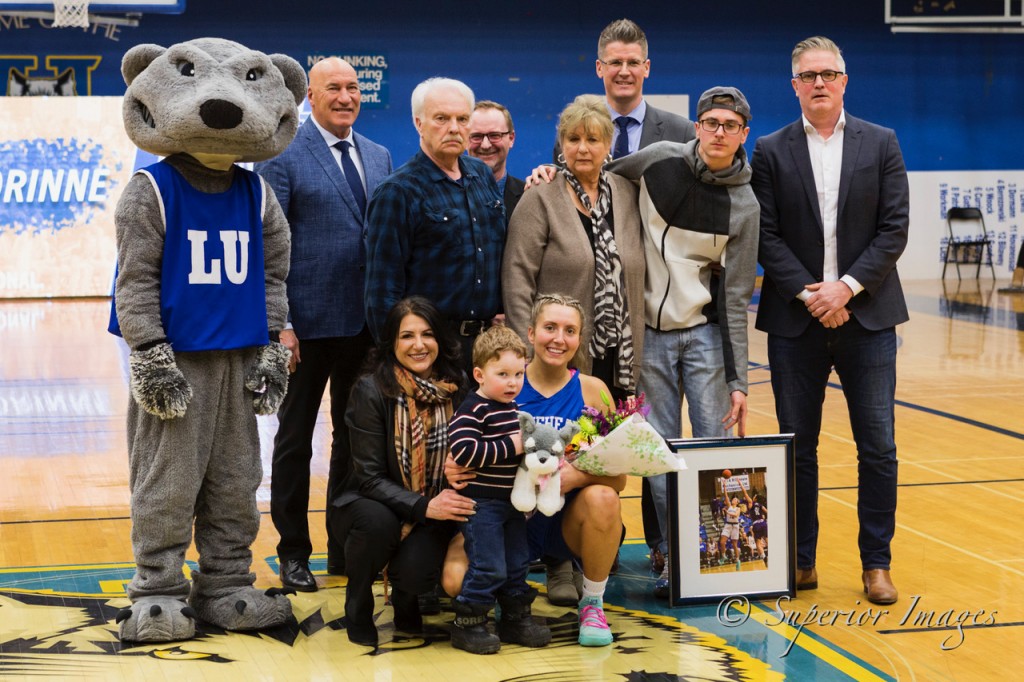 Lakehead, the OUA West second seed, next plays the winner of Windsor (3) and Laurier (6) home at the Thunderdome on Saturday, February 23rd at 7pm.
"We are looking forward to our home playoff game," coach Kreiner said. "I think our team is primed and ready to go."