David McCallum – Assistant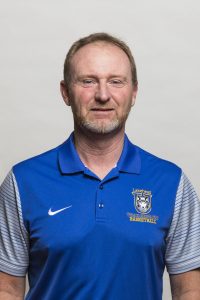 David McCallum was born, and raised in Thunder Bay, ON,  and is in his 26th year of coaching High School basketball.  He has coached girls basketball at both Churchill and Westgate High Schools with his teams winning four SSSAA/NWOSSAA championships.  David was also a coach of the Thunder Bay Junior Wolves Club program from 2008 – 2018.
McCallum attended Gustavus Adolphus College, St. Peter, MN where he graduated with a BA in Physical Education, and played Varsity Tennis.  He then received his BEd from the University of Western Ontario, and won an OUA Championship with the Mustangs Tennis Team.
Dave is currently working as a Vice Principal at Westgate C.&V.I.. He is married 26yrs to wife Janine, and the couple have three wonderful children.
Currently in his second year as an assistant with the Thunderwolves Women's Basketball Team.