Wrestlers collect 9 top-three finishes at OUA Championships
Lakehead's wrestling teams competed at the OUA championships today, with both men's and women's squads taking finishing third overall, taking home bronze medals. Lakehead's wrestlers finished 2nd overall among all schools in men's and women's combined points.
"We had a strong day," Thunderwolves wrestling coach Francis Clayton said. "It was nice to watch the team work together all year—and especially in the weeks leading up to the championships—and then to get results."
The men's team finished with 61 points, behind the first-place Brock Badgers and the McMaster Marauders. The women's team finished with 42 points behind the first-place Brock Badgers and Guelph Gryphons.
Nine Thunderwolves wrestlers qualify for USPORTS national championships, which take place at the end of February. Lakehead had two first-place, two second-place, and five third-place finishes at the OUA provincial championships today.
"A lot of wrestlers put in strong performances today," coach Clayton said, "including first-year wrestler Hasan Ercan, who had a come-from-behind win to place third at 54 kg. It was also nice to see local products Madison Clayton and Marco Palermo win their weight classes—to see our local wrestlers perform well: Jesse Leach silver, Alex Richer and Erin Clayton bronze, and Maggie MacGillivray fourth."
"We had five first-year wrestlers qualify for USPORTS," coach Clayton said, "and that combined with the team winning the provincial junior championships last weekend are good signs of what is to come."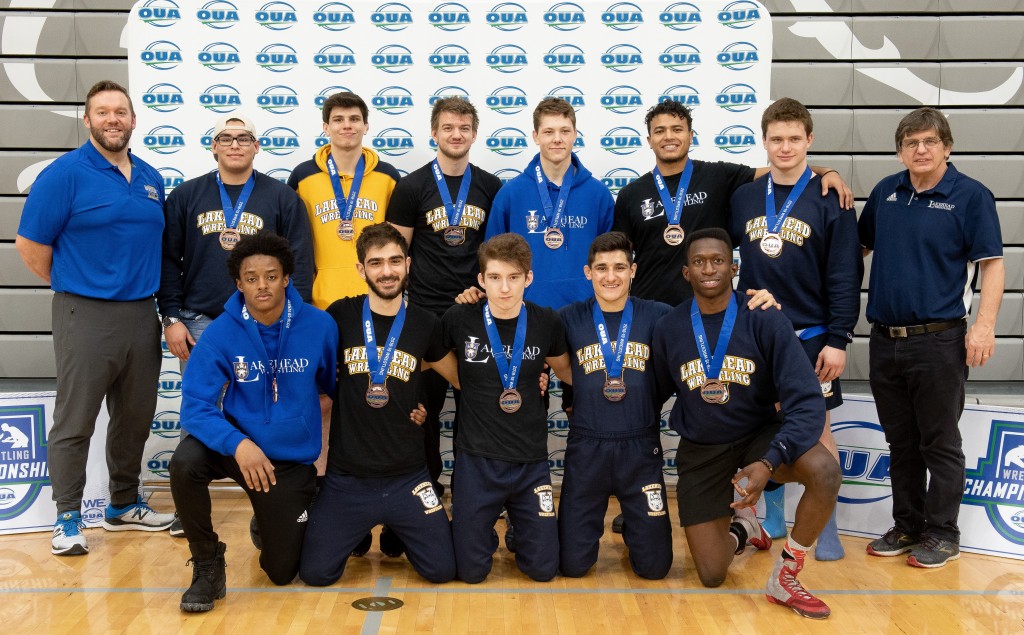 Lakehead Men's Team Wrestlers
[bolded=first-year wrestler, *=USPORTS qualified]
*Marco Palermo — 1st — 61 kg
*Jesse Leach — 2nd — 72 kg
*Hasan Ercan — 3rd — 54 kg
*Abraham Mfonpa're Ntienjem — 3rd — 68 kg
*Alex Richer — 3rd — 76 kg
Myles Bellegrade — 4th — 125kg
Sam Lockie — 4th — 57 kg
John Campbell — 5th — 100 kg
Steven Powell-Chambers — 5th — 65 kg
Mateo Tobon — 5th — 90 kg
Brody Evans — 6th — 82 kg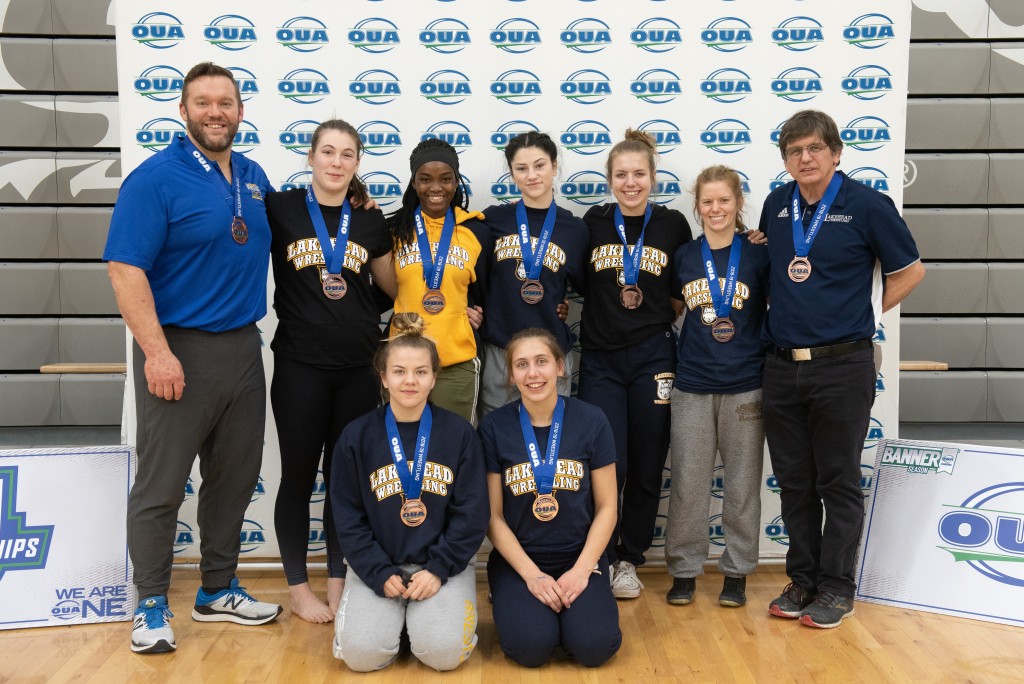 Lakehead's Women's Team Wrestlers
[bolded=first-year wrestler, *=USPORTS qualified]
*Madison Clayton — 1st — 63 kg
*Ashley Gravelle — 2nd — 72 kg
*Erin Clayton — 3rd — 67 kg
*Klara Patel — 3rd — 82 kg
Maggie MacGillivray — 4th — 59 kg
Megan Smith — 5th — 48 kg
Eli Afidenyo — 6th — 55 kg
[featured image: Marco Palermo collects his gold medal]