Coach Clayton Adds Rugged Recruit: McKenzie Hall
Coach Francis Clayton of Lakehead's wrestling program counts hard work, heart, and toughness among the list of traits that define his recruiting class of 2016. The latest recruit to the women's program, McKenzie Hall, is no exception.
Hailing from from New Hamburg, Ontario (a short drive from Kitchener), McKenzie Hall is a relative newcomer to the mat, but has impressed Coach Clayton.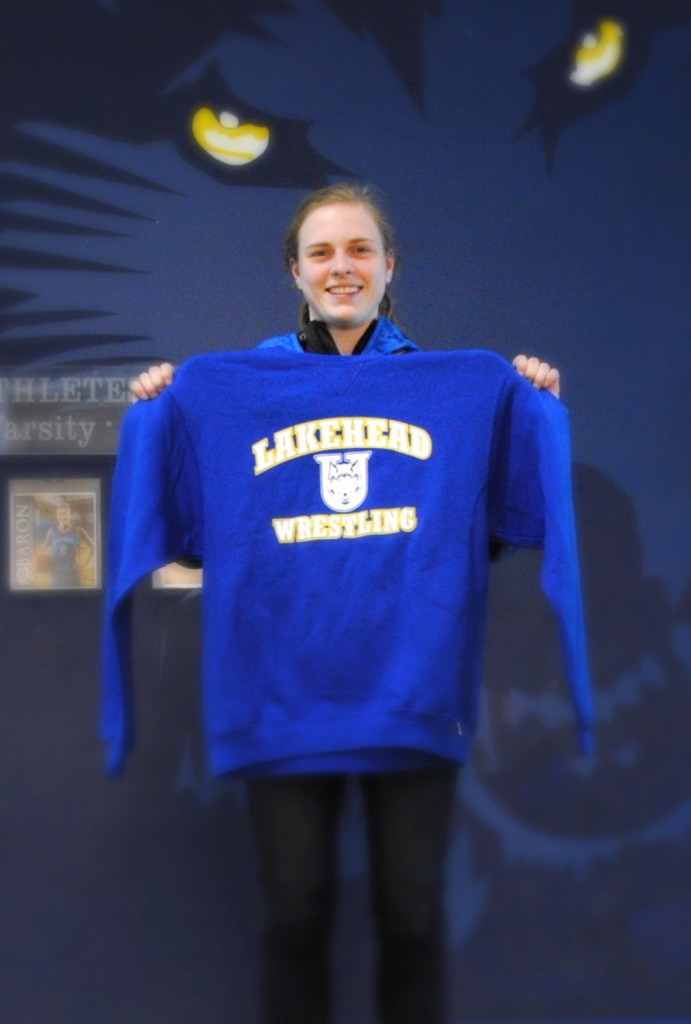 "She's a hard worker and willing to put the time in to achieve results over the long term," says Clayton. "McKenzie understands that this is isn't a 1-year process, it's a 4 or 5 year commitment, both to earn her degree and help build an elite program here at Lakehead."
A convert from the hockey rink to the wrestling mat, Hall has been wrestling competitively for three years at her high school, Waterloo Oxford District Secondary.
"I like the intensity of the sport and the workouts," says Hall of her newfound passion for wrestling. "Wrestling is a an individual type of sport but you need a great team to improve, and that's something I've found at Lakehead."
"I like being up North, Lakehead has a great nursing program, and I wanted to wrestle at University too. I also enjoy skiing." – McKenzie Hall on choosing Lakehead University
Hall also competed for one year with the Kitchener Matmen club, where she's coached by Lakehead alumni Steve Gross (Kinesiology, '12).
"I was pretty excited when McKenzie told me she would continue wrestling and had committed to Lakehead," said Gross when reached for comment. "She will fit in well with Fran's program. McKenzie is one of the hardest working girls in our room and showed tremendous improvement. Coachable, respectful, a hard worker and competitive. I am looking forward to seeing her continue as a Thunderwolf."
Fellow Matmen coach Kevin Ramsubhag adds, "McKenzie's transformation and progress over the past year alone makes me confident that she'll have a tremendous upside as a wrestler going forward."
Coach Clayton is quick to disarm any notion of her inexperience as a liability to her development at Lakehead, noting, "Some kids have an impressive record on the mat then get to university and expect it to happen right away. Others have been practicing bad wrestling habits for 8 years when they get to post secondary and it takes years to unlearn those habits. McKenzie's been coached well so far, and has the right attitude."
Profile: McKenzie Hall
Hometown: New Hamburg, Ont.
High School: Waterloo Oxford District Secondary
Academic Interest: Nursing
Club: Kitchener Matmen (Coaches Steve Gross and Kevin Ramshubhag)
Weight Class: 56kg
Notable Achievement: Matmen Mississauga tournament – 2nd place – 60kg ('15)