Dinkins selected as Second Team All Star for Second Straight Year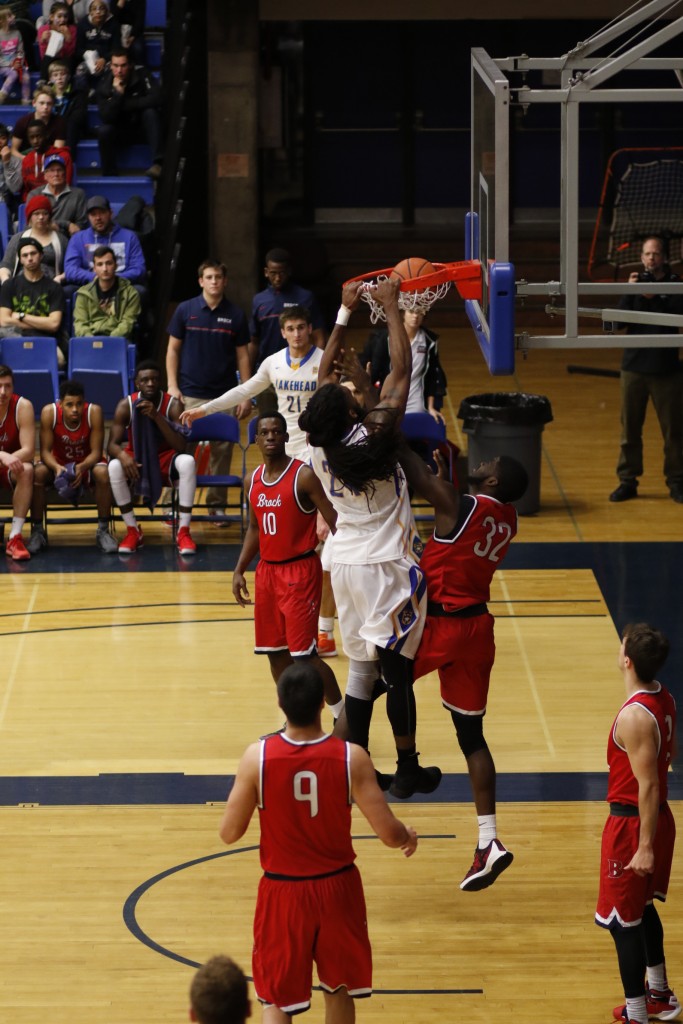 The OUA has announced their major award winners and All-Star team selections for men's basketball.
For the second straight year, Bacarius Dinkins has been selected as an OUA second-team all-star.
"For Bacarius to average 16 points and 10 rebounds in the OUA says a lot about his abilities. He's probably one of the most electric and explosive posts in the U SPORTS and he plays a lot bigger then his 6'4 frame." – Coach Furtado
Bacarius Dinkins (Jonesville, Florida), graduating in Sociology,  has posed as a huge challenge to all teams across the OUA and U SPORTS with his ability to get to the basketball along side a solid jump shot. With athleticism and power, Bacarius ranks 3rd in the OUA for the most total rebounds and rebounds per game. Dinkins is also 5th in the league for most blocks.
Dinkins best performance of the year came during the Thunderwolves 79-75 victory over York, putting up 23 points. Dinkins was also huge in the Thunderwolves Playoff game against Toronto with 17 points, 10 rebounds.
OUA Major Award Winners
Player of the Year: Connor Wood – Carleton Ravens
Defensive Player of the Year: Caleb Agada – uOttawa Gee-Gees
Rookie of the Year: Kadre Gray – Laurentian Voyageurs
Ken Shields Award: Ryan Bennett – Brock Badgers
Coach of the Year: Dave Smart – Carleton Ravens
OUA First-Team All-Stars

Connor Wood – Carleton Ravens
Kaza Kajami-Keane – Carleton Ravens
Adika Peter-McNeilly – Ryerson Rams
Ammanuel Diressa – Ryerson Rams
Caleb Agada – uOttawa Gee-Gees
Jean Emmanuel Pierre-Charles – uOttawa Gee-Gees
Dani Elgadi – Brock Badgers
Devin Johnson – Toronto Varsity Blues
Kadre Gray – Laurentian Voyageurs
Connor Gilmore – McMaster Marauders
OUA Second-Team All-Stars
Justin Shaver – Nipissing Lakers
Marcus Lewis – Nipissing Lakers
Mike Rocca  – Windsor Lancers
Bacarius Dinkins – Lakehead Thunderwolves
Sukhpreet Singh – Queen's Gaels
Johneil Simpson – Brock Badgers
Tevaun Kokko – Laurier Golden Hawks
Rohan Boney – McMaster Marauders
Ryan Ejim – Carleton Ravens
Nedim Hodzic – Waterloo Warriors
OUA All-Rookie Team
Nedim Hodzic – Waterloo Warriors
Simon Petrov – Waterloo Warriors
Justin Hardy – Waterloo Warriors
Kadre Gray – Laurentian Voyageurs
Eddie Ekiyor – Carleton Ravens
Tevaun Kokko – Laurier Golden Hawks
Keevon Small – Ryerson Rams
Daniel Cayer – Brock Badgers
Omar Shiddo – Western Mustangs
Jaaden Lewis – Nipissing Lakers