THUNDERWOLVES MEN'S BASKETBALL ADDS ETHAN WILLMORE TO ROSTER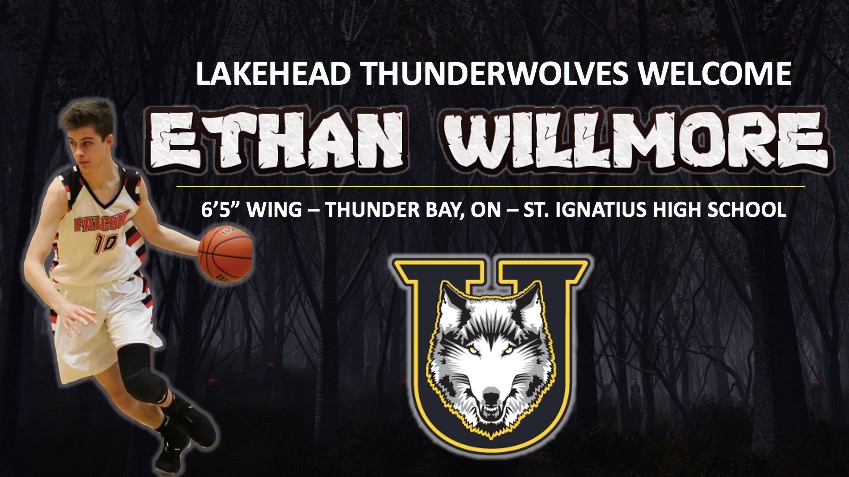 Lakehead Men's Basketball is proud to announce the commitment of 6'5" Ethan Willmore of Thunder Bay, Ontario, and St. Ignatius High School. 
The wing comes from a Falcons program that's fresh off another appearance at 'AA' OFSAA and fifth consecutive city title, where he was led by Coach Dino Buset. 
"Ethan is a great kid with a high basketball IQ. He made a huge impact in his 4 years representing the St. Ignatius basketball program. We look forward to seeing him suit up for the Thunderwolves and continue to grow under the guidance of Coach Thomson and Coach Erdman" said Buset.
"Growing up in Thunder Bay, I've had the opportunity to participate in Lakehead's developmental program, Blaze basketball. The Men's Basketball team has a major presence, which makes it a natural transition," said Willmore.
"Lakehead's basketball program has succeeded in recent years, and I am excited to be a part of everything the program has to offer. The coaching staff is remarkable and I know they will help me maximize my potential as a student athlete. I would also like to thank all of the coaches, teammates, and other individuals who have helped me reach this level."
The Thunderwolves are excited to have Ethan join the family, and see him develop both on and off the court as he enrolls in the Applied Life Sciences program this fall. 
"Ethan is a fantastic student-athlete who will be a welcome addition to the Thunderwolves program," said Thunderwolves head coach Ryan Thomson. 
"Ethan's ability to shoot the ball and make smart team-first plays is a skill that can translate to the next level."