Thunderwolves VS Winnipeg Wesmen
September 30, 2016
7:30 pm - 9:30 pm
Thunder Bay
LU Fieldhouse
Thunderwolves
Winnipeg Wesmen
70
76
Game Review
MBB Take First Loss 76-70 to Winnipeg Wesmen
Samantha Connolly | Basketball (M)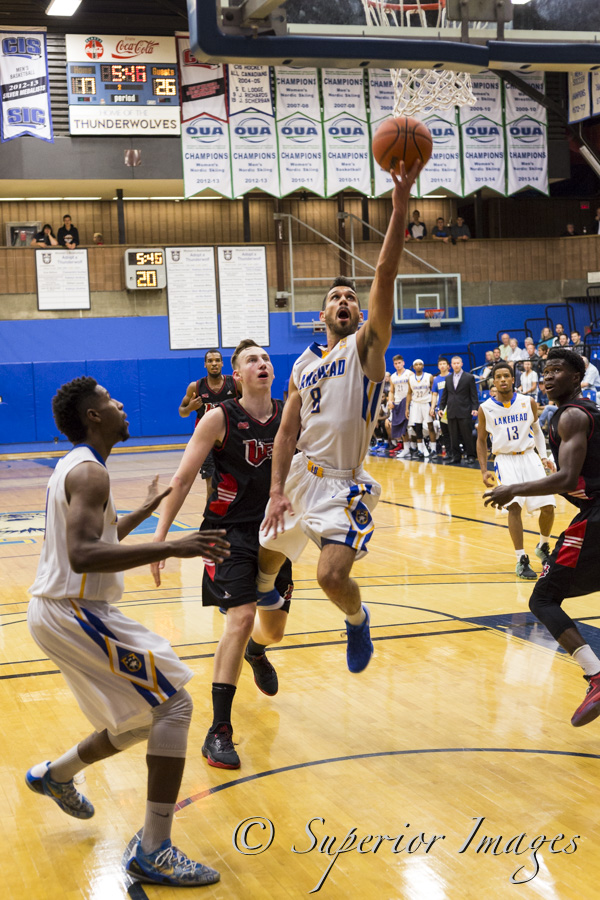 The Lakehead Men's Basketball team lost their first game of the season 76-70 to the University of Winnipeg Wesmen.
It was a slow start as the Wesmen took the first quarter with a 22-8 lead. Wesmen Denzel Lynch-Blair and Sean Tarver had 16 points each, while William Yaworsky lead the team in rebounds with 6.
The 'Wolves eventually came together in the 4th quarter and out scored the Wesmen 26-21. Kache Kopec lead his team with 20 points and Alex Robichaud contributing 14 points and 2 steals. Mor Menashe, back from his injury last year, passed the ball well with 6 assists and 3 steals.
The men fought back, creating a 3-point game with less than two minutes left. The 'Wolves had the momentum but were unable to make up for mistakes and ran out of time. For tomorrow, the Wolves will need to focus on the game plan, playing smart and taking care of the ball.
"I'm glad it's early and non-conference. We can hopefully learn from this and make some progress." – Coach Furtado
The Thunderwolves will play the Wesmen again tomorrow at 7:30pm.
Webcast will be available