Thunderwolves VS Carleton
February 28, 2015
7:00 pm - 9:00 pm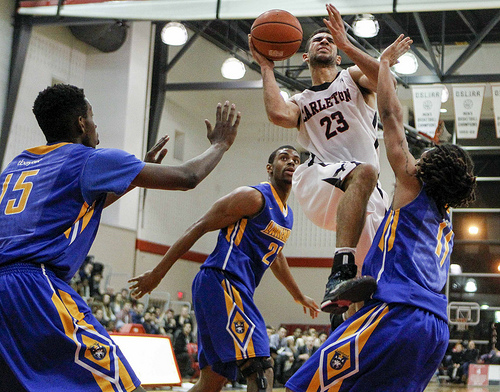 Thunderwolves
Carleton
54
79
Game Review
Hugh Mullally | Basketball (M)
The men's basketball season came to a close on Saturday, as they bowed out to the Carleton Ravens, 79-54 in the OUA 1/4 finals.
Lakehead began the game with a chip on their shoulder against the reigning CIS champions. After both teams exchanged a few missed baskets, Dwayne Harvey opened up the scoring with a 3-point play to put Lakehead ahead in the early going.
It would be the 'Wolves only lead of the game, as Thom Scrubb would answer in turn with three straight baskets for the Ravens as both teams dug in. Despite playing fairly solid defense early on, Lakehead trailed 17-10 after 10 minutes.
Try as they might, the Thunderwolves' offense could not take hold against stingiest D in the country, as the deficit grew to 40-24 at halftime.
Despite the Ravens shooting only 10 free throws, they would hit all 10 (all shot by Phil Scrubb and Guillaume Boucard), while Lakehead did well to get to the free throw line, going 17-of-24.
Henry Tan scored 17 points to lead the 'Wolves, including 8 in the final quarter.
Fifth year senior guard Dwayne Harvey scored 15 points in his final game as a Thunderwolf. Anthony McIntosh, who also graduates this year, tallied 10 points with 7 rebounds in front of his home town friends and family.
The Scrubb brothers, Thomas and Philip combined to score 48 points (Phil 28, Tom 20) for the Ravens. The rest of the team went 12-of-26 from the field to score 31.
Coach Manny Furtado:
"Since day one in August our guys have bought in and have competed every day. Tonight was no different. They gave everything they had and I'm proud of them. I 'd like to wish the graduating players Anthony McIntosh and Dwayne Harvey all the best in their next chapter."