Thunder Bay
LU Fieldhouse
Game Review
Lakehead Wrestling sent a small group of wrestlers to Winnipeg this weekend to compete in the Wesmen Open.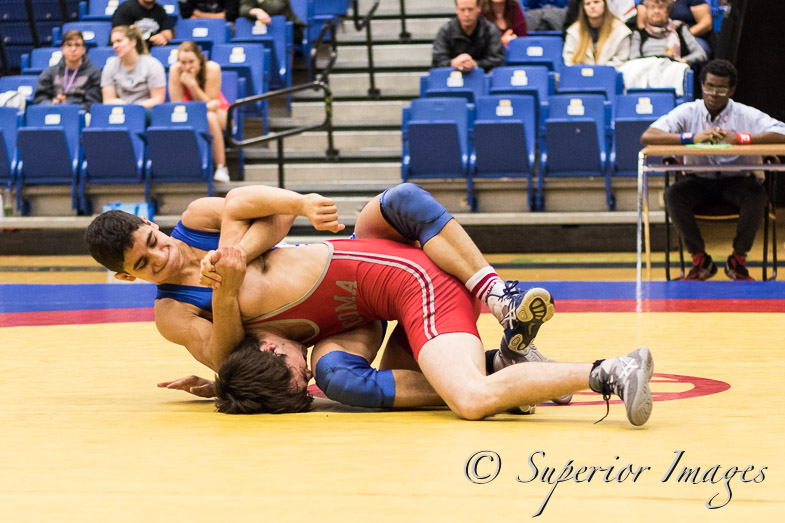 Two of Lakehead's wrestlers made it to the finals.
Marco Palermo placed second at the 57 kg class winning two matches before losing in the finals to a wrestler from the University of Alberta.
Lakehead's other finalist was Tyler Ashurst who placed second at the 76 kg class. Tyler was also two wins and one loss for the weekend.
Lakehead's next competition is the York Open, November 19th.
Men's Final Team Standings
1) Alberta – 35
2) Saskatchewan – 31
3) Winnipeg – 19
4) Calgary – 15
5) Lakehead – 12
Lakehead Weekend Results
Open Men ­ 57kg
2nd Place ­ Marco Palermo of Lakehead
Round 1: ­ Marco Palermo (Lakehead) won by decision over Aram Villegas (University of Winnipeg) (Dec 8­2)
Round 2: ­ Melvin Arciaga (UNIVERSITY OF ALBERTA) won by tech fall over Marco Palermo (Lakehead) (TF 10­0)
Round 3: ­ Marco Palermo (Lakehead) won by fall over Zachary Bieber (UNIVERSITY OF SASKATCHEWAN) (Fall 2:14)
Open Men ­ 68kg
3rd Place ­ Steven Chambers of Lakehead WC
5th Place ­ Jayden Murray of Lakehead
Round 1: ­ Rami Lalria (UNIVERSITY OF CALGARY) won by fall over Jayden Murray (Lakehead) (Fall 0:54)
Round 3: ­ Jayden Murray (Lakehead) won by fall over Marcus Peterson (UNIVERSITY OF ALBERTA) (Fall 0:17)
Round 4: ­ Steven Chambers (Lakehead WC) won by tech fall over Jayden Murray (Lakehead) (TF 10­0)
Round 5: ­ Micah Heide (UNIVERSITY OF SASKATCHEWAN) won by tech fall over Jayden Murray (Lakehead) (TF 10­0)
Open Men ­ 76kg
 2nd Place ­ Tyler Ashurst of Lakehead
Round 1: ­ Tyler Ashurst (Lakehead) won by tech fall over Joesph Munoz (UNIVERSITY OF SASKATCHEWAN) (TF 10­0)
Round 2: ­ Alexsandr Sofronov (University of Winnipeg) won by fall over Tyler Ashurst (Lakehead) (Fall 1:29)
Round 3: ­ Tyler Ashurst (Lakehead) won by tech fall over Tyler Bentley (UNIVERSITY OF SASKATCHEWAN) (TF 10­0)
Open Men ­ 90kg
5th Place ­ Drew Anderson of Lakehead 
Round 1 ­ Clayton Brinker (UNIVERSITY OF ALBERTA) won by fall over Drew Anderson (Lakehead) (Fall 2:53)
Round 3 ­ Hunter Lee (Jr Huskies) won by fall over Drew Anderson (Lakehead) (Fall 1:37)
Round 4 ­ Nick Proctor (Dino Wrestling Club) won by fall over Drew Anderson (Lakehead) (Fall 1:51)
Round 5 ­ Calvin Daum (University of Winnipeg) won by tech fall over Drew Anderson (Lakehead) (TF 12­2)