Thunderwolves VS Ryerson Rams
February 25, 2017
7:00 pm - 9:00 pm
Thunder Bay
LU Fieldhouse
Thunderwolves
Ryerson Rams
1 (25, 23, 10, 20)
3 (20, 25, 25, 25)
Game Review
The Lakehead women's volleyball team lost their final game of the season 3-1 (25-20, 23-25, 10-25, 20-25) to the Ryerson Rams in the Thunderdome.
"Well we started very well against Ryerson and we did all we wanted to do game plan wise. The girls were on par on their serving targets and everything was rolling. Then the same thing that bites us is our lack of focus on passing."- Coach Green
The Thunderwolves started the game strong, winning the first set 25-20. Lakehead continued to play well in the second, but the Rams were able to capture the lead and won only by 2 at 25-23.
Lakehead could not seem to get their systems going in the third and the Wolves lost the set 25-10.
The Wolves started the fourth set with the same energy they had in the third. With a 5 plus deficit, the Thunderwolves turned it around and came back to be only down 16-14 at the technical time out. The 'Wolves continued to fight back but were unable to surpass the Rams and lost the final set 25-20.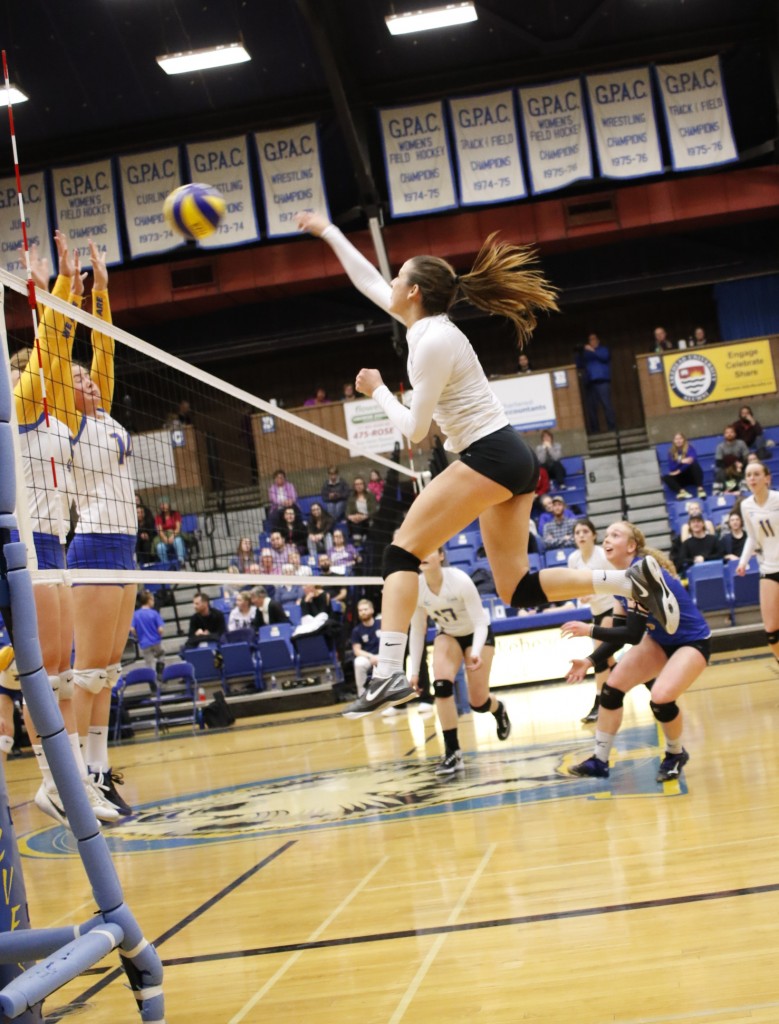 "I am very proud of our 4th years athletes tonight. They have been tone setters for us for their entire 4 years, athletically and academically. We all wish we could have sent them out in a better fashion however they ALL played well." – Coach Green
Kailan Robinson had 20 total kills tonight and 15 digs. Olivia Bowman was also strong with 10 kills and 3 blocks.
Coach Green:
"We have to harness our ability to focus all the way through. When this group gets that, it will be more success rather than not. We as a staff are proud of our athletes. Proud of who they have become and how they have represented Lakehead. These are special young ladies, and we can't be more proud. Their rewards will come as a part of the process. You can't work this hard and not grow. Time to wind down, evaluate and prepare for next year. Thanks so much to our fans!! We have the ABSOLUTE best fans in the OUA. This city has grown its volleyball culture and I know our girls love playing for them."
The Thunderwolves finish the 2016/2017 season with a 5-17 overall record (non-conf 1-2, OUA 4-15).