Thunderwolves VS Trent University
January 28, 2017
7:00 pm - 9:00 pm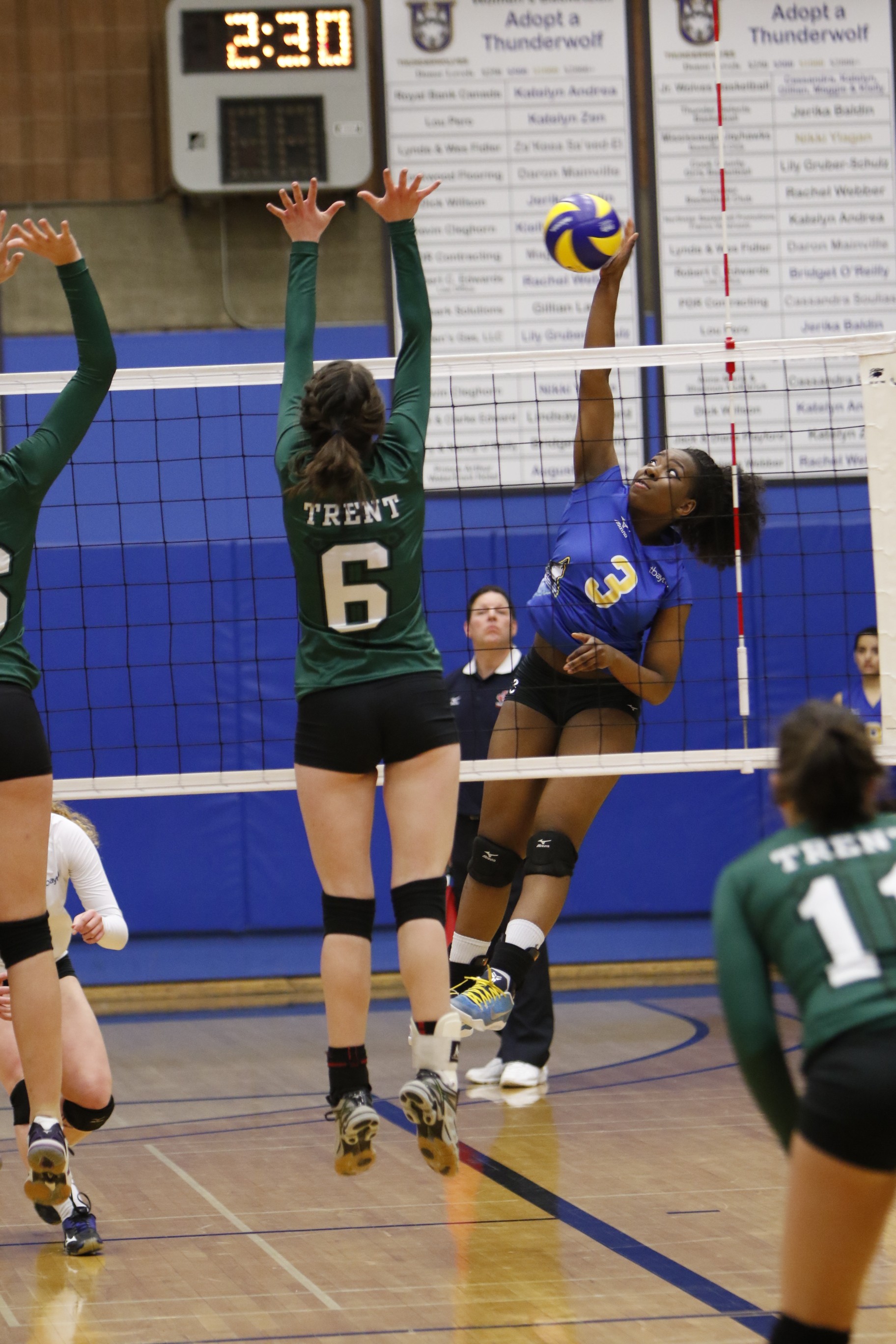 Thunder Bay
LU Fieldhouse
Thunderwolves
Trent University
3 (17, 25, 25, 26)
1 (25, 12, 13, 24)
Game Review
It was a great night for the Lakehead women's volleyball team as they took down Trent University 3-1 (17-25, 25-12, 25-13, 26-24) in the Thunderdome.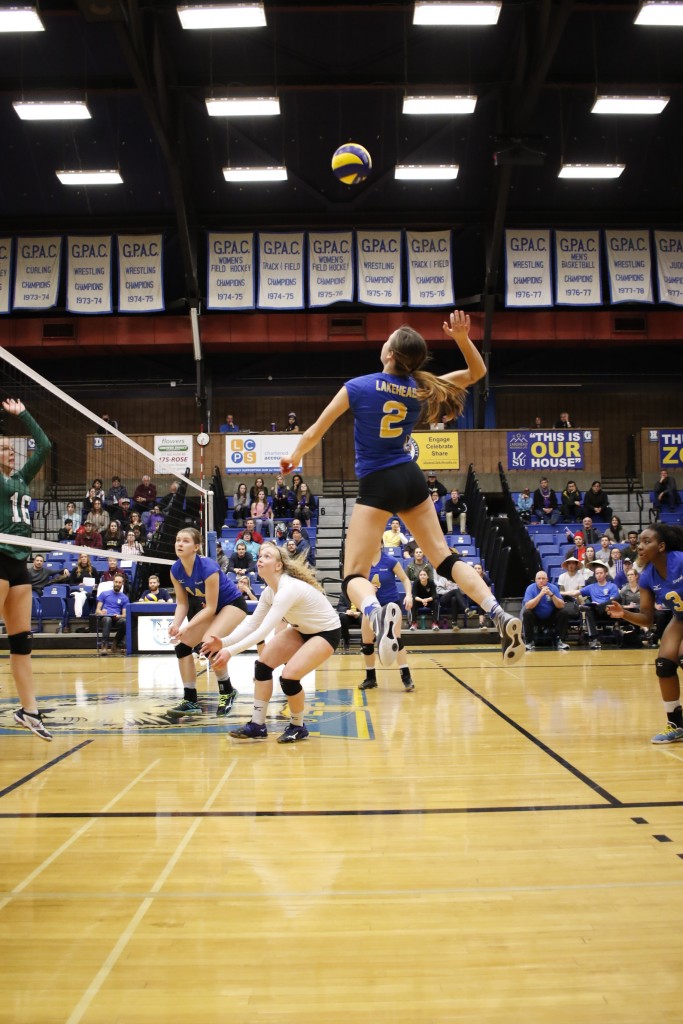 Coach Green:
"There is a reason everyday in every practice every player has to train as if they want to be a starter. It is imperative and tonight showed that. We had a to rely on athletes to come off the bench and hold the fort, or more so rebuild the fort. Some of these girls have put in numerous hours to be prepared. Training hard and rarely seeing the benefits on the floor at game time but tonight they made their stock rise. It just shows, a TEAM is about everyone always being ready. We have preached that everyday in practice."
The Thunderwolves struggled to find their energy in the first set and found themselves down early on. Coach Green continued to make subs in order to find the right momentum but Trent took the set 25-17.
Lakehead completely turned it around in the second set, starting with a 13-3 run. They continued to push the score and won the set 25-12. The Thunderwolves followed the same game plan in the third set, winning 25-13.
Trent fought back in the fourth and the two teams went point for point. Tied at 21, Trent was able to get a two point lead making it 23-21. Lakehead did not give up and bounced back in an exciting finish, taking the set 26-24.
Coach Green:
"Cecile Tshibungu brought energy and passion tonight. She has had a lot of learning to do this year, and to her credit, she has stuck with it. We as a staff are proud of her preparedness and actions tonight. Now she has to continue that everyday. Our middles once again came in and bailed us out. Jen Hammerton is also growing as a setter. She made a lot of smart choices and she was relentless tactically tonight more so than normal. We think that Kailan came out after a slow start and rebounded to do what she does, she can get on a physical run like many top players and I am proud of her."
Olivia Bowman led her team with 16 kills, 3 aces and 8 digs. Cecile Tshibungu made a statement with 11 kills and 12 digs. Kailan Robinson had 16 kills and 12 digs.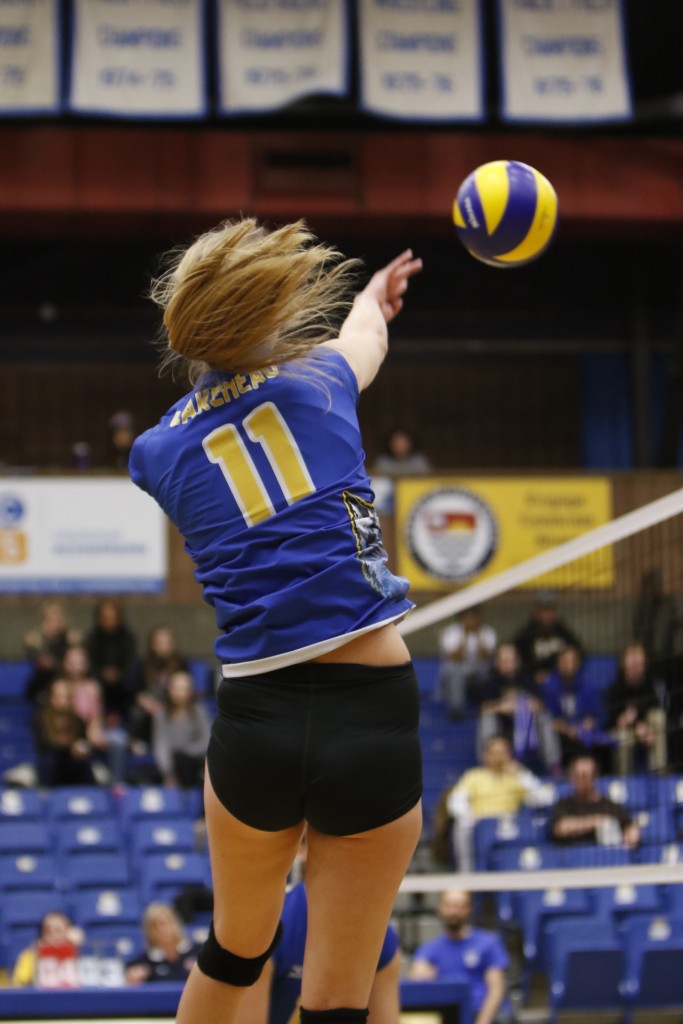 "I have been in so many gyms and to so many games and I know this – our fans are absolutely the best. The athletes love playing for them and we are so fortunate here in Thunder Bay" – Coach Green
Lakehead will play at home once again next weekend Feb 3 and 4 against Guelph. The 'Wolves will be playing in their pink jerseys on Feb 4th and raising money in support of breast cancer.