Get to Know Thunderwolves Track Star Rebekkah Pyle – Varsity Athlete Q&A
Without the hustle and bustle of the regular season, the Thunderwolves wanted to take some time to showcase some of our amazing athletes and give you some insight into what makes them so great.  Check out our first featured athlete below: Rebekkah Pyle!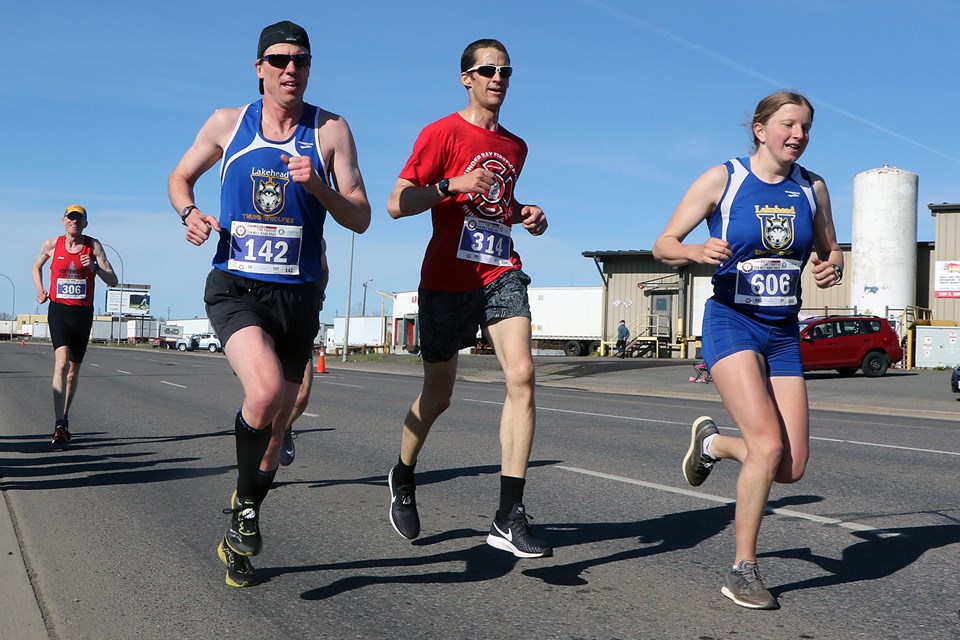 Name: Rebekkah Pyle
Sport: Track and Cross Country
Program: Kinesiology
Year: 3rd Year
Q: How long have you been racing?
A: I have been racing for about 3 years.
Q: What is your favourite thing about racing
A: Challenging myself to keep competing in the middle and end of the race when my legs are burning, I am gasping for air, and my mind is panicking.
Q: What is your favourite track and field or cross country memory outside of the Thunderwolves?
A: OFSAA cross country in Grade 12. It was a unique experience racing against the best runners my age in the province.
Q: What is your favourite track and field or cross country memory with the Thunderwolves?
A: Last year I ran a 3000m race at the University of Saint Thomas. I started running with another girl thinking that I would stick with her for the first 1000m and then increase the effort. Once we got to that point I was struggling to stick with her. For the rest of the race, I ran just behind her trying to stick with her for one more lap. At 400m left I passed her, but with 100m left she repassed me winning the race. I finished the race completely exhausted knowing that I had given everything I had mentally and physically.
Q: What made you choose track and field/cross country as your sport?
A:  For as long as I can remember, my dad would run in the morning at least three times a week. As a young child, I wanted to run like he did and joined him on his morning runs. When I entered grade 12, I decided to try the cross country team at my high school since I enjoyed running. Learning that I could run well, increased my commitment to the sport.
Q: Why did you choose to come to Lakehead and race for the Thunderwolves?
A: When I came here to visit the team on a recruiting trip, I really enjoyed the welcoming and fun atmosphere of the team.
Q: What are some of your goals for the upcoming season?
A: Run hard, embrace the hurt, and be brave.
Q: How do you train over the summer?
A: The summer we do a lot of mileage. I will probably run 100-120km a week.
Q: What is the best thing about being a student-athlete?
A: Having the opportunity to grow in many different areas: as an athlete, a student and in life.
Q: What is the hardest thing about being a student-athlete and how do you deal with it?
A: Being constantly busy. The peak of the racing season normal falls around midterms. Knowing this, I try to get ahead on my assignments before it gets too busy.
Q: What is something this sport has taught you?
A: That to do well in anything you need to work hard, listen to advice, and persevere through challenges. When doing these things, I find that I enjoy what I do a bit more.
Q: Which teammate inspires you the most?
A: Haylee Beeman. When she joined the varsity team, she struggled to stay with us on easy runs. Even though she knew she was slower than the rest of us, she stayed committed to running. This year all her dedication has paid off and she has really improved! I really admire her dedication.
Q: What is your favourite thing to do outside of racing?
A: Spending time with my teammates
Q: What is your dream vacation destination and why?
A: New Zealand. I would love to explore the beautiful scenery, hike different trails, and see where the Hobbit and Lord of the Rings were filmed.
Q: What was the best summer vacation you've ever had?
A: Hiking the La Cloche Silhouette trail in Killarney Provincial Park.
Q: What is your favourite summer activity?
A: Running and Swimming in Lakes
Q: What is your dream job?
A: Farming or coaching
Thanks for all of your hard work & dedication, Rebekkah!  Stay tuned for our next Q&A with Thunderwolves superstar wrestler, Marco Palermo!