Get to know Thunderwolves Volleyball's Rachel Sweezey
It's time for Thunderwolves fans to get to know another one of the varsity athletes that make being a Thunderwolf so great! Volleyball player Rachel Sweezey just recently finished 6 weeks of jungle living in Ecuador, keep reading to find out how she has been keeping up with her summer training.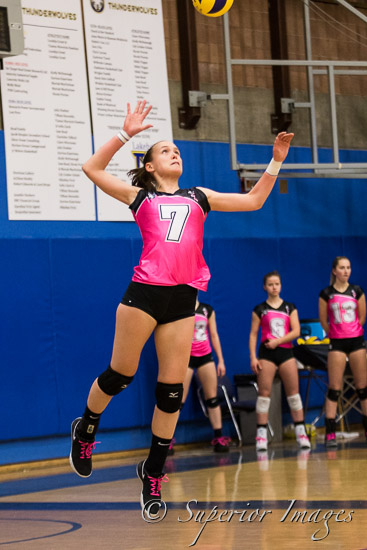 Name: Rachel Sweezey
Sport: Women's Volleyball
Program: Environmental Management, specialization in Wildlife Conservation
Year: Graduated 4thyear, starting 5thyear to complete an additional program certification
Q: How long have you been playing volleyball?
A: 9 years. I will be starting my 10thseason this fall.
Q: What is your favourite thing about volleyball?
A: I like volleyball because it's a high-energy game of precision. I'm a perfectionist in everything I do and so I like that there is always something to strive for. Each contact on the ball can always be improved; I can make a better set, I can serve a better ball, I can position my hands better on my block, etc.
Q: What is your favourite volleyball memory NOT WITH the Thunderwolves?
A: My first Club Nationals in 15U. I think Toronto 2012 was the first year where Volleyball Canada had all the age groups at the same venue, and there were 54 courts set up in a single, massive exposition hall. It was a really exciting environment to play in. My grandparents also drove up from Wisconsin to surprise me and watch for the weekend. It was so much fun to have them there, all decked out with the team colours and their pompoms. My dad and I also went to see an international men's game that was on that weekend too.
Q: What is your favourite volleyball memory WITH the Thunderwolves?
A: The Trent game last season. It was the first time I got to play a full regular season match and I was really happy with how I played. Also, the season opener is a super exciting game for everyone; it kicks off everything we've worked on through pre-season. Playing at home made it that much better too because we have some of the loudest and most enthusiastic fans in the OUA; our gym is a really fun environment to play in.
Q: What made you choose volleyball as your sport?
A: I had tried some individual sports, such as figure skating and cross country running. I had also tried out for some school sports teams, but I was a pretty lanky kid and not super coordinated. However, when I made the school volleyball team in grade 8, I felt that I had finally found my sport. I loved how exciting the game was and joined a club team the following year. From there, I was just more and more driven to keep improving every practice and every season, and I continue to strive to be the best that I can be.
Q: Why did you choose to come to Lakehead and play for the Thunderwolves?
A: I chose Lakehead for both volleyball and my program; Environmental Management is only offered at three schools in Canada. When I came to visit LU, I really loved the campus – the lake, lots of trees, and walking trails by the river – even if it was -45C that weekend! During my visit, I also got to practice with the team and watch a few games which were super exciting. The girls were very welcoming and happy to share their thoughts and perspectives on being a student-athlete.
Q: What are some of your goals for the upcoming season?
A: I'm looking forward to helping create a new team culture at LU. We have talented and hard-working athletes here and the first years coming in will only add to our program. I'm excited about putting it all together and using my experience to help develop the potential of our young team.
Q: How do you train over the summer?
A: My past few summers have been pretty intense off-seasons with workouts 4-5 days a week, 2-3 on-court sessions, and running hills and ladders in the mornings before work on the off days. This summer is a bit different because I'm currently working in Ecuador. My training here is primarily bodyweight workouts every morning, as well as swim workouts in the river, and hiking at altitude in the Andes. I was also able to find myself a volleyball here so that's been nice to have around camp in the jungle.
Q: What is the best thing about being a student-athlete?
A: Being a student-athlete gives me the opportunity to play the sport that I love at a high level while also studying in my field of interest.
Q: What is the hardest thing about being a student-athlete and how do you deal with it?
A: The scheduling. Working out a daily and weekly schedule that has to include every single thing in it, from practices and workouts, physio and travel weekends, to preparing and eating meals (often to go), to classes, daily homework and longer term assignments, while also making time to sleep, enjoy my friends, and finding a few precious moments of personal time where I can cuddle up with my cat… it does get to be a lot sometimes, that's for sure, but I think learning how to succeed with that sort of balancing act is only going to help me later in life. Google Calendar has certainly been a big help.
Q: What is something this sport has taught you?
A: Hard work and dedication. So many obstacles can get in your way and there will always be factors you can't control. Volleyball has really taught me how to just stay focused on my goals and work hard to achieve them. I know that having the drive to want to excel in this sport will carry forward and help me to succeed in other aspects of my life.
Q: Which teammate inspires you the most?
A: Sydney Elliott. I know first-hand what it's like to come up to the next level as an undersized middle and then switch positions to the total opposite of anything you've ever played before. Sydney did a great job this past season; she worked really hard to learn her new position and accepted it with a smile. Asking for extra practice sessions in the early mornings and always looking for feedback on how to improve, she's made huge strides and I think it will only continue in her future.
Q: What is your favourite thing to do outside of volleyball?
A: Hiking in the Adirondack High Peaks. My brother and I have the goal of becoming "ADK Forty-Sixers" which means summiting all 46 peaks over 4000 ft in New York State's Adirondack Park. So far, I am at 22, just one shy of halfway. There have been a ton of amazing trips in the peaks, each one totally different from the people I hike with, to the unpredictable weather conditions (lighting and hail storms, 30+ degree temperatures, and 80km/hr winter winds all included!), to the amazing views on the trails and at the summits. It is truly one of my favourite places to be and I'm so excited about the rest of the hikes to come!
Q: What is your dream vacation destination and why?
A: The Swiss Alps. It's been at the top of my bucket list forever. I absolutely love mountains and I think going there will be one of my most breath-taking adventures.
Q: What was the best summer vacation you've ever had?
A: Last summer I spent 9 days touring around Alberta with my best friend. Did a 3-day hike near Jasper where we went over a mountain pass and into Tonquin Valley, waking up to fresh snow on Canada Day. We also drove down to see Waterton Lakes National Park where there was a forest fire the previous fall and had a young black bear run by us on the beach. Some car troubles meant a lot of our trip didn't go according to plan, but we ended up having an amazing time improvising and met some really nice and helpful people in our travels.
Q: What is your favourite summer activity?
A: Waterskiing at my cottage. I first got up on water skis when I was 6 and have loved it ever since. I think I spent every weekend the summer I was 5 trying to get up but just wasn't strong enough yet. That was probably the start of my 'idée-fixe' mentality.
Q: What is your dream job?
A: Conservation work in the Rockies with big cats – cougars, lynx, and/or bobcats. Not sure yet what it specifically entails but that's the dream. Still figuring out the details on how to get there!
Stay tuned for our next Q&A with Thunderwolves Basketball's Blake Anderson!