Lakehead Alum Ed Zinger to Officiate Olympic Wrestling
As the world waits for the 2020 Olympic Games to begin in Tokyo this week, Lakehead Athletics is proud to count one of their own among the participants.
Ed Zinger, who studied and competed at Lakehead from 1988 to 1993 will officiate Olympic wrestling at the 32nd Olympiad.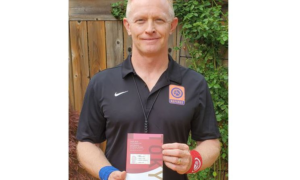 (photo credit Anne Zinger)
"My selection has provided me with the realization of a lifelong dream," explains Zinger, who earned his degrees from Lakehead in Physical Education ('92) and Education ('93).
"I started officiating in Thunder Bay as a Lakehead wrestler. It provided me an opportunity to stay in touch with the sport I loved, when I was recovering from an injury.  I am thrilled to be representing Canada."
Zinger will be the only Canadian wrestling official at Tokyo 2020, and is one of only four Canadians with the required certification to referee at the Olympic level.
Wrestling coach Fran Clayton, who recruited Zinger from Sudbury to Lakehead, has seen him grow since his days as a high school wrestler.
"I was very pleased when I heard Ed was selected to officiate at the Olympics," says Clayton.
"Eddie has worked very hard as an official. It's people like him that keep the sport going. He coaches high school in his community and is an official at the highest level. It's great to see his dedication to the sport of wrestling get recognized and rewarded in this way. Congratulations Ed!"
Zinger, who resides in Caledonia, Ontario, has officiated in 17 different countries for the World Wrestling Championships, Wrestling World Cups and Pan American Wrestling Championships.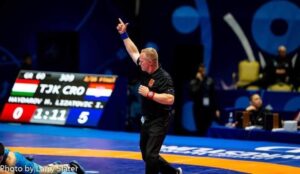 Written by: Hugh Mullally