Lakehead Track & Field Announces Commitment of 2x NCAA Medalist and National Record Holder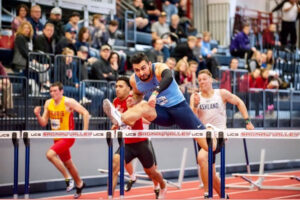 Lakehead Track & Field is proud to announce the commitment of 6x All-American, 6x All-Academic, two-time NCAA Championship Medalist and Tunisian National Record Holder, Rami Gharsalli.
From Sousse, Tunisia, Rami Gharsalli is a Sprint-Hurdler that boasts outstanding credentials on and off the track. Gharsalli is a distinguished Track & Field athlete, holding personal bests of 7.77 in the 60m Hurdles and 13.87 in the 110m Hurdles — marks that stand as National Records in Tunisia; other notable personal bests include 7.03 in the 60m and 22.26 in the 200m.
Throughout Gharsalli's career, he's achieved multiple prolific accolades:
2nd in the 60mH at the NCAA II Championships (2017)

3rd in the60mH at the NCAA II Championships (2019)

1st in the 110mH at the African Youth Championships

3rd in the 110mH at the African Junior Championships

6x All-American & 6x All-Academic Honours 
In addition to his Track accolades, Gharsalli has been a model student within the classroom, winning the Scholar-Athlete of the Year in the NCAA II in 2017 and GLIAC Commissioner Award in 2019, also while becoming a two-time Google Cloud Award winner. 
Gharsalli previously attended Northwood University in Midland, MI. During his time at Northwood, Rami completed his undergraduate degree while earning All-American and All-Academic status six times. 
"We're extremely excited to welcome Rami to Lakehead University" said Coach Joe McDonough. "Rami is an outstanding athlete, who's resume speaks for itself and we can't wait to help him progress in Athletics" McDonough continued.
Gharsalli will have an immediate impact on the Thunderwolves Track & Field team, contributing to the team's depth in the 60m Hurdles, 60m and 4x200m. 
"Rami is a model student-athlete, he is very goal-oriented and will help support our culture of professionalism and focus on and off the track; I know Rami has high goals for himself, and we'll do everything we can to make sure he reaches them" added Coach McDonough.
When asked about Lakehead University, Gharsalli stated "I have chosen Lakehead University for its culture, highly qualified professors and coaches, an
d lecturers with their better teaching  methodologies that provide the ideal learning environment for me." 
Gharsalli will begin his Masters of Education at Lakehead University this upcoming Fall Semester (2022).
Welcome to the Thunderwolves family, Rami!