Lakehead Track & Field Open Season
Thunder Bay, ON – The Lakehead University track & field team opened up their season this past Saturday, earning many personal bests and OUA Entry Standard performances.
The Thunderwolves now have 3 men ranked in the Top-8 in the 60m Dash in USPORTS; Junior Niko Dowhos 6.84, Freshman Zion Layoe 6.90 and Senior Braedan Prochnicki 7.03. Dowhos' winning time also broke the facility record in that event and is the fastest time in the OUA this year.
Fresh-off his stellar Cross-Country season, sophomore Jett Dobson led the way in the men's 3000m, clocking a new personal best time of 8:57. Hunter McLean (37.10) won the 300m dash, followed by first-year athlete Luis Koidjos (37.55). Rounding out the male sprinting events, senior Will McDonough took the 600m title (1:25).
On the women's side Aly DaSilva led the way for the Thunderwolves, winning the 600m event in a new personal best time of (1:39), eclipsing her previous mark by almost 3 seconds. Rookie sprinter Rowan Sharp also showed immense progress, achieving personal bests in both the 60m (8.48) & 300m (43.5) — almost 2s faster than previous best.
"Overall, this was a great day — we are extremely proud of our team; and like we keep telling the squad… There is something different in the air this time around; we think this team is capable of some amazing things this year and today was a small glimpse of that potential" said Coach Joe McDonough. "Our men's team has been hyper-competitive with one another these past few months and it really showed today in the 60m final" he added.
Lakehead Track & Field will be back in action at home January 7th before taking on the Windsor Can-Am Classic January 13th & 14th.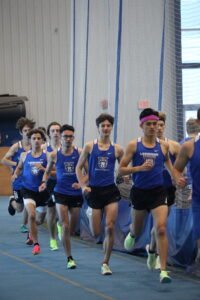 Written By: Joe McDonough, Lakehead University Track & Field/Cross-Country Head Coach