Lakehead University Athletics is proud to announce Tasia McKenna as a 2022 Wall of Fame athlete inductee.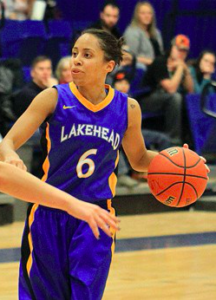 Lakehead University Athletics is proud to announce Tasia McKenna as a 2022 Wall of Fame athlete inductee.
"Tasia is one of the great guards in our proud basketball tradition," Lakehead University Athletics Director Tom Warden says. "She delivered every time she stepped on the court. It says a lot that she still ranks highly in multiple places in our all-time record books."
McKenna came to Lakehead from Timberlea, Nova Scotia in 2006 and made an immediate impact, being named to the OUA West All-Rookie team. She went on to be named an OUA All-Star in three consecutive seasons, becoming one of six Thunderwolves to ever be named to three first team conference All-Star teams.
"Basketball has always been a part of my life, and as an athlete I truly gave everything to the sport," McKenna says. "This induction is not only representative of my time at Lakehead, but a culmination of my entire basketball career from the second I first picked up a ball. I won't lie, I was a bit teary eyed when I learned of my induction."
By the time she graduated, McKenna had played in over 160 games for the Thunderwolves women's basketball team, racking up career averages of 14.5 points, 3.6 rebounds, 2.8 assists, and 1.3 steals per game. 
"I certainly appreciate stats as a measurement of excellence, but I hope my excellence can also be measured by the number of high-fives, the words of encouragement, and in game celebration of my teammates," McKenna says. "I played with a lot of incredible players and had amazing coaches over my 5 years, and every single one of them is why I am being inducted. 'Thank You' will never be enough to express my appreciation to everyone who put on the Thunderwolves uniform along side me."
And even though her introduction to the city was not a warm one, she quickly became comfortable in Thunder Bay.
"My recruiting trip was in January—cue a huge snowstorm and -40 degree weather—and I was not equipped for the winter experience," McKenna says with a laugh. "Needless to say, my first impression was, it's cold, it snows a lot, and there's no ocean to be seen! But Thunder Bay was the perfect size for me. The community was very welcoming and I really got a sense of that at the Thunderdome."
She adapted and quickly became a fan favourite—a speedy guard equally equipped to pick up a few points herself or to dish a pinpoint pass in the lane to the oohs and aahs of onlookers. Countless young Thunder Bayers packed the Thunderdome weekend after weekend to take in Tasia McKenna, an elite role model on the hardwood, leading the women's basketball team.
"As an athlete, I hope fans saw someone who loved playing the game," she says. "Basketball was as fun for me at Lakehead as it was when I was a kid, and I hope that was apparent." 
For McKenna, however, her sports legacy goes beyond the four lines that mark the court's boundary.
"I hope current athletes can see how you can give back to the sport when you are finished. As athletes, I think we have a tendency to be placed in a box, which can lead to many of us never returning to the sport after hanging up our jerseys," she continues. "Our identities are often tied to our sport, and many of us can struggle as we transition out of being an athlete and into the 'real world' and I am no exception to that. I really struggled after I was done and was very unsure of who I was without playing basketball, which I found really challenging to articulate."
Recently, McKenna has been serving as the commissioner of the Maritime Women's Basketball Association, a professional women's basketball league set in Canada's maritime provinces. Tiffany Reynolds and Karissa Kajorinne—who cites McKenna as a childhood hero—participated in the league's inaugural 2022 season.
"Part of my intention with the MWBA," McKenna says, "is to use it as a platform to have open dialogues about who athletes are beyond what they do on the court—to give them a voice."
But it is our past that brings us where we are today, and helps guide us to where we are going.
"I remember my senior night," McKenna says. "My parents flew up for the game, but the big surprise was that my brother also made the trip—the picture of the four of us standing on the court with my framed jersey sits proudly on my desk—to have them there with me as my playing career was coming to an end, that was special." 
McKenna is once again careful to mention that her induction is not hers alone, and that the accomplishment is shared by all those who helped her along the way.
"Family is everything to me," she says, "and I know the sacrifices they each made for me to play—my entire family helped me achieve my goals. This accomplishment is bigger than me."
"Tasia is a great person," Lakehead University Athletics Director Tom Warden says. "She was an excellent player, and represents everything it means to be a Thunderwolf."
"I loved being part of the community," McKenna says," whether it was a pre-game breakfast at the Hoito, hiking Mount McKay, or the warm reception playing on our home court. Thunder Bay was home."
"Thank you," she continues, "thank you to the fans in the Thunderdome who threw shredded newspapers into the air, who sat in hecklers row behind the visiting bench, who showed up for midnight madness, who stood when there was no room to sit—thank you to everyone who invested their time and energy into our teams. I've always bragged about Lakehead having the best fans in the country, and I stand by that."
When asked if she has anything else to add, McKenna is brief.
"Forever a Thunderwolf."
The Lakehead University Athletics Wall of Fame induction ceremony will take place this Fall as part of homecoming weekend, on Saturday, October 22nd, 2022.