Lakehead Women's Volleyball Adds 6'2 Middle Victoria MacNeil and 5'10 Right Side Haleigh Kearns
Coach Chris Green added two new athletes to his recruiting roster this week for the 2017/18 women's volleyball season.
A Junior College Transfer from Iowa Lakes and her hometown, Winnipeg, Manitoba, Victoria MacNeil has played for Coach Green in the past.
"Victoria played club for me a few years ago, and her work ethic and growth lead to an opportunity to progress at Iowa Lakes CC.  With her time there finished, she is someone I know we can help continue her growth." – Coach Green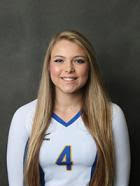 A middle blocker who has been a constant in the weight room and a sponge on the court. Her strength is an asset and her passion is her greatest tool.
Victoria:
"After spending time at Lakehead I absolutely loved the Campus. The universities smaller classroom sizes allow me a more direct relationship with the professors and other students. I like what I saw of Thunder Bay and when you put all that together with the team that Coach is building and Coach Green's style, I know this is a great place for me to continue my development."
Victoria comes from a family that knows sports, development and success. Her father is Brett MacNeil, an outstanding Offensive Lineman with the Winnipeg Blue Bombers, Edmonton Eskimos and Ottawa Rough Riders in the 90's and early 2000's.
"I think Victoria's mom (Anna) and dad (Brett) have passed on sports genes and I know her work in the weight room with Elite Training and Jeff Fisher, has given her a base that will help her succeed. Now we just have to continue the teaching on court. I am excited to have Victoria join our group where our current group of middles will teach her a lot as well. We welcome competition at every spot here." – Coach Green
Victoria:
"I believe playing at a junior college for 2 years was really good for me. It was nice to have the easier transition coming out of high school instead of jumping into a big university. I think it was good for me to have the opportunity to get a lot of court time as a freshman & sophomore that I may not have gotten at a university, it really improved my game. I'm excited for next year and to move up to the next level. I'm ready to push myself and just continue to get better. It's a challenge I'm looking forward to. I'm very excited and grateful to get the opportunity to play for LU."
Victoria will seek her Psychology Degree when she attends Lakehead in the Fall.
Chris Green has also confirmed 5'10 Right Side Haleigh Kearns of Prince George, BC intent to attend and play for Lakehead University women's Volleyball starting in 2017-18.
A left-handed Right Side, Haleigh comes to Lakehead through her family connection. Her father, Tom Kearns, had earned his 2-degree's here before moving to B.C.
Haleigh: "I like that Lakehead is a smaller-sized university with a community feel and a great athletics program.  There are a lot of people I know, including my dad, who have graduated from Lakehead and have had very positive experiences."
Haleigh's mom, Richelle is a Registered Nurse in Prince George and her older sister Morgan attends Simon Fraser University. Haleigh played high school volleyball for D.P.Todd Trojans and Club for PGYVC Kodiaks for coaches Allan Tong, Kim Forrest and Brian Bird.
Haleigh sums up her visit with Lakehead, "Overall, my experience visiting Lakehead has been very positive. I had the opportunity to attend volleyball practice, and both Coach Green and the rest of the volleyball team have made me feel very welcomed. Even though I will be a long way from home, I believe that Lakehead University is the right school for me."
Chris Green: "Haleigh brings a fresh and athletic passion to our team. She has shown herself to be a skilled and passionate athlete who under our system will grow in leaps and bounds from the very strong starting point she is at now. She knows what to prepare for when she comes in, and is willing to accomplish the work to be even more ready when she arrives. I watched her and see someone who is very intuitive on the court. We as a staff are very much looking forward to her arrival, training and play."
Coach green went on to thank the Lakehead University Student Services for their work in welcoming Haleigh and her family to the campus and help display Lakeheads educational and athletic opportunities.
Haleigh will be seeking her Bachelor of Arts degree.