LAKEHEAD WRESTLING ADDS ERIN SARGENT TO TEAM SUPPORT STAFF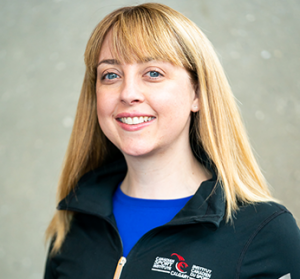 The Lakehead University Wrestling Program is pleased to announce the addition of Erin Sargent as the program's Exercise Physiologist. 
"Having Erin working with our wrestlers is very positive for our program." says Coach Clayton. "She brings a wealth of experience that is sure to benefit our athletes". 
Erin holds a Master of Kinesiology degree from the University of Calgary and is an alumni of Lakehead University's Kinesiology program. Prior to returning to her hometown of Thunder Bay, she was a Sport Physiologist with the Canadian Sport Institute (CSI) Calgary for five years. While at CSI, she was the Lead Physiologist for Wrestling Canada Lutte and Physical Performance Lead for the Canadian Para Hockey Team.
She continues to be contracted with the Institute to provide some physiology services for Wrestling Canada Lutte in preparation for the Tokyo Olympics. Her role at Wrestling Canada Lutte involved yearly training plan development, athlete testing and monitoring, incorporating recovery strategies, aerobic conditioning programming to address match endurance, as well as athlete and coach education. 
Erin's background as a Professor at Niagara College for 10 years instilled in her a love for education and so she has returned to Lakehead University as the Coordinator of the Graduate Diploma in Professional Kinesiology. 
"Our varsity programs across Canada play a critical role in feeding the high performance and Olympic wrestling teams in Canada. I am looking forward to supporting our Thunderwolves off the mat by applying what I have learned while working with our Canadian Olympic, Senior, and NextGen teams. As a Lakehead alumni, it's great to be home and to have the opportunity to give back to the university community" says Sargent.