Lakehead Wrestling announces commitment of Charlottetown, PEI native Bella Galaise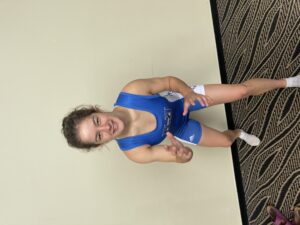 Lakehead Wrestling is excited to announce Bella Galaise's commitment to the program starting this fall. Reigning from Charlottetown, Prince Edward Island and King's-Edgehill High School, Bella will bring a wealth of experience as she began wrestling at the age of 5. 
Thunderwolves veteran Madison Clayton had this to say about the addition of Bella, "I'm very excited to have Bella join our Team this Fall. She's a very strong, dedicated and athletic individual. She will be a great training partner and will impact our team very positively." 
"We are very excited to have Bella commit to Lakehead this fall. Bella comes from a sports family, and knows what it takes to succeed in both school and wrestling." said Francis Clayton 
In a recent interview Bella talked about her start in wrestling, "There used to be a wrestling program at the local school up the road from my house and I loved going there after school and watching practices. There were athletes of all ages at any given practice. I admired their strength and athleticism.  Eventually, my sister and I took part in warm ups and this naturally lead us to get involved with coach McDougall back at our elementary school."
When asked about a favourite memory, Bella had this to say, "One of my favourite wrestling memories took place in 2017 when I won gold at Canada East. I thought that the gold medal match was scheduled for the next day and left the venue. Half an hour later, I received a call which informed me that I was fighting in a few minutes and I had to rush back. I had just enough time to get onto the mat for my match. I remember putting on my singlet and shoes while running into the gym. There was a lot of adrenaline pumping! I have trained with different programs over the years in Prince Edward Island, New Brunswick and Nova Scotia. I did so until I was in grade 7."
This year, focused on wrestling and returned to competition, Bella placed second at the Alberta Open in March. Later, won true second at Nationals in May. Named as captain of the Team Nova Scotia Canada Games Team, Bella is very excited to compete in Niagara, Ontario, in August, and is equally excited to represent Lakehead University this fall!
Bella has great praise for her current coach,
"Kim Walsh who has played an instrumental role in training me and mentoring me. I would like to also thank the Team PEI Canada Games staff and the coaches who helped me during my youth. As well, I would like to thank the Team Nova Scotia Canada Games Staff and all the local wrestling club coaches who have always been in my corner."
When asked why she chose Lakehead, Bella had this to say,
"I chose Lakehead because I have been most impressed with the people I've met and the human connection I witnessed during my visit. Simply put, it is a place where you can feel the close knit community and the caring nature of people. I'm sure that Lakehead and Thunder Bay will provide me with the comfort that I am used to coming from a smaller place. Also, I feel that it is going to be a great spot to develop my skills while I prepare to move onto even bigger stages, the Common Wealth Games and the Olympics! I am also very excited to begin my undergrad in Health Sciences. I hope to become a doctor."
Comments from coach Kim Walsh:
"I have been honoured to have had the opportunity to work with a student – athlete of the calibre of Bella Galaise, for the past four years. She is first and foremost a considerate and empathetic young lady who is well known, by staff, faculty and students, as a dependable and mature person with integrity and determination. She is a great leader and has captained our wrestling team for the past two years. She leads by example and this includes volunteering, doing a varsity  sport in each of the three school terms throughout the school year, as well as wrestling throughout the entire year, including with our club and high school program, a senior band member, and lifeguard as well as graduating with her full International Baccalaureate (IB) program diploma."
Bella was a school Steward in Grade 11 and a Prefect in Grade 12. Bella has had numerous academic, athletic and leadership successes, including Most outstanding Contributor to the varsity wrestling program, Athlete of the Year, and numerous championships and medals at high school provincials and most recently at the junior nationals. She has also won awards at the provincial level with Wrestling N.S. and is presently captain of the N.S. Provincial and Canada Games teams. 
Bella will be completing a degree in Applied Life Sciences with Concentration in Biomedical Sciences during her time at Lakehead University.