Lakehead Wrestling Announces First Two Additions to 2020-2021 Roster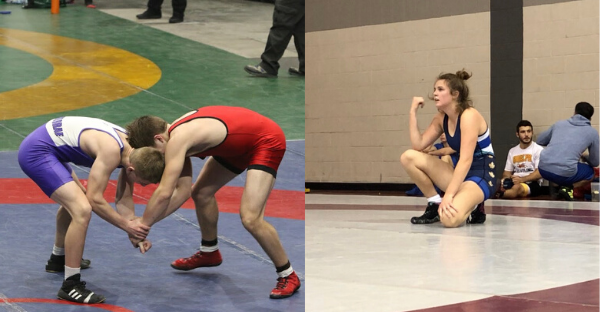 Lakehead Wrestling is pleased to announce that Amelia Cox of Barrie, ON and Chase Birch of Kenora, ON have committed to joining the Varsity Wrestling program at Lakehead University in Fall 2020.
Amelia comes from a strong wrestling program with an excellent coach in Nicholas Cryer, who coached her both at Bear Creek Secondary School and Kemepenfelt Bay Wrestling Club. 
"I have chosen to attend Lakehead because the wrestling program has a lot to offer and I know I will learn and grow in the sport with the coaches and team there." says Amelia.
Coach Clayton is looking forward to having Amelia join the team.  "We are happy Amelia has chosen Lakehead, she will add a lot to our program. Amelia has good wrestling instincts and has a good attitude towards the sport."  
Amelia's coach, Nicholas Cryer, speaks very highly of her as a student athlete and a leader. "I have had the honour of knowing Amelia Cox for the past 6 years. First as an athlete and then as a student at my school. Amelia is a natural leader both on the playing field and in the classroom."
Cryer goes on to say that "her unique style of hard work and humour make her a real asset in every situation. I am very excited to learn that she will be attending Lakehead in the fall where I think she will be a good fit to [the] already strong team." 
Amelia is joining the Lakehead Wrestling team with some great experience under her belt. "Amelia has placed top 3 at the Junior Provincials the last two years as well as 5th place at OFSAA. Amelia is a very good wrestler, with a natural ability to scramble. I find this is a skill that few wrestlers have and really helps set Amelia apart." says Cryer. 
Chase Birch is a graduate of Beaver Brae High School, where he was coached by Lakehead Alumni Gary Lynch. "We are looking forward to having Chase in our lineup. Chase's work ethic and dedication to training will take him a long way. " says Coach Clayton. 
"Chase is a determined and hard-working young man who is both an outstanding wrestler and person. In just three years, Chase has grown leaps and bounds while wrestling for Beaver Brae, and it is fitting that he continues his development at the U Sports level with Lakehead University under Coach Clayton. Chase is a three time OFSAA competitor, three time NWOSSA champ and is ready for the next level. His intensity, determination and focus on consistently improving will flourish under Coach Clayton's process focused training." says Lynch. 
Lynch continues on to say that "Chase is a fantastic leader who loves the sport of wrestling. His passion is infectious, not only is he one of the hardest workers I have ever coached, but he is the first one to help someone who is having trouble with a technique that they just aren't getting right." 
Not only does Chase work hard as an athlete, but Lynch speaks to his ability to help better not only himself, but his team. "It is clear that Chase will make a fantastic coach one day because he makes everyone around him better. I believe that he has a fantastic opportunity to grow with Lakehead as a wrestler, an athlete and as a person. There is no doubt in my mind that Chase Birch will be successful." 
"I am excited to be able to say I have the opportunity to wrestle for Lakehead University. Their wrestling program is one of the best and has produced many successful wrestlers, including my coach" says Chase. 
Chase has experience training with Coach Clayton and the Thunderwolves through its youth development programs. "In high school I attended the Christmas break wrestling camp hosted by Lakehead for three years in a row, and each time I left the Lakehead mat knowing I was leaving a better wrestler and athlete."
"Head coach Francis Clayton has always been very welcoming, and his wealth of knowledge for the sport of wrestling is second to none. This new stage of my wrestling career is a daunting one, but I know I wouldn't want to pursue it with anyone else than the Lakehead team." says Chase.